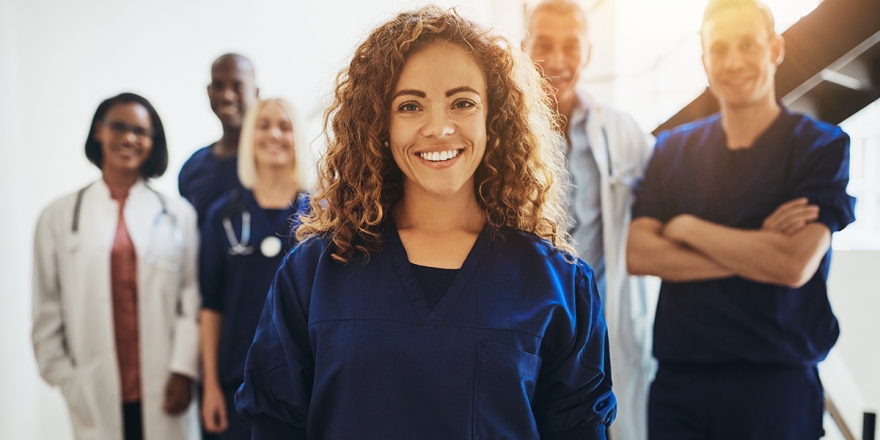 New PT program will bring national healthcare leaders to Nebraska communities
College of Saint Mary to launch unique physical therapy program in summer of 2020 -
OMAHA - College of Saint Mary (CSM) will launch a novel, blended-learning Doctor of Physical Therapy (DPT) program in the summer of 2020, designed to bring world-class care to health systems across Nebraska. The pioneering program will use technology to tap into experts from across the globe and train physical therapists to bring modernized healthcare practices to rural communities and underserved urban areas.
"Not only are we changing the way physical therapy is taught, but we're also hoping to change how it's provided throughout the region," said College of Saint Mary President Dr. Maryanne Stevens, RSM. "What's happening in rural communities throughout Nebraska and the Midwest affects us all. This revolutionary program will help expand the rural healthcare workforce to provide access to vital physical therapy care for underserved areas of the state."
The program will take advantage of the latest developments in online education, allowing professors and students to interact through video-based skill demonstrations. These lessons, which students can access and review on their own time, will prepare candidates for in-person practice sessions. As students work through intensive coursework online, they will be able to re-access lessons, review concepts at their own pace, and incorporate methods into practice within their local spheres.
The specialized structure of the program also lets College of Saint Mary tap into the leadership of top healthcare professionals throughout the nation. The director of the DPT program is working closely with industry-leading experts from institutions like Duke Medical Center and Kaiser Permanente. In turn, students will have a chance to take in premium knowledge from highly skilled professors and reverberate it throughout their own communities.
"A unique benefit of this program is the ability to pull experts from across the country," said Dr. Kimberly Varnado, director of the new Doctor of Physical Therapy program. "Suddenly these renowned specialists have an opportunity to work with an institution that meets their personal and professional mission without having to uproot their families."
In addition to bringing healthcare to underdeveloped rural communities, students within the program will work to bring quality physical therapy care to underserved urban neighborhoods throughout the area. As part of the program, students will care for neglected Omaha communities – where they will tackle the challenges of providing healthcare in places where basic life needs are often unmet. Students will participate in "pro-bono" clinics, where they'll be able to provide free physical therapy care to low-income and homeless populations throughout Omaha.
"In today's world, your zip code has a direct correlation to your life expectancy," said Dr. Varnado. "We can't accept that. We're called to make sure all people are treated with dignity. Every person deserves quality, compassionate care."
Dr. Varnado says the innovative program – which is one of just a handful nationwide to use this technology-driven format – will develop and train PT professionals in underserved areas throughout the United States, so that they will not have to uproot from their local communities. It has the power to counter traditional trends within healthcare, where leaders move to populated areas or more resource-rich neighborhoods and often resettle. Instead, College of Saint Mary's Doctor of Physical Therapy program will give professionals the resources to hone their skills while encouraging them to stay engaged within their hometowns.
"Meeting the needs that exist will require creating a collaborative experience between patients and their healthcare providers," said Dr. Varnado. "We're being very intentional in developing practitioners who are transformational leaders in local care."
In line with College of Saint Mary's mission to provide access to quality, transformative education, the DPT will be the college's latest in a series of programs designed to provide efficient paths to in-demand professional degrees. A student has the ability to start at CSM as a freshman, and, if all prerequisites are met including obtaining a bachelor's degree, graduate with a Doctor in Physical Therapy in 6 ½ years. 
Currently home to a newly-launched Occupational Therapy Doctor program, which also provides an opportunity for accelerated entry, the university also offers a 5-year Physician Assistant and 3-year Bachelor of Science in Nursing degree.
The program will blend online delivery and in-person educational assistance. It will consist of six practice-intensive week-long sessions each year to work on hands-on techniques with professors. As a result, students will also be able to earn the terminal degree in just over 2.5 years.
 "When I read the mission statement of College of Saint Mary, there were words that stuck out to me, like 'dignity' and 'leadership'," recalls Dr. Varnado. "There's a strong emphasis on social justice, and as we look at the current state of healthcare, there are inequities in the type of healthcare and the access to healthcare that different populations receive. So, the type of physical therapist that we are hoping to create is the servant practitioner."
In order to reach and inspire compassion-driven leaders, College of Saint Mary has already made a multimillion-dollar investment in the groundbreaking program. The University is currently seeking accreditation of a new physical therapist education program from the Commission on Accreditation in Physical Therapy Education (CAPTE). CSM plans to begin classes for the Doctor of Physical Therapy in the summer of 2020 and the university is currently accepting applications.
Graduation from a physical therapist education program accredited by the Commission on Accreditation in Physical Therapy Education (CAPTE), 1111 North Fairfax Street, Alexandria, VA 22314; phone: 703-706-3245; accreditation [at] apta.org is necessary for eligibility to sit for the licensure examination, which is required in all states.
College of Saint Mary is seeking accreditation of a new physical therapist education program from CAPTE. The program is planning to submit an Application for Candidacy, which is the formal application required in the pre-accreditation stage, on December 1, 2019. Submission of this document does not assure that the program will be granted Candidate for Accreditation status. Achievement of Candidate for Accreditation status is required prior to implementation of the professional phase of the program; therefore, no students may be enrolled in professional courses until Candidate for Accreditation status has been achieved. Furthermore, though achievement of Candidate for Accreditation status signifies satisfactory progress toward accreditation, it does not assure that the program will be granted accreditation.