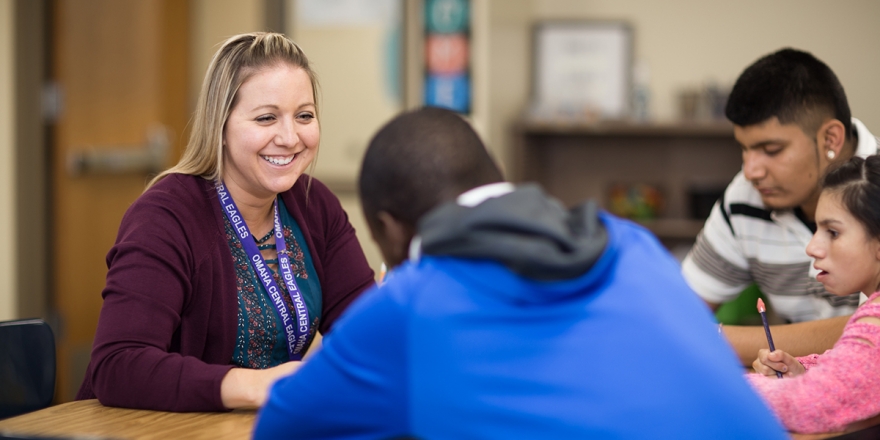 Road to teaching a winding one for this December graduate
OMAHA, Neb. – Some people know they are born to be teachers. For others, that desire is planted later in life and comes to fruition after many years. Such is the case for Lindsay Rosenthal. Her journey toward becoming a teacher has been a winding one. But now, as she finishes up student teaching, Rosenthal will graduate this December from College of Saint Mary (CSM) with her Master of Arts in Teaching (MAT) degree.
"Teaching was always in the back of my mind," said Rosenthal. "I was a mentor for students for years through TeamMates and other programs, so that's what kind of drew me to education."
Rosenthal received her undergraduate degree in accounting and worked as an accountant for over 10 years. In spite of this career success, a desire to work with children and have a more fulfilling job cropped up in the back of her mind. She soon began looking into a career change and discovered College of Saint Mary and its MAT program.
"I'd had people tell me I should be a teacher for years," explained Rosenthal. "It just reached a point when I realized I was happiest when I was with students and in the school."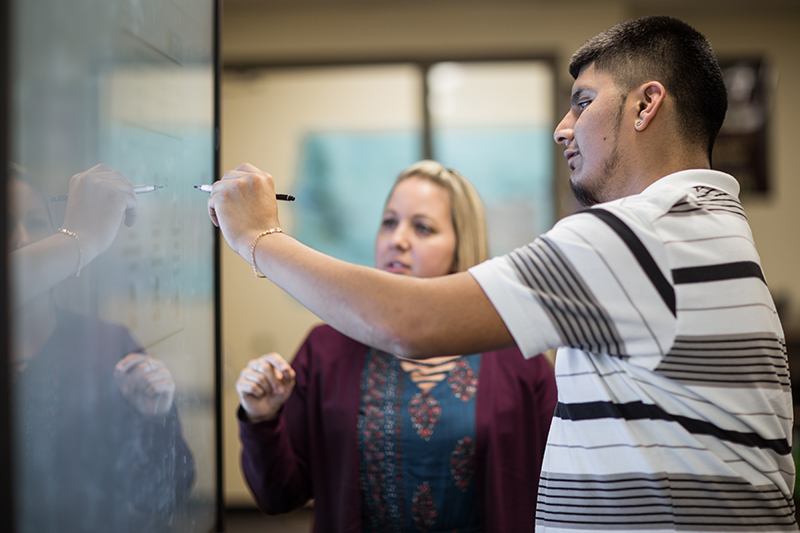 Rosenthal began the daunting task of searching for programs. Finding a school with a program that was right for her and her needs proved to be a challenge.  
"I started looking for programs that would allow me to keep working and go to school at the same time," said Rosenthal.
Most of the schools Rosenthal looked into offered classes only during the day. That setup wouldn't have allowed her to work and take classes simultaneously, so Rosenthal continued her search. When she heard a commercial for the MAT program at CSM on the radio, she was intrigued and immediately started looking into it.
"CSM felt like the right program the moment I reached out to the program director and began interacting with the staff there," said Rosenthal. "[It] was the best fit."
The Master of Arts in Teaching program at College of Saint Mary allows students to graduate with their master's degree in just 18 months. Designed for working professionals who already hold a bachelor's degree in an area other than education, CSM's program does not require any experience in the education field. The program is delivered in a hybrid format with both online and on-campus courses. Since most of the on-campus classes meet on Saturdays, students can still hold full-time jobs.
Finding the right program was not the only challenge Rosenthal encountered. Soon after enrolling at CSM, she found out she was pregnant with her third child and considered discontinuing with the program. But with encouragement and support from the CSM community, Rosenthal stayed enrolled and took classes for one semester before taking a semester off for the birth of her daughter. She then returned to her studies with full force.
"When I started back to school, the CSM faculty were so accommodating," said Rosenthal. "[Everyone was] very nice if I needed help with anything, even the students."
With CSM's MAT program, students can earn degrees in elementary, middle school and secondary education. CSM also offers endorsements in special education and English as a second language. Rosenthal will graduate with a degree in special education.
"I was drawn to special education, and felt that I could really impact the kids in a different way," explained Rosenthal. "I have a cousin with autism who I would often babysit, so I have experience interacting with those with disabilities, and it's one of the reasons I've always wanted to work with students with special needs. When I actually considered being a teacher, [special education] was the only thing I considered."
Rosenthal is currently completing her student teaching as a special education teacher for grades 9-12 at Omaha Central High School. She was hired on a provisional status, so she is currently teaching her own classroom without the supervision of another teacher – and she's getting paid while still taking classes at CSM.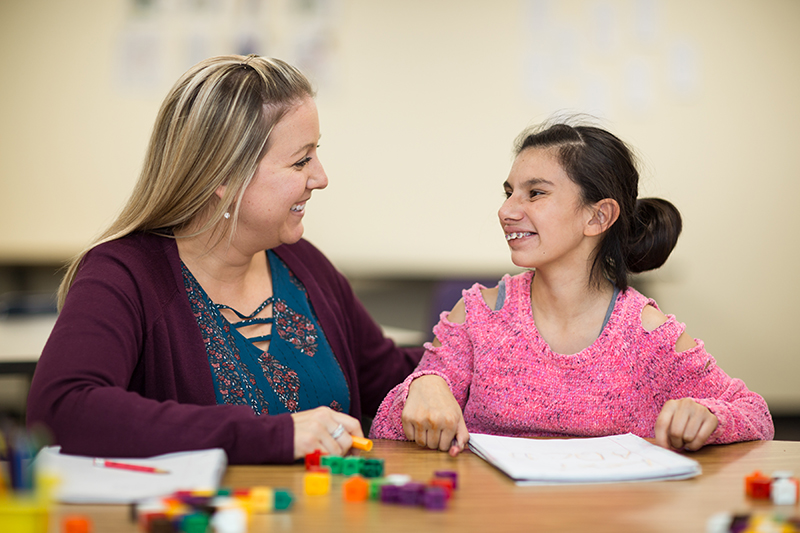 CSM's MAT program also stands out from others because most of the professors are still teaching in classrooms and can give instruction based upon their current experiences. For Rosenthal, this gave her a considerable advantage as a student.
"The majority [of the professors] are still teaching, or they're doing a supervisory role in the school," Rosenthal explained. "It's nice because you feel like they're teaching you things you actually need to know. We have textbooks, but much of the lecture centers on current best practices and the professors' experiences in the classroom."
Another aspect of the MAT program at CSM that Rosenthal enjoyed was the small class sizes, which enable the classroom time to be conversation—and demonstration-based, instead of solely being devoted to a lecture.
"[It's] a lot more personal," said Rosenthal. "You can get into really good discussions."
Rosenthal already has plans for after graduation. She has been hired by Omaha Public Schools to continue teaching in her current role as a special education teacher at Omaha Central.
"I've been super happy," said Rosenthal.
And what is Rosenthal most looking forward to now that she is becoming a teacher? Having time off for Christmas!
"I've worked every Christmas Eve since high school, but now I will have a considerable break over the holidays," Rosenthal explained with a smile. "Teachers work very hard, but the schedule is nice."
Rosenthal will graduate alongside 51 of her classmates at College of Saint Mary's Winter Commencement. Graduation will take place at 7:30 p.m. on December 14 in the Lied Fitness Center.