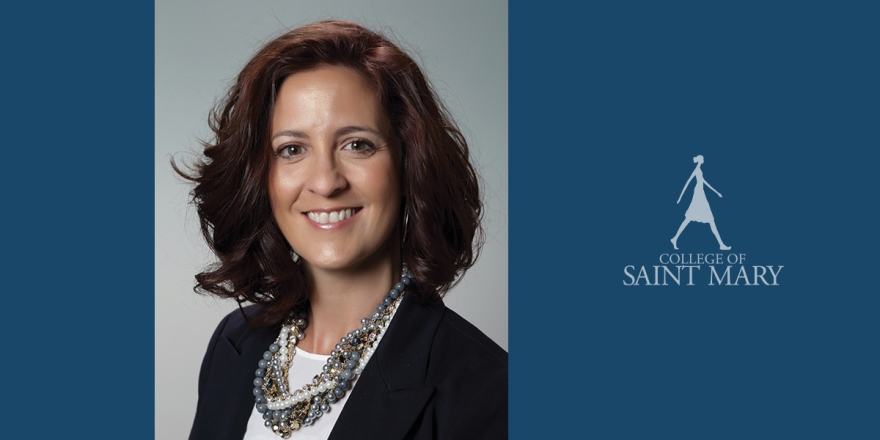 Stephanie Bradley Peterson '98 turns passion for numbers into successful career as an actuary
Alumnae Spotlight: Stephanie Bradley Peterson '98, FS,CERA, MAAA
Triple Major: B.S. in Biology, Chemistry & Mathematics
Occupation: Consulting Health Actuary at Milliman
Like most students entering their senior year, Stephanie Bradley Peterson '98 was contemplating her career path post-graduation. For a student like Stephanie, double-majoring in chemistry and biology, there were several career opportunities or even a path towards graduate school. Still unsure, a suggestion came from her math professor that changed everything. "Have you ever considered a career in actuarial science?" Only needing a small number of additional classes, Stephanie was able to triple-major and added mathematics. After graduating in the summer of 1998, she landed her first job at Mutual of Omaha. She says her educational opportunities at College of Saint Mary and lots of hard work were catalysts to help her achieve professional success and reach her goals.
What is the role of an actuary?
An actuary is a business professional who deals with the measurement and management of risk and uncertainty. Actuaries can be employed in a variety of industries, providing assessments of financial security systems, with a focus on their complexity, their mathematics, and their mechanisms.
What drew you to the actuarial profession?
Starting my senior year, I was still unsure as to how I would apply my degree after graduation. Math was definitely my passion, but could I actually make a career out of it?  After talking to my math professor, Bill Wolesensky, he encouraged me to try out actuarial science. So I took my first actuarial exam and passed and then accepted my first job as an actuarial analyst. As it turns out, I ended up enjoying the position and kept pursuing the additional exams required.       
What was your first job out of college?
I started my actuarial career at Mutual of Omaha. They have a very strong actuarial science program supporting their staff with paid study time and exam fees. Working there also offered me the opportunity to rotate to various positions, thereby giving me a full perspective of the insurance world. 
What advice would you have for someone wanting to follow your career path?
First and foremost, you must have a certain level of comfort with numbers and data analytics. I would also recommend applying for an actuarial internship.  This is the best way to know if you would enjoy this line of work.
Why do you like being a consulting actuary?
Actuaries have a perception of being introverts, rather than extroverts. However, I consider myself a blend of both. And as a consulting actuary, I can be both. I not only perform the calculations and analytics, but I have to be able to interpret and explain the results to my clients in a way they can understand. This profession has also allowed me to work as a remote employee (working out of my "home office").  This affords me the flexibility of being a full-time working mom. I've also been able to enjoy the various travel opportunities to my client locations across the U.S. 
You had a lot of options for college coming out of high school. What made you choose CSM?
Being a math and science major, it was very important to pick a college whose curriculum was strong in both those subjects. CSM definitely checked this box. In addition, I came from a small town, Randolph, NE (~900 people).  Neither my parents nor I really felt comfortable going to a big university. After visiting, CSM just seemed more like home.  Attending CSM was far enough from home to start my own experiences but close enough that I could drive home if needed.  During my transition, CSM was great about making sure I always knew I had a place to turn and people to reach out to when necessary. 
What inspires or motivates you?
Being a good role model for my children. I want to make sure they know they can do whatever they set their minds to. There isn't anything they can't do. 
How is your CSM experience still helping you today?
The whole foundation of CSM still works through me today. It created a sense of confidence and drive so that by year four I was ready to go out into the workplace and find my own footing. Those basic principles that CSM instills in students – and continues to instill – carry forward with you forever, wherever you go and whatever you do.  It is those same principles I am building within my own children today. 
Stephanie currently resides in Elkhorn, NE. She's married to Paul, with whom she has four children: Tom (25), Joe (24), Jade (14), and Reese (10).