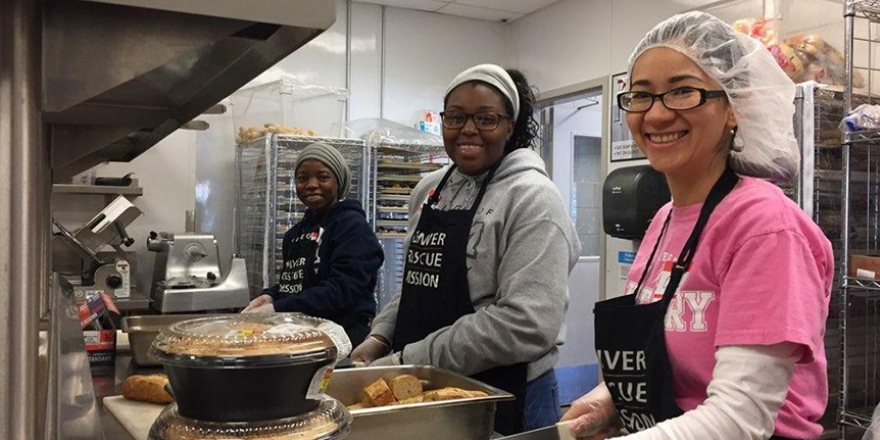 Students use spring break to serve people in need
OMAHA, NEB. – When most people hear the words "spring break", they often think of college students flocking to the beach, planning leisurely trips, or posting up in their rooms to relax. However, for several College of Saint Mary (CSM) students, along with Director of Campus Ministry Carla Gerriets, Spring Break 2018 was spent giving, growing, and discovering what it means to be servant leaders.
In a week-long service trip to downtown Denver, the CSM group of six students and one staff member spent their break as volunteers, serving meals and connecting with the homeless and poverty-stricken within the Denver Rescue Mission.
"These young ladies are truly doing a mission of service," said Gerriets.
The group arrived in downtown Denver, Colo., on the Saturday their break began. They spent the first day getting ready to serve, learning about the local community and participating in poverty training. In addition to preparing students for the week ahead, training helped the group gain insight into the diverse situations of area residents and how best to connect and help.
For students like Kia Scott, a junior from Papillion, Neb., majoring in nursing and pursuing a minor in forensic science, the opportunity to support vulnerable populations provided both a chance to bring relief to others and an action-based experience relevant to the career she is working towards.
"I've learned that around 50 percent of homeless people suffer from some sort of psychiatric disorder, which may play a role in their situation," said Scott, who wants to be a psychiatric mental health nurse. "Being able to end the stigma of mental health issues and helping those suffering from it, especially in the homeless population, means a lot to me."
On the second day of the mission trip, Scott and her classmates spent the day cooking meals and serving homeless individuals and families. As part of a 15-person team of volunteers, the group provided over 500 individuals much-needed meals for breakfast, lunch, and dinner shifts.
Next, the group gained insight into the world of addiction, attending addiction training at The Crossing – a facility that provides Bible studies, case management, counseling, and meals in order to help families and individuals gain stability and develop skills for self-sufficiency. In Denver Rescue Mission's largest transitional housing facility, students listened to stories from people whose lives had been changed through the service of others.
Hattie Holler, a junior from Council Bluffs, Iowa, majoring in occupational therapy, says discovering new perspectives and hearing powerful stories helped her grow as an individual and a leader.
"The trip did impact me by helping me grow stronger in my faith and by learning to have more compassion for people and their stories," said Holler. "It was very rewarding."
Other participants, like Sr. Anthonia Awotundun, a sophomore nursing student, gained new understandings about the lives of people that they plan to help and interact with in the future.
"I now have a better grasp of the various stages of addiction, which will be crucial in the field I'm going into," said Awotundun. "I was glad to be a part of this special group of women who went on this trip."
On the final day of their trip, the students continued to serve through the Ministry Outreach Center. At this central warehouse and distribution facility, families, seniors, people with disabilities, and single women in need receive food, clothing, and household items. After learning from staff and listening to inspirational speakers, the group returned to The Crossing to prepare more meals.
When the last day was done, the group packed up and returned to their welcoming campus in Omaha's Aksarben Village. There, as College of Saint Mary encourages life-changing experiences and servant leadership, this group of women will know first-hand what it means to act out the lasting values CSM promotes.
For the group overall, the trip re-enforced CSM's mission by inspiring leadership, promoting compassion, and bringing about positive change in the community — regardless of the size and scope.
"This trip was very overwhelming at times, but also extremely rewarding," said Elizabeth Franzluebbers, a sophomore from Dodge, Neb., majoring in occupational therapy. "We may not be able to help the entire world, but we can help a few people and that may just change their world. I have grown as a person throughout this trip, and I am forever grateful."
Photo: CSM students helping prepare meals at the Denver Rescue Mission during spring break. L-R are Sr. Anthonia Awotundun, Kia Scott, and Olga Narova.