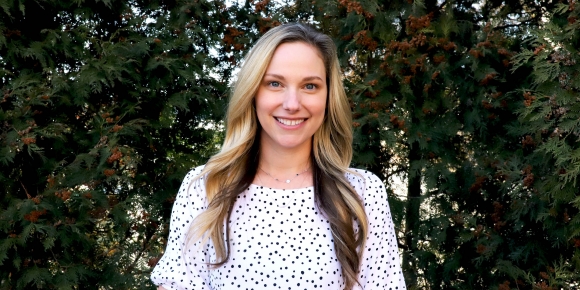 CSM Student Inspired by Son with Disability to Pursue Occupational Therapy Doctorate
Occupational Therapy Doctorate
Soon after Danielle Abboud's son, Aiden, was born, she and her husband noticed the infant was missing milestones. At 15 months old, he was diagnosed with Cerebral Palsy.
After nine years of intense physical and occupational therapy and multiple surgeries, the now 10-year-old is thriving. "You see him with his peers at recess, and he joins right in. He just physically is a little bit behind," Abboud said.
Through this life experience, Danielle, a stay-at-home mom after earning a business degree, found the desire for a career she had never considered: occupational therapy. Her first experience with OT was through an outpatient clinic with Aiden.
"He was really focused on physical therapy while we were trying to get him up and walking and moving," she said. "But once he started moving, he started running. Then we were like, well, he's got to put his clothes on, he's got to get himself dressed, he's got to be able to get on and off the toilet. All the functional things."
Danielle, a self-described "hands-on" mom, attended Aiden's therapy sessions. "The first session I sat in with occupational therapy, I was like 'Oh my gosh. This is it. I love it. Occupational therapy is amazing.'"
Before researching colleges, Danielle reached out to her son's therapists, school, and doctors to get their recommendations. Everyone suggested College of Saint Mary, she said.
"The reasoning was that they said they felt like CSM students just had more of the real-life practical experience. They felt like they were more prepared," Danielle said. "That just affirmed it for me. At the end of the day, you want to hear what the experts have to say."
Danielle initially applied to the OT master's (MOT) program at CSM and was accepted in 2012. But shortly after, she learned Aiden was a candidate for major spine surgery, which would require therapy five days a week. "I was going to defer the enrollment for the program and get him rehabbed to where he is now," she said.
Nearly eight years later, Danielle, now 37 and with four children at home, returned to CSM. However, the university had sunset the MOT program for a doctorate program, requiring Danielle to take some prerequisites before she could begin.
"I was still young enough – not as young as my classmates – but still young enough to pursue something new," she said. "I had a couple of individuals in my life through my son who really motivated me and pushed me to pursue this."
Returning to school later in life, Danielle said she has a different perspective than those students who have just completed their undergraduate degrees.
"Being here at CSM as an adult learner, it is a completely different ball game," she said. "I come to class, and I'm so excited to learn and retain new knowledge. The material that is presented to us is just so exciting to me. Going home and having to study is hard with four kids. I have to utilize the library a lot. But I'm eager and excited to do it."
The decision to go back to school as an adult learner can be difficult, but Danielle also returned amid the coronavirus pandemic.
"All the factors that are thrown at you, that's not really setting you up for success in general," she said. "But I feel like the support that CSM has provided to the students really has changed the outcome of that. Our professors go above and beyond to make sure that we understand what we're learning and facilitate our learning."
CSM professors also appreciate having a student like Danielle in their classroom "because it broadens perspectives of all students in class, as well as myself," said Dr. Erin Westover, assistant professor of occupational therapy. "We are able to break out of the 'cookie cutter' thinking and have conversations about diverse factors involved, which is so critical for an occupational therapist to do."
Danielle's situation of having a child with a disability has also brought a unique perspective, Dr. Westover said. "She has been able to relate to course content and provide examples in my pediatric courses that have brought authenticity to her other peers.
"I also think she brings a maturity that also involves resilience, persistence and flexibility to a greater degree than some of her peers," Dr. Westover added. "I see this coming through during particularly stressful times in the semester, as well as in the sense of how she coordinates/manages all of her competing demands. She never gives up and always finds a way to put her best effort forward, no matter what."
When she began classes at CSM, Danielle was set on becoming a pediatric occupational therapist and working in a school setting. "That's all I wanted to do. I don't think you could have changed my mind at that point if you would have told me," she said.
But now, Danielle plans to work with the older generations. "I'm doing my capstone project on occupational therapy services in the primary care setting to focus on preventative care to help individuals age in place," she said. "We have such an aging population that wants to stay home."
While she will seek a job following her December 2023 graduation, Danielle's ultimate goal is to own a consulting firm that would serve the aging-in-place population, providing home safety evaluations and provide recommendations to prevent falls and other unwanted injuries.
"There's so much out there that can be prevented, and I think occupational therapy is such a unique profession because you can look at the scope of the whole person," Danielle said. "I would be a perfect profession to provide more preventative services."
Danielle was named the Nebraska Occupational Therapy Association's Outstanding Student of the Year during the organization's annual conference in February.
By Leeanna Ellis