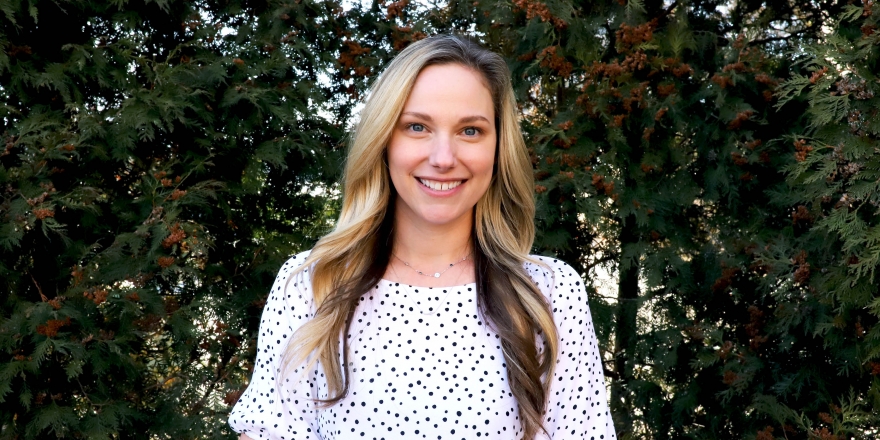 CSM student Danielle Abboud receives NOTA Outstanding Student of the Year
OMAHA, Neb. – College of Saint Mary (CSM) occupational therapy student Danielle Abboud was named the Nebraska Occupational Therapy Association's (NOTA) Outstanding Student of the Year during the organization's recent annual conference. Abboud will graduate from CSM's Occupational Therapy Doctorate in 2023.
"Danielle is such a bright light in our program, radiating positivity within every interaction with peers, faculty and staff," said Dr. Erin Westover, assistant professor of OT. "She is constantly thirsting for more in regard to understanding course content and consistently puts forth such a great attitude and work ethic in class sessions and coursework."
Abboud was shocked and humbled to receive the award. During the ceremony, it was noted that Abboud is a role model for others in her cohort, and she goes out of her way to make peers feel valued, included and supported. "That's just the mom in me," said Abboud, who is a nontraditional student. "I just want to take care of all my classmates and make sure everyone feels included. If anyone needs any help with anything, I will offer a hand."
The annual NOTA conference is an opportunity for OT practitioners, educators and students to network and enhance their knowledge by attending specialized sessions geared toward certain aspects of OT and listening to panel discussions. The theme of the 2022 conference, held in Omaha, was Ignite: Sparking the Power of Connection. CSM alumnae, students and faculty attended and presented at the conference.
CSM's occupational therapy doctorate program offers two pathways for students – an accelerated entry for undergraduate students and a graduate entry. The six-year accelerated entry allows students to earn a bachelor's and doctorate straight out of high school. Students must meet progression benchmarks after each year to retain a spot in the OTD program. The graduate pathway is for students coming into the program having already completed undergraduate coursework, including specific prerequisites. Students earn their OTD in three years. For more information about CSM's Occupational Therapy programs go to CSM.edu/OTD.