Alumnae Spotlight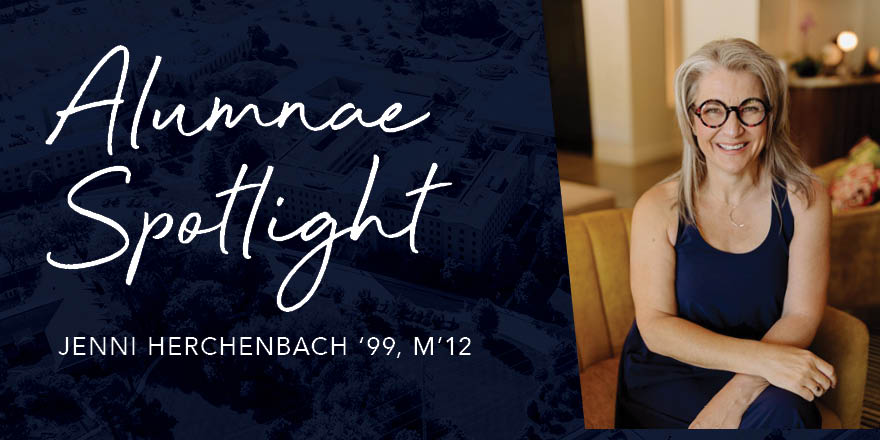 Jenni Herchenbach '99 M'12
At a young age, Jenni Herchenbach '99, M'12 learned her family didn't talk about death -- something she didn't quite understand. She wanted to talk about it.
"I was in preschool, and a student was crying because he had lost his grandmother," she said. "I could not understand why he was at preschool. 'If your grandma is lost, go find her. Why are you here?'"
It was later explained to Jenni that the boy's grandmother had passed away.
Today, Jenni is a certified end-of-life coach and sacred passage doula. She refers to herself as a "death doula." She founded the Omaha-based Flourish Collaborative.
Jenni earned her master's in occupational therapy from College of Saint Mary in 2012. As a student, she thought she would work in pediatrics but found a love for trauma care. Following graduation, she worked in an intensive care unit, primarily with people with traumatic injuries or illnesses.
"The medical staff is so focused on saving people's lives that sometimes we forget that people are in those bodies," she said. "The body gets treated almost as if it's separate from the person."
But occupational therapy is patient-focused. This experience allowed Jenni to make space for hard conversations with people. Trauma centers often see patients who may be the only survivor of a car accident or someone who might get a terminal diagnosis. "I was sitting in those tender spaces with families where they know life might not be ending, but the life they knew is definitely over. It's a death of sorts," she explained. "I didn't really understand how well that was preparing me for what I'm doing now."
In 2019, Jenni took a sabbatical from her job to re-evaluate her career. It was clear trauma care was something she wouldn't be able to do through retirement. During that time, the coronavirus pandemic hit, allowing her to take "a deep dive into everything related to death, dying and grief. I was reading all I could." That's how she found death doulas. "I just went down the rabbit hole and never came out," said Jenni, who completed her training online.
As a death doula, Jenni can be at the bedside of someone who is imminently dying. "I can help the family understand the stages of active dying, what's happening to the body during someone's last hours, minutes."
She likens her role as an end-of-life coach to that of a financial planner or estate planner and what they would do with a person's portfolio and legal affairs, respectively. "I walk them through what they would like the end of their life to look like, and ideally, that happens way before someone has a terminal diagnosis or an impending death," she said.
Jenni has worked with clients as young teenagers to those in their 90s. She often asks them this: "If you could choreograph your death, what would it look like? Where would you be, who would be there, what would you be listening to, what would you be wearing?
"I invite people to dream of what a good death would look like," she explained. "How do we make a plan – not that we're going to be able to follow it exactly – but if you could plan it, what would you want it to be?"
Though she didn't anticipate it, Jenni also provides grief support. "Solidly, half of my clients are grieving and need help in how to do that. I don't' think it's something we're really taught how to do, and I don't think our society gives us a lot of grace when we're in grief."
She's currently rolling out her programming to corporations that offer grief support as an employee benefit.
While death planning can seem morbid, Jenni said she has found beauty can come from tragedy. Death doesn't have to be "this negative thing. I have watched people change their lives dramatically in the process of our work together because I think they realize they don't have to be terminally ill to make real changes in how they live," she said.
For more information, visit flourishcollab.com.