Alumnae Spotlight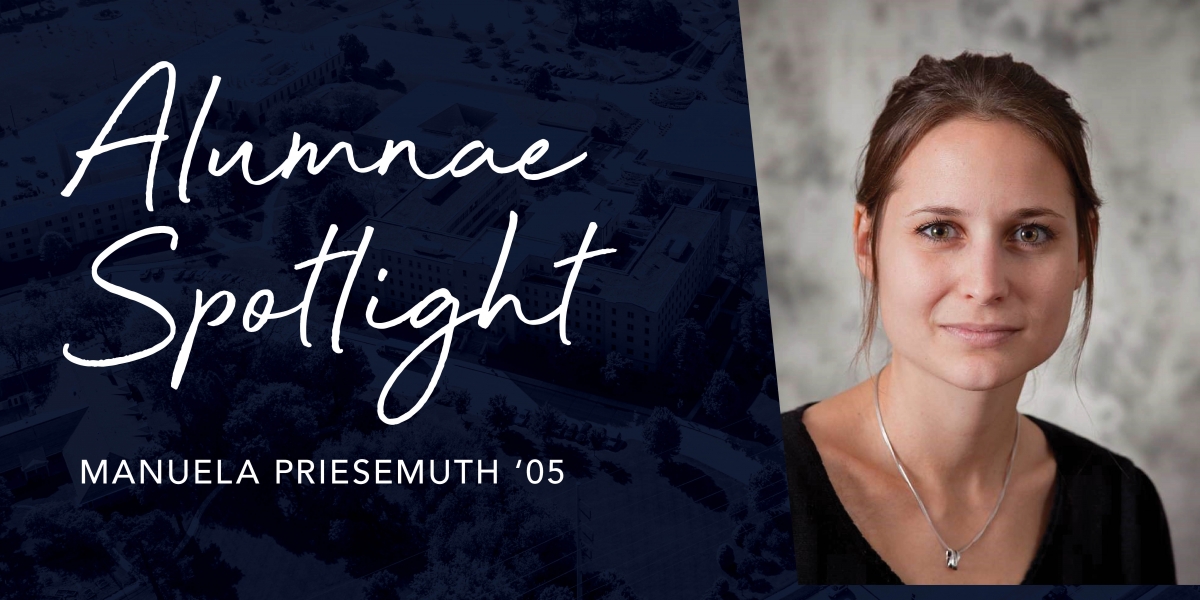 Manuela Priesemuth '05
Manuela Priesemuth '05 heard about the potential opportunities to play soccer in the U.S. following her high school graduation in the northern German state of Schleswig-Holstein.
A coach from another institution put Priesemuth in contact with the then head soccer coach at College of Saint Mary (CSM). A scholarship through a generous donor allowed her to play for the Flames.
"I didn't know anything about Nebraska or where it was," she said. "I said, 'OK, I'll do it.' It was an adventure after high school. I thought it would be great if I could play soccer and learn English, and then I'll go home after a year or so."
Nearly 20 years later, Dr. Priesemuth is a successful associate professor at Villanova University's School of Business.
Dr. Priesemuth always had an interest in business. "At the time in Germany, economically, I feel like the '90s and early 2000s were difficult," she said. "I remember growing up as a teenager, I knew that when I wanted to study something, it had to be worth something.
"I had an interest in business, and I knew that with a business degree, there are so many things you can do," Dr. Priesemuth added.
Dr. Priesemuth majored in business and minored in psychology. Following graduation, she earned her Master of Business Administration from Creighton University.
While at Creighton, Dr. Priesemuth realized how much she enjoyed school and made a decision that would change her career. "Even though I was getting a degree in business, I just never saw myself being a corporate person," she explained. "I didn't have an interest in it. The business fabric didn't match who I was as a person, but I've always enjoyed academia."
An organizational behavior class solidified her decision. The course was more of a psychology class rather than a business class.
"While I had an interest in business, I was always interested in the people behind it," Dr. Priesemuth said. "I was not a finance major; I was not an accounting major. It wasn't anything that interested me. I loved the people, understanding people. The notion of business and psychology that was planted at CSM, I re-encountered in my MBA program at Creighton. Then I realized that this is what I wanted to do."
Dr. Priesemuth continued her education at the University of Central Florida, where she earned her Doctor of Philosophy. She then served as an assistant professor at the School of Business & Economics at Wilfrid Laurier University in Ontario, Canada.
But in 2016, Priesemuth felt homesick for her new home – the U.S. She and her husband made the decision to move back, and she received a position at Villanova University. "It's a great institution. I've loved every minute of working here. It was the perfect fit for me academically and personally," she said. "We love living in the Philadelphia area."
In 2021, Dr. Priesemuth received Villanova's University Scholarly Achievement Award, which recognizes excellence on the part of faculty for published research, scholarship and/or creative expression, according to a press release. The selection committee noted the tremendous impact of her research on the timely topic of hostile and non-inclusive workplaces and its practical importance as organizations struggle with how to create a diverse and inclusive workplace, come to terms with gender and racial equality issues, and train the next generations of leaders.
Dr. Priesemuth has been published in top journals in the management field, including the Academy of Management Journal, the Journal of Applied Psychology, the Journal of Management and Harvard Business Review.
"What interests me with respect to inclusion is the notion that it all revolves around organizational fairness, ethics and ethical behavior and how we should treat each other in organizations," Dr. Priesemuth said. "I've always had an interest in understanding the dark side of organizations and how we can improve the work-life of everyone at work and not just a few. This is what I have focused my research on."
As a teacher-scholar, Dr. Priesemuth works to relate her research to her students. "They learn to understand the dark sides and how we can fix it, the importance of diversity and inclusion and how we create structures based on research evidence that serves everybody rather than just a few," she said.
As educational institutions, including Villanova, create more diverse classrooms, Dr. Priesemuth said it's essential to give everyone a voice, particularly people who find themselves in the minority. She encourages that in her classroom.
Dr. Priesemuth's classes are discussion-based, but she also includes a participation form for students to fill out and the end of class.  "There are some students who simply don't want to speak up, especially if they are in the minority or if they feel thier viewpoint isn't being heard."
Nearly 20 years later, Dr. Priesemuth has fond memories of her time at CSM, including the friendships she still has today. "Truly, the first thing I think about CSM is the friends that I made and the community of which I was a part of," she said.
Dr. Priesemuth and her husband, Laurent Payan, live in the Philadelphia area. They have four children.