Alumnae Spotlight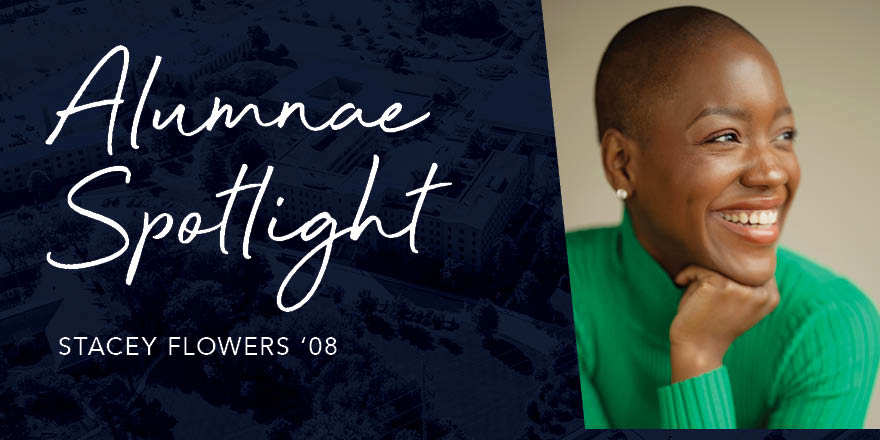 Stacey Flowers '08
Stacey Flowers '08 thought her dream of being the first in her family to go to college was over when she became pregnant in high school. She was going to drop out. Her guidance counselor gave her two options.
"You can drop out of high school, or you can go to college," she said.
That's when Stacey learned about the Mothers Living and Learning program at College of Saint Mary.
Now, she uses the skills she developed at CSM to motivate and influence others to find their happiness and be successful.
 
Finding a Community at CSM
Being a teen mom wasn't embarrassing or difficult for Stacey. That was her family history. She said it would have been easier for her to drop out than go to school. No one in her family had even graduated from high school.
Stacey was ready to change her story after gaining acceptance to CSM's Mothers Living and Learning Program. Her son, Rakim, was four weeks old when Stacey started classes.
"When I came on campus, and there were all these other moms who were also trying to go to school, it was so helpful," she said through tears. "I was so scared. I didn't have anybody in my family who could tell me that it would be OK, that I would figure it out or that I was smart enough and my son would be safe."
Stacey found a community to support her through her college experience.
"Even though I was a traditional-aged college student, my experience was never going to be traditional," she said. "I needed more than just that part to be successful."
Her friendships with other student mothers helped her find a balance and learn different parenting styles.
"It was like a kaleidoscope of parenthood, and I learned by example without doing all this extra work," she said.
CSM also taught Stacey to manage what she calls the "and." She was a mom and a student. She soon realized she could be more. As a student, she was nominated for a leadership program. But she was concerned those who nominated her didn't know she was a mom. Katty Petak, then assistant dean of students, told Stacey she could be a mom and a leader.
"This idea that you could have multiple roles wasn't something I understood. The concept of an 'and' allowed me to think about other classes outside my original major," said Stacey, who graduated from CSM with a degree in paralegal studies. "As CSM progressively gave me more 'and' experiences, I started to open my mind to what if I was a lawyer and something else. That 'and' slowly turned into something else."
 
Discovering Her Voice
During her time at CSM, Stacey was given the opportunity to speak at several events. She first spoke as a freshman during a Great Conversations event. A chance to speak at a Founders Day dinner had even more influence. Stacey was asked to share her story and how CSM had impacted her life. She delivered the speech so enthusiastically and passionately that it left audience members in tears. Many were cheering.
"That was my first experience speaking on something that wasn't scripted or that I was reciting," she said. "It was something I wrote and expressed and getting that much feedback.
"Words are powerful. They aren't just powerful at the moment when you're trying to help someone," she added. "When they're organized and expressed from a platform, words can change how a person thinks."
Katty and other CSM staff encouraged her to become a motivational speaker. But Stacey didn't think that was possible.
"I have a child. I need a real job. That's not a thing," she told them.
 

A Realization
Following graduation from CSM, Stacey intended to attend law school. She was accepted into several schools. But it didn't feel right. Instead, she took a year off and worked in human resources for a nonprofit organization.
"I knew I wanted to get more education," she said. "Because I enjoyed what I was doing there, I decided to get my master's in human resources."
She attended Loyola University Chicago. As part of her education, Stacey took internships in training and development. During one of those internships, she was helping set up a workshop when one of the consultants didn't show. Her manager asked her to fill in.
"Here's my moment," Stacey said.
When the consultant finally showed up, Stacey had spoken for nearly 90 minutes. The consultant praised her and encouraged her to consider working in training and presentation. Her manager gave her more opportunities to speak at other training events.
After graduation, Stacey began designing training programs for Fortune 500 companies. When she pitched the programs, many of the companies would ask her to speak at the events. Again, she was encouraged to be a motivational speaker.
"It's just not a real job," she said.
Friends encouraged her to hire a coach to help her start a business. She attended a "boot camp," which included a class for speech makeovers. Once she got on stage, however, the coach quickly pointed out that she was "born for this." He guided her on the business aspect of her career.
That's when Stacey realized that being a motivational speaker could be a real job.
"There was such resistance because the running theme in the back of my mind was that I have this human that I need to make sure I can take care of, and because I was the first in my family, I did not have much room to take a risk on a career that wasn't specific and clear," she said.
 
More Than a Speaker
Today, Stacey lives in Chicago. She is a motivational speaker, author, life coach, and influencer. She has spoken at events and conferences nationwide and internationally, including Kigali, Rwanda; The Bahamas; Jamaica; and Canada.
"My talks are very motivational and inspirational," she said. "They are very much geared toward personal or professional development. The foundation of my messaging is happiness and bringing people to that understanding and allowing themselves to be happy."
Stacey wrote her first book on her experience as a young mom to help at-risk youth. A soon-to-be-published tome will focus on happiness. Two other books are also planned.
Because of her speaking engagements, Stacey also became a life coach.
"People would want more conversation and more strategies to figure out how to implement these concepts I offered them," she said.
Her role as an influencer was quite unexpected. She began a YouTube channel to document her journey and hold herself accountable for budgeting to pay off her student loan debt. That connected with people. The financial videos led to other videos on grocery hauls, cooking and mental and emotional health. Brand partnerships with companies soon followed.
"Because of CSM, I don't feel compelled to say I'm only a speaker. I can be a speaker, an influencer, and an author. I can be all of these things without the burnout and the exhaustion and all of the other things because CSM taught me that that's something that's available to women. I truly believe if I didn't go to CSM, I wouldn't know that."
Stacey's son, Rakim, is now 20 years old. He is a student at Midland University in Fremont, Neb.