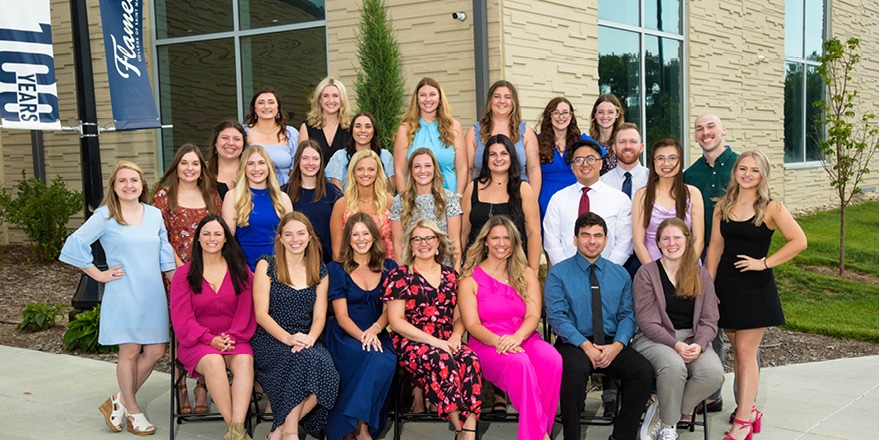 28 Graduates Recognized in Physician Assistant Completion Ceremony at College of Saint Mary
OMAHA, Neb. – College of Saint Mary celebrated its sixth annual Physician Assistant Completion Ceremony on Saturday, Aug. 19, in the Lied Fitness Center. The event recognized 28 students who completed their Master of Science in Physician Assistant Studies degree and will soon become certified, practicing physician assistants.
CSM President Heather Smith addressed the graduates. "This is a close-knit group of 28 students who have had a long journey over the past two years, learning both the difficulty and fulfillment of practicing medicine and the healing of others," Smith said. "I had the opportunity to see some of you walk the stage in May, but today is all about you and your family.
"Today, we celebrate your success and wish you nothing but the best as you begin your next chapter," she added.
Andre Saldana '23 led the invocation, while Emily Hofner '23 gave the student speech. Dr. Jeff Keyte, associate professor, was the keynote speaker. Brittney Bostic, interim program director, gave the closing remarks.
After obtaining their certification, the graduates will be practicing physician assistants, conducting physical exams, diagnosing and treating illnesses, ordering and interpreting tests, advising on preventative care, and helping in surgery and prescription writing.
Physician Assistant Studies Class of 2023
Daniel Aranda, Omaha
Reed Bernhisel, Provo, UT
Kerri DeGroff, Broken Bow, NE
Mikayla Dennis, Pleasant Hill, IA
Rebecca Ferris, Appleton, WI
Margaret Fritch, La Vista, NE
Sydney Grieve, Omaha
Emily Hofner, Naperville, IL
Ella Holbert, Omaha
Delaney Holthaus, Ozawkie, KS
CallieAnn Kohout, Seward, NE
Breanne Kuntz, Naperville, IL
Dylan Lindsay, Altamont, UT
Merry McCully, Bellevue, NE
Madison Metz, Omaha
Rebecca Meusch, Bellwood, NE
Megan Micek, Papillion, NE
Angela Nguyen, Lincoln, NE
Kathryn Ortgies, Omaha
Kaitlyn Pineda, Kearney, NE
Kayden Reilly, Columbia, S.C.
Cora Ridenour, Omaha
Andre Saldana, Moreno Valley, CA
Keiron Sauer, Mission, KS
Sarah Smyth, Pawnee City, NE
Alison Stracke, Stuart, NE
Taylor Sweigart, Parker, CO
Hailey Teichmiller, Woodruff, WI