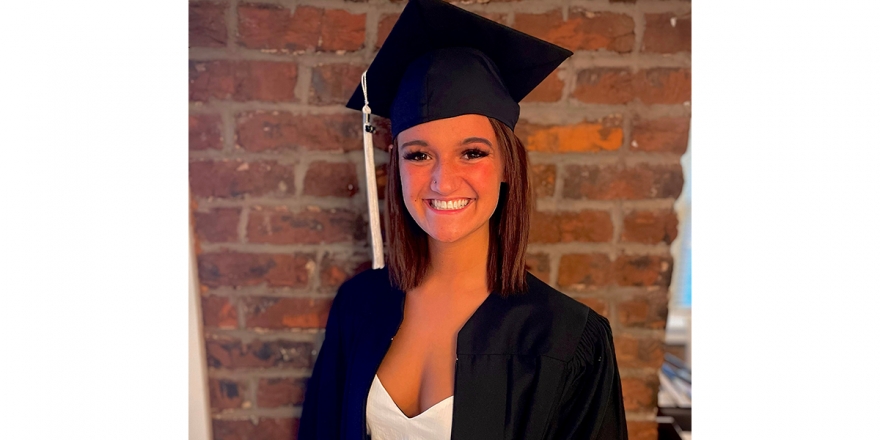 Campbell becomes first to graduate from CSM's accelerated law degree pathway
OMAHA, Neb. – This weekend, Mekenzie Campbell '21 will become the first College of Saint Mary legal studies student to earn her bachelor's degree through the unique 3+3 program partnership with Creighton University.
In 2015, CSM set up the 3 + 3 partnership with Creighton University School of Law – a program in line with the University's initiative to give students a straight path to in-demand careers. The 3 + 3 program lets students earn a paralegal studies degree from College of Saint Mary and a JD from Creighton in a total of six years. As a result, students can take a fast-track to careers, cut costs, and save money.
"Our students are afforded the opportunity to receive a quality education from two well-respected schools in a shorter amount of time than the 'traditional' law school graduate," says Susanne Miller, JD, assistant professor and director of CSM's Legal Studies program. "It's a fantastic option for students who wish to earn their law degree and save some money in the process."
This combination of practical learning, tight-knit classrooms, and hands-on opportunities has resulted in a stellar reputation within the CSM's Legal Studies program. It is the only 4-year paralegal program approved by the American Bar Association in Nebraska and Iowa. It's the only program in Nebraska to offer pre-law, paralegal students courses taught by all attorneys, and it's also one of only 270 ABA-approved associate degree paralegal programs in the U.S.
"CSM helped me figure out who I was and who I wanted to be in the future," says Campbell. "It was very beneficial starting law school straight from the paralegal program; many of my peers were even jealous of the knowledge I had obtained at CSM prior to entering. I will always be thankful for the paralegal program, especially the 3+3 track because it allowed me to push my limits and achieve goals I wouldn't otherwise have been able to achieve."
In June, Campbell will begin an internship through Project Harmony's legal program that will allow her to gain experience in the field of family law, which is her concentration. "I hope to make an impact on families as they endure a very difficult time in their lives and hopefully make it as easy as possible on them."
Campbell will take her second year of law school classes this fall, continuing the path to graduating with her JD in 2023. "None of this would have been possible without College of Saint Mary and my amazing advisors and professors!"
On Sunday, May 16, she will participate in CSM's Commencement Ceremony at 10:30 a.m. at the CHI Health Center Convention Center in Omaha.