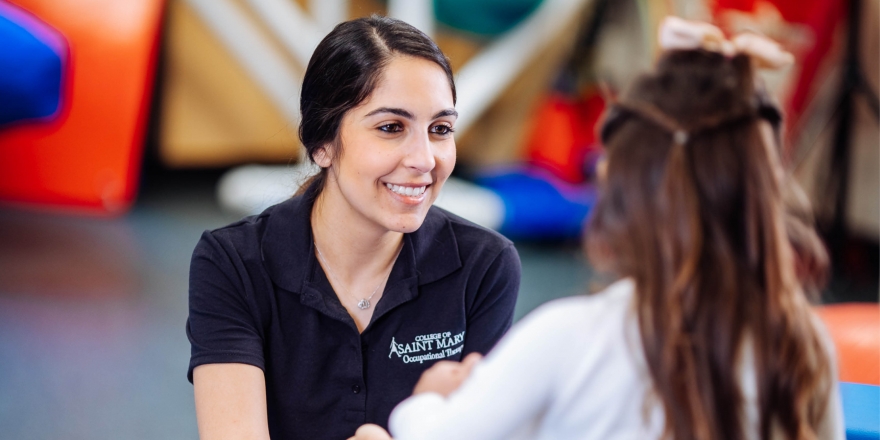 College of Saint Mary's OTD program receives accreditation
Wednesday, February 16, 2022
OMAHA, Neb. – College of Saint Mary (CSM) has announced its occupational therapy doctorate (OTD) recently received its accreditation from the Accreditation Council for Occupational Therapy Education (ACOTE) of the American Occupational Therapy Association (AOTA).
"The accreditation solidifies the strength of our program and serves as evidence of our pursuit of academic excellence," said Dr. Mindy Barna, associate dean for health professions.
CSM launched its OTD program, which focuses on developing skills in clinical practice, research, administration, leadership, advocacy, and policy development, in the fall of 2019. Students must complete two 12-week fieldwork experiences and a 14-week doctoral experience that culminates in a final project.
"The occupational therapy program has had proven success," said program director Dr. Kristin Haas. "The accreditation of the doctoral degree will assure that our students will continue to leave here with the knowledge and skills they need to be successful in a rewarding career that impacts patients, families and the community."
The OTD program offers two pathways for students – an accelerated entry for undergraduate students and a graduate entry. The six-year accelerated entry allows students to earn a bachelor's and doctorate straight out of high school. Students must meet progression benchmarks after each year to retain a spot in the OTD program. The graduate pathway is for students coming into the program having already completed undergraduate coursework, including specific prerequisites. Students earn their OTD in three years.
"We are excited to have our first OTD cohort complete their capstone projects and graduate this May," Dr. Haas added.