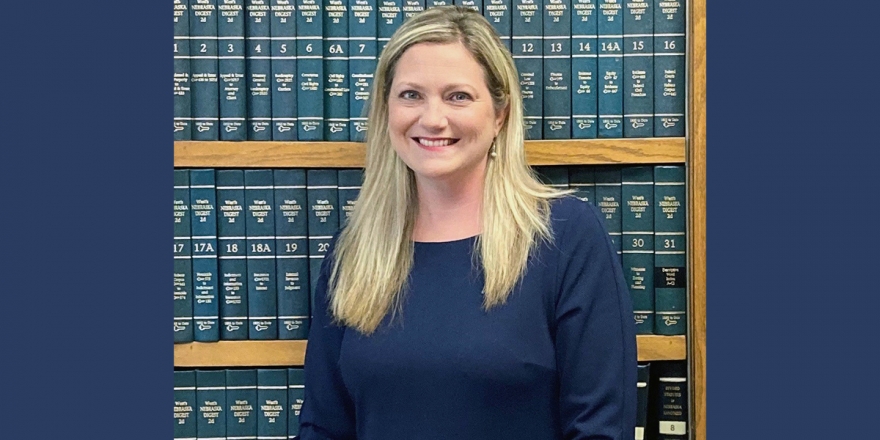 College of Saint Mary alumna appointed to Douglas County Juvenile Court Bench
OMAHA, Neb. – College of Saint Mary (CSM) alumna Candice J. Novak '01 will be the newest member of the Douglas County Juvenile Court bench. Novak will begin her new role on December 1st, when she becomes one of six juvenile court judges in the county.
"It's a sector of law I love and am really passionate about," says Novak. "I'm excited about this transition to another level. It's not an opportunity everyone gets, so I'm extremely grateful."
Novak says one of the most rewarding aspects is working with families. "Juvenile court is often people's first court experience, so I think handling it the right way can impact them for the rest of their lives."
She holds a Bachelor of Arts in Paralegal Studies from College of Saint Mary and a Juris Doctor (JD) from the Creighton University School of Law.
Novak was drawn to CSM for its smaller size, its all-female environment and Catholic values. She says the feeling of being supported by other women was crucial in her development, both personally and professionally.
"The support and encouragement you receive at CSM is something you don't get in most places. Even though we were all from different backgrounds, we all came together to support each other to get an education."
The Omaha native and Gross High School graduate has served as a court-appointed attorney and guardian ad litem in Douglas and Sarpy County juvenile courts since 2005, as well as guardian ad litem in probate and custody matters in both metro area counties. She has also operated a solo legal practice since 2010.
For those considering a career in law, Novak says, "Go for it."
"One of my advisors at College of Saint Mary once said to me: 'these types of degrees open a lot of doors.' There are endless possibilities."
College of Saint Mary's legal studies program has built up a strong reputation over the years. In 2015, the university added a 3 + 3 partnership with Creighton Law, allowing students to earn a paralegal studies degree from College of Saint Mary and a JD from Creighton in a total of six years. With this unique track, students' fourth year of undergraduate study becomes their first year of law school at Creighton, thus saving time and money on their way to a fulfilling career.
She credits CSM and its program for giving her a jump start on her career and the successes that followed. "Had I not landed [at CSM] I wouldn't be where I am today. Even the campus still feels like home when I'm there."
Novak currently serves as the state coordinator of the National Association of Counsel for Children, and she was a 2020 co-chair of the legislative committee of the Nebraska State Bar Association's Juvenile Law Section. She is also a co-founder of the Nebraska Guardian ad Liem Project, which promotes excellence in guardian ad litem advocacy.
One of CSM's core values centers on compassionate service, and Novak is certainly doing her part to shepherd that mission of service in her community.
She is an avid volunteer and active in the community as a member of the St. Joan of Arc school board. Novak volunteers for the Police Athletics for Community Engagement, Latino Police Officers Association and similar organizations serving at-risk youth in the community. She also works with organizations such as Boys Town, Child Saving Institutes and St. Francis Ministries to provide foster parent education. 
"One thing that still sticks with me that I learned from CSM is to be proud of who you are, and never limit yourself. That's CSM in a nutshell."
Novak currently resides in Omaha with her husband, Ted Boecker, a practicing attorney, and their two children, Teddy, 8, and Eleanor, 4.