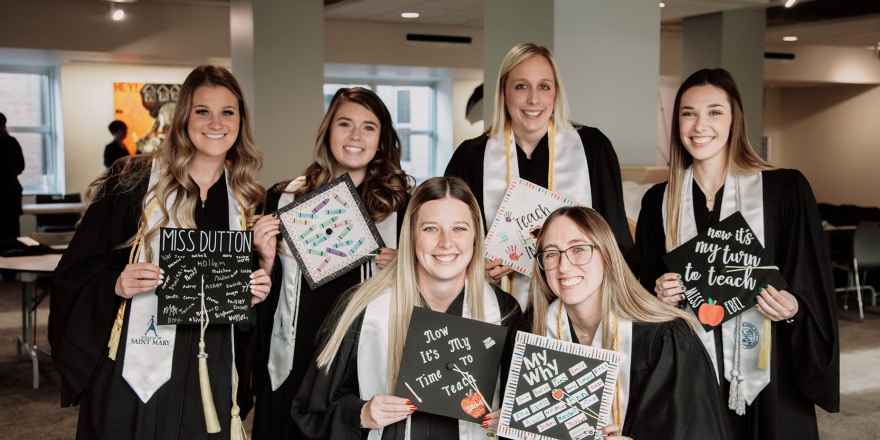 College of Saint Mary Awards 51 Degrees to December Graduates
Wednesday, December 21, 2022
OMAHA, Neb. – College of Saint Mary (CSM) presented degrees to 34 students during a winter commencement ceremony on Saturday, Dec. 17, in Our Lady of Mercy Chapel. Of those graduating, 22 received their bachelor's degree, while one received their doctoral degree and 11 received their master's degree.
An additional 17 students received their Doctor of Physical Therapy (DPT) in a separate virtual gathering. This is the first class to graduate from the DPT program.
The commencement address was delivered by Dr. Melissa Kimmerling '06, M'07, D'14. Kimmerling is the founding program director and associate professor for the occupational therapy programs at Nebraska Methodist College. CSM President Dr. Maryanne Stevens, RSM, presented the degrees to the graduates and provided congratulatory remarks.
Graduation Undergraduate Honors
Graduation with honors is based on the undergraduate student's quality point average for College of Saint Mary course only. To be eligible for honors, the student must complete at least 65 semester hours of CSM courses at the bachelor's degree level or 37 semester hours at the associate's degree level.
For Bachelor's Degrees
Summa cum laude: a student must obtain a quality point average of at least 3.9
Magna cum laude: a student must obtain a quality point average of at least 3.7
Cum laude: a student must obtain a quality point average of at least 3.5
For Associate's Degree
With highest honors: a student must obtain a quality point average of at least 3.9
With high honors: a student must obtain a quality point average of at least 3.7
With honors: a student must obtain a quality point average of at least 3.5
December Graduates
| | | | | | |
| --- | --- | --- | --- | --- | --- |
| Maria | Barrera | Bachelor of Science | Kansas City | MO |   |
| Briana | Bedlan | Master in Occupational Therapy | Omaha | NE |   |
| Beth | Boettcher | Doctor of Education | Sergeant Bluff | IA |   |
| Mary | Boland Steier | Master of Arts in Teaching | Omaha | NE |   |
| Erin | Brewer | Bachelor of Science | Falls City | NE | Magna Cum Laude |
| Kaitlyn | Burton | Doctor of Physical Therapy | Omaha | NE |   |
| Colton | Busch | Doctor of Physical Therapy | Omaha | NE |   |
| Ashlee | Carstens | Master in Occupational Therapy | Lincoln | NE |   |
| Kenneth | Conde | Doctor of Physical Therapy | Caguas | PR |   |
| Laura | Dutton | Bachelor of Science | Blair | NE | Summa Cum Laude |
| Ahren | Ebel | Bachelor of Science | Omaha | NE | Magna Cum Laude |
| Lyla | El-Refaie | Doctor of Physical Therapy | Omaha | NE |   |
| Katie | Green | Doctor of Physical Therapy | Midland | TX |   |
| Gabriele | Gregory | Doctor of Physical Therapy | Monticello | KY |   |
| Nicole | Haug | Master of Arts in Teaching | Carter Lake | NE |   |
| Adelaida | Hernandez Perez | Bachelor of Science | Madison | NE | Magna Cum Laude |
| Kimberly | Hlivko | Master of Arts in Teaching | Omaha | NE |   |
| Rachel | Hunt | Doctor of Physical Therapy | Belding | MI |   |
| Kelsey | Jaeschke | Doctor of Physical Therapy | Kenesaw | NE |   |
| Jade | Keller | Bachelor of Arts | Omaha | NE |   |
| Emily | Koski | Bachelor of General Studies | Omaha | NE | Magna Cum Laude |
| Kaitlynn | Kraft | Bachelor of Science | Papillion | NE | Summa Cum Laude |
| Erika | Lara-Martinez | Bachelor of Arts | Bellevue | NE | Magna Cum Laude |
| Victoria | Leffler | Doctor of Physical Therapy | Lincoln | NE |   |
| Elise | Lewis | Doctor of Physical Therapy | Rapid City | SD |   |
| Breeanna | Lomas | Bachelor of Arts | Papillion | NE |   |
| Maya | Madden | Bachelor of Arts | Omaha | NE | Magna Cum Laude |
| Alyssa | Marsh-Contreras | Bachelor of Science | Bellevue | NE |   |
| Lucky | Maze | Doctor of Physical Therapy | College Grove | TN |   |
| Melissa | McDonald | Doctor of Physical Therapy | Huber Heights | OH |   |
| Tiffany | Meyer | Bachelor of Science | Tabor | IA | Cum Laude |
| Erin | Peabody | Bachelor of Science | Omaha | NE | Cum Laude |
| Olivia | Petrini | Bachelor of Science | Papillion | NE | Cum Laude |
| Jennifer | Phelps | Master of Arts in Teaching | Elkhorn | NE |   |
| Jawwad | Rashid | Doctor of Physical Therapy | Rockwood | MI |   |
| Emily | Riley | Bachelor of Science | Bellevue | NE |   |
| Abril | Serrato | Bachelor of Arts | Omaha | NE |   |
| Payton | Stephens | Doctor of Physical Therapy | Manhattan | KS |   |
| Milka | Tapia Ruiz | Bachelor of Arts | Omaha | NE |   |
| Kate | Tatum | Bachelor of General Studies | Omaha | NE |   |
| Jasmine | Thomas | Doctor of Physical Therapy | Memphis | TN |   |
| Lauren | Traggiai | Bachelor of Arts | Bellevue | NE | Summa Cum Laude |
| Megan | Vieselmeyer | Doctor of Physical Therapy | Holyoke | CO |   |
| Madison | Voss | Doctor of Physical Therapy | South Sioux City | NE |   |
| Amanda | Ziegenbein | Bachelor of General Studies | Lincoln | NE |   |
| Jennifer | Zymola | Master of Arts in Teaching | Elkhorn | NE |   |