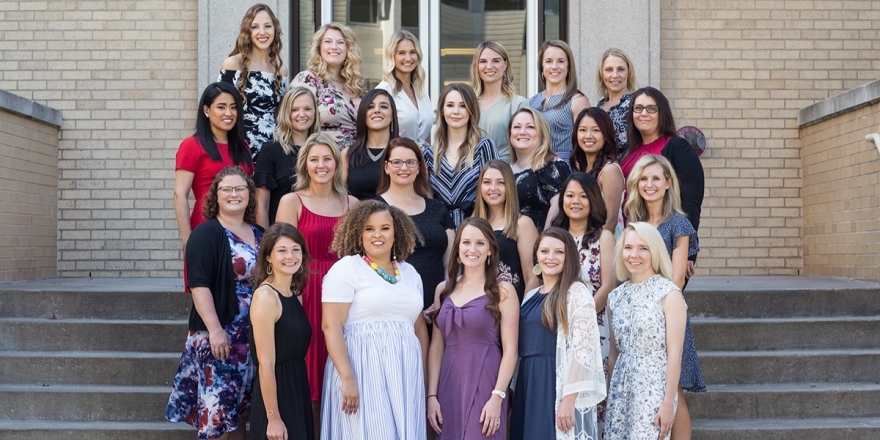 College of Saint Mary celebrates 2nd annual Physician Assistant Completion ceremony
OMAHA, Neb. – College of Saint Mary (CSM) celebrated its 2nd annual Physician Assistant Completion Ceremony on Saturday, August 3rd. The event recognized students who completed their Master of Science in Physician Assistant Studies degree and will soon become certified, practicing physician assistants (PA).
Clare Kennedy, PA-C, director of the physician assistant studies program at CSM, presided over the ceremony. "These students have had a long journey, and today we celebrate another milestone which brings them closer to the goal of practicing medicine and caring for others," said Kennedy in her opening remarks.
Erin Root M'19 led the invocation, and T'Essence Bessick M'19, president of the PA class of 2019, gave the student speech. Dr. Sarah Kottich, provost at CSM, delivered the closing remarks.
"These amazing women sitting before you possess what it means not only to be a physician assistant but also what it takes to be in medicine," T'Essence Bessick reflected in her student speech. "We remained courageous; we persevered and weathered the storms to achieve our goal of becoming physician assistants. Although we have completed this chapter of our education, we will go on to various places, new beginnings, and a lifelong journey of learning and building upon all of the knowledge we have gained throughout this educational path."
College of Saint Mary also presented various awards for exemplary achievement and performance to graduates and preceptors. Alyssa Meyer M'19 won the Outstanding Spirit Award for embodying the spirit and mission of CSM during her time in the program. The Outstanding Scholar Award, which recognizes strong academic achievement and professionalism, went to Jenna Sobotka M'19. Dr. Lorrie McGill received the Outstanding Preceptor Award for sharing her passion for medicine and encouraging students, while Dr. William Gossman and Physician Assistant Kelly Mullin were given the Program Appreciation Award for their excellent service to CSM's PA program and its students.
After obtaining their certification, these graduates will enter into medical practice as physician assistants, where they will conduct physical exams, diagnose and treat illnesses, order and interpret tests, advise on preventative care, and help in surgery and prescription writing.
Members of the PA studies Class of 2019:
T'Essence Bessick
Alicia Clough
Juliet Clutter
Lindsey Feilner
Kirsten Flemming
Victoria Gutierrez
Jane Hartigan
Tram Huynh
Sarah Inman
Kathryn Janiak
Kara Kane
Hanh Keblesh
Sara McClinton
Laura McPhillips
Alyssa Meyer
Laura Pfeil
Katlin Radke
Erin Root
Stacey Samuel
Sarah Sankey
Raychel Schurman
Jenna Sobotka
Lexi Sutton
Bethany Tomasek