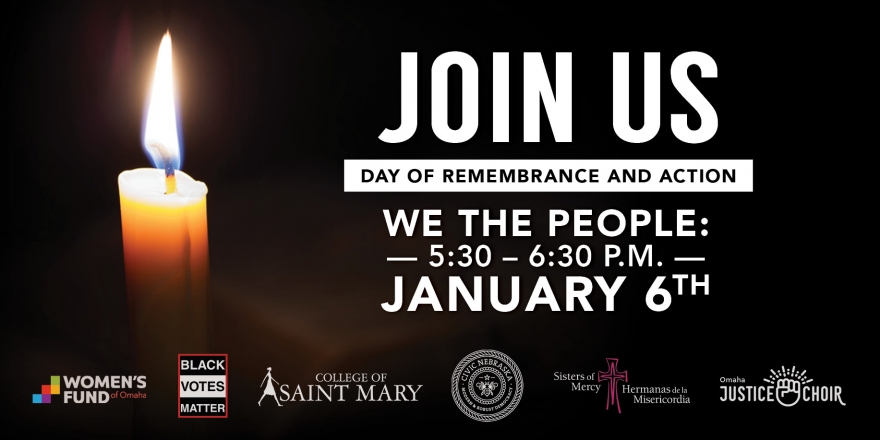 College of Saint Mary to host candlelight vigil Jan. 6
OMAHA, Neb. – On Jan. 6, the first anniversary of the armed attack on the U.S. Capitol and democracy, College of Saint Mary will join with people across the nation hosting candlelight vigils and keeping watch over American democracy.
CSM is partnering with Black Votes Matter, Civic Nebraska, Sisters of Mercy and Women's Fund of Omaha to host the event, which will be held from 5:30 to 6:30 p.m. in the Lied Fitness Center Fieldhouse, 7000 Mercy Road, Omaha.
Speakers will include Heather Engdahl, voting rights field manager of Civic Nebraska; Preston Love Jr., community activist, founder and director of Black Votes Matter; and Jo Giles, executive director of Women's Fund of Omaha. Music will be led by Justice Choir – Omaha.
The League of Women Voters will offer voter registration from 5 to 7 p.m.
Dr. Kristin Mattson, director of community engaged learning at CSM, noted that almost a year after the attack on the Capitol, American democracy continues to be under threat. The purpose of holding the candlelight vigil is to say: In America, the voters decide the outcome of elections.
"The promise of democracy is not a partisan issue but a calling that unites us as Americans. To prevent this kind of attack from happening again, our elected leaders must pass urgent legislation to protect this country from anti-democratic forces who are continuing their efforts to destroy it," said Mattson, who helped organize the event. "Coming together, we can prevent another Jan. 6 attack and realize the promise of democracy for all of us -- no matter our color, zip code, gender or income -- so we all have an equal say in the decisions that shape our daily lives and futures."
Participants are asked to bring their own battery-powered candles/glow sticks. No signs are allowed at the event. Masks are required.
 
For more information about the event, visit CSM.edu/WeThePeople.