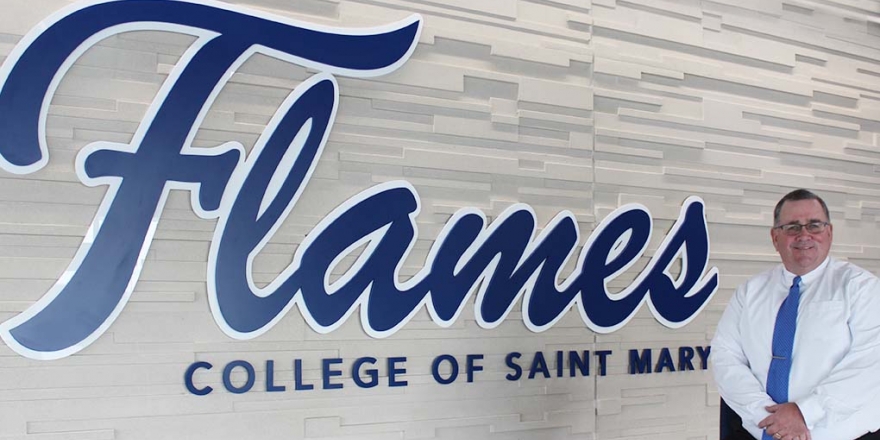 College of Saint Mary names Jeff Johnson as Director of Athletics
Wednesday, November 17, 2021
OMAHA, Neb. – College of Saint Mary announced today that Jeff Johnson has been named as its new director of athletics. With more than two decades in leadership, Johnson brings a wealth of experience in athletics at the high school and collegiate levels.
"Jeff Johnson is a skilled administrator who has built a reputation for high-character leadership with school officials throughout Nebraska," CSM President Maryanne Stevens said. "We are committed to being a leader in advancing women's athletics. Jeff's relationships throughout the community will enable us to reach girls across the area and inspire them to pursue athletics beyond high school."
Johnson's experience includes service as Interim Director of Athletics at Doane University, seven years as Principal at Papillion-LaVista South High School and 10 years as Assistant Principal and Activities Director at Papillion-LaVista South. In prior roles, Jeff also served as Assistant Principal and Activities Director at Grand Island Senior High School and Assistant Principal at Norfolk Senior High School.
Johnson received the NSIAAA Award for Meritorious Service, NSAA Award of Distinction and NCSA District II Principal of the Year during his high school administration tenure, in addition to serving on several committees for the NSAA. At Doane University, he facilitated the creation of a new strategic plan for Doane athletics and initiated new fundraising efforts to advance athletics.
"I am very excited to begin as Director of Athletics at College of Saint Mary," Johnson said. "Having spent the majority of my career in athletics as either an athlete, coach or administrator, I am very grateful for the opportunity to lead an already strong program and help everyone involved reach their goals. I have always enjoyed working with female athletes and watching them compete and develop their leadership skills through athletics.
"CSM is making major investments in pursuit of athletic excellence and building partnerships that will impact our community for years to come. I'm pleased to join CSM at this remarkable moment of incredible potential."
Johnson will arrive at College of Saint Mary just weeks after the completion of an $18 million transformation of the Lied Fitness Center. The new facilities include a state-of-the-art 200-meter indoor track, new basketball/volleyball courts, pitching/hitting tunnels, a golf simulator, overhauled tennis courts, renovated locker rooms and athletic training facilities and the addition of a human performance lab. The college also recently completed $2 million in improvements to the soccer and softball facilities on campus. All athletic improvements have been fully funded through the generosity of donors to the college.
"At CSM we don't do things part way," Vice President for Athletics, Marketing & Technology Nate Neufind said. "We are committed to excellence in all aspects of athletics. Excellence in the student experience, academics, community service and competition are at the heart of our pursuits. I am thrilled to have Jeff help us foster community and chase championships together."
Johnson holds a bachelor's degree in Biology and English and a master's degree in Educational Administration from Wayne State. He has completed coursework towards a doctorate at the University of Nebraska at Omaha. He will begin work immediately and officially assume the role of Director of Athletics on Dec. 6, 2021.