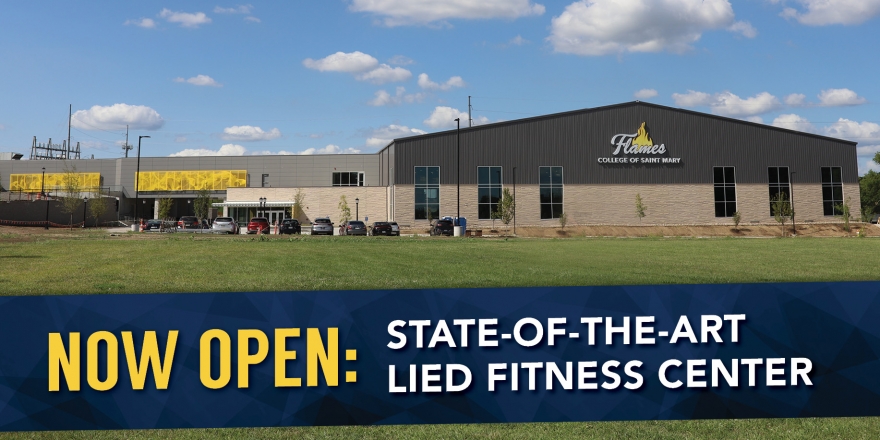 College of Saint Mary opens multi-million-dollar Lied Fitness Center Fieldhouse
OMAHA, Neb. – After nearly a year and a half of construction, College of Saint Mary's new $18 million state-of-the-art Lied Fitness Center Fieldhouse opened this month.
The facility – a 75,000-square-foot addition to the existing Lied Fitness Center on campus – will provide CSM athletes and the greater Omaha area a place for women to excel and grow through athletics. It will also dramatically expand access to year-round training, recreation and performance spaces for students and the surrounding community. The original Lied Fitness Center also underwent a 15,000-square-feet renovation, totaling 90,000-square-feet of new and renovated facilities.
"College of Saint Mary is committed to growing women's athletics throughout the city of Omaha and in the region," said President Dr. Maryanne Stevens, RSM. "This trailblazing facility allows our 11 athletic teams to compete at a higher level. This is just the beginning for Flames Athletics."
The Lied Fitness Center Fieldhouse features a competition-quality indoor track capable of hosting collegiate-level indoor track & field events. In addition, the facility includes three basketball/volleyball courts, indoor golf simulator, an expanded weight room and strength training space, newly refurbished outdoor tennis courts, a dedicated dance and fitness studio, modern locker rooms and more.
The new addition also includes a Human Performance Lab where faculty and students will engage in hands-on research.
"This is a state-of-the-art facility that reflects CSM's commitment to excellence," says Nate Neufind, interim athletic director and vice president of athletics, marketing and IT. "We have long been exceptional academically, and it is our goal for our athletics to have the resources to achieve excellence in competition."
When the Lied Fitness Center was initially built, the college had just four sports compared to the 11 varsity teams it has today. With only one gym previously, teams were practicing at all hours of the day, and the student-athlete experience wasn't as dynamic as it could have been.
The new facility will enable multiple teams to practice simultaneously, and the additional office space added to the existing part of the building has already benefitted coaches and recruiting visits.
Elizabeth Dlouhy, a senior on the volleyball team, looks forward to utilizing the space for practices and studying.
"Even though I am a senior and only have one more season, I will still be one of the first people not only to practice in the new Fieldhouse but also to utilize the entire facility," she says. "Being a student does come before being an athlete, and I intend to use the study space to better myself on that side of things."
Dlouhy adds that with 33 athletes on the volleyball team, the ability to spread out across three courts is extremely helpful.
Grace Blum, a cross country and track athlete, is also eager to use the Fieldhouse's new regulation indoor track and study areas.
"This new Fieldhouse is going to help me, as well as our whole team, grow immensely. Our track team now has the ability to recruit and cultivate athletes in short distance and field events as well as grow the long-distance team," Blum says. "The new building allows student-athletes to be productive during breaks between classes and practices, and I look forward to spending time studying with teammates in these spaces."
Carolyn Bray, CSM head softball coach and sports information director, says she's excited for the entire campus community to have access to the facility, including students, faculty, staff, and alumnae. She's also eager to see how her team will reap the rewards of using the space.
"As a coach, this project is a big deal to me," Bray says. "It's not just because I know how much my student-athletes will benefit from it, but because I know how much the college and President Stevens are invested in Flames Athletics."
The Lied Fitness Center Fieldhouse will also enhance the greater Omaha community.
"As the only facility of its kind in this area that is dedicated to women's athletic opportunities, this will have a transformative impact on our community partners," says Neufind. "Through FitGirl, Ironhawk Triathlon and partnerships with local schools, CSM is introducing hundreds of girls each month to the advantages of fitness while also helping students envision themselves going to college or achieving dreams they had not thought possible. This facility will allow us to greatly expand the depth of our outreach and the number of partners we can work with to create opportunities for women and girls in sports."