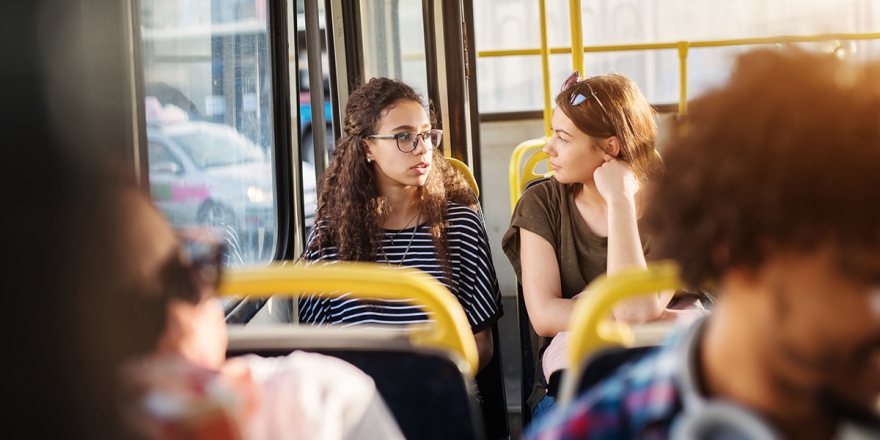 College of Saint Mary partners with Metro Transit to offer free bus rides to students and staff
Wednesday, August 1, 2018
OMAHA, NEB. – Starting Wednesday, Aug. 1, 2018, College of Saint Mary (CSM) students, faculty and staff will be able to use their college ID as a Metro Transit bus pass.
The new CSM 2 Go program will allow current CSM students and employees of the college to utilize this service any time buses are running. Passengers will only need to swipe their ID card to ride. No special activation is required.
CSM Chief Administration Officer Kim Savicky says the College is excited to partner with Metro Transit for this new program.
"This is a win for everyone," says Savicky. "The program will provide a free transportation option for our students and staff while also supporting CSM's commitment to sustainability. We're continuously striving to reduce our carbon footprint, and this is just another step in that direction."
The CSM 2 Go program will fit well into the College's sustainability initiatives. A couple years ago, CSM partnered with LiveWell Omaha on the Heartland B-Cycle program to provide a bike-sharing station on campus. Now students and staff can utilize the bike-sharing network free of charge.
The program will definitely be beneficial to third-year student Marie Hain who doesn't have a vehicle on campus.
"I am thrilled that CSM is providing this service," says Marie Hain '20, an English major from Norfolk, Neb. "Now I'll be able to travel greater distances away from campus, shop at a greater variety of stores, and explore Omaha without having to worry about the cost. This is a great benefit for myself and other students who don't have access to their own transportation."
Metro Transit has also announced it will be building a new solar paneled bus shelter on CSM property, just east of the Mercy Road entrance near the Keystone Trail. The shelter is expected to be completed in mid-August.
For more information on the CSM 2 Go program, go to CSM.edu/2Go.