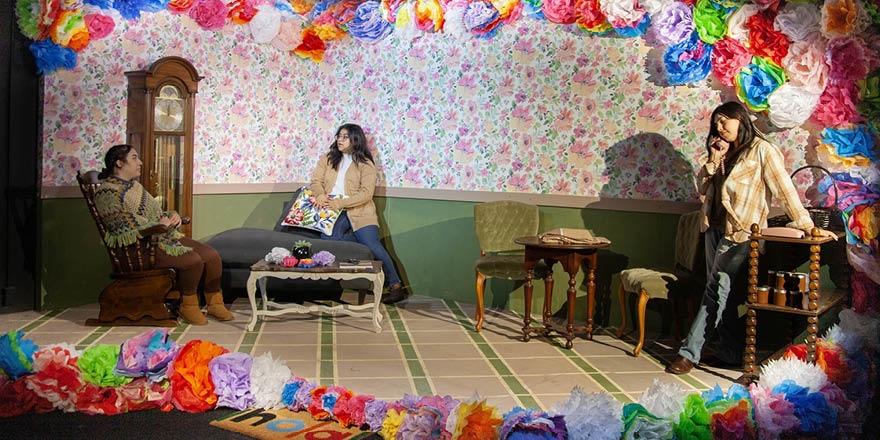 College of Saint Mary Production Selected for Regional Kennedy Center Festival
Friday, December 30, 2022
College of Saint Mary's production of "The Adivina is Never Wrong" was one of seven shows selected for the Kennedy Center American College Theater Festival (KCACTF) Region 5. The invitations were officially announced Dec. 13. The festival is Jan. 22-28 in Des Moines. CSM will give two performances during the festival.
"The Adivina is Never Wrong," a bilingual production by Teri Hegarty, tells the story of Rosa, who lives on an ostrich ranch and dreams of going to college to study meteorology. But that's not what her mother and great-grandmother want for her. Greatly influenced by a fortune teller's prediction from years before, Rosa's family seems to have limited her life choices. Or have they? The audience will watch as this wise and resilient young woman overcomes her fears to forge her own path and take hold of the wheel of fate.
Representatives from the KCACTF attended a performance earlier this month to consider recommending the show for the festival. "Out of all of those schools in the seven-state region, they saw something in us," said Sarah Klocke, director of theatre and communication at CSM.
The respondents spoke highly of the all-female cast and crew and the diversity of the show. "It means so much to me that we have a bilingual production," Klocke said. "In the U.S., the population of Spanish-speaking individuals is continuing to grow, and theatre as an art form has yet to really embrace that trend in our population."
Three actresses were nominated for the Irene Ryan Acting Scholarship auditions. They include Fernanda Barrera as Sophia, Nancy Rodriguez as Mimma and Paris Sorensen as a TV announcer and Gizmo.
"The Adivina is Never Wrong" was the winner of CSM's New Works Initiative call for original one-act play scripts. The playwright later expanded the script to a full-length production. CSM students were part of the development process in picking the show and working with the playwright throughout the production.
The CSM theatre department is planning a remount of the production following the festival. Tentative dates for the performances are 5 p.m. Jan. 31 and 7:30 p.m. Feb. 1.