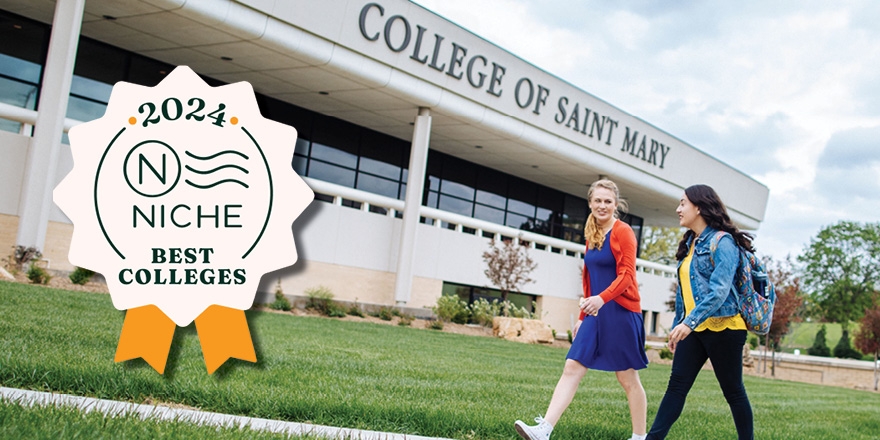 College of Saint Mary Ranked No. 1 School in Nebraska in Three Categories by Niche
Tuesday, September 5, 2023
OMAHA, Neb. – College of Saint Mary (CSM) has been ranked the No. 1 Best Value College, Best Small College and Best College Location in Nebraska, according to Niche. The University was chosen based on exceptional value, high-quality academic offerings, diversity of students, and campus life experience.
CSM also ranked nationally as one of the Best Women's Colleges in America (No. 6), Best Colleges of Kinesiology and Physical Therapy (No. 11) and Best Catholic Colleges (No. 12).
"We take immense pride in these distinguished recognitions from Niche," CSM President Heather Smith said. "These accolades celebrate our commitment to empowering women and developing the leaders of the future."
Dr. Kimberly Allen, vice president of academic and student affairs, said the honors reflect the CSM faculty and staff. "Our faculty and staff are dedicated to giving students an affordable, life-changing college experience, with ample learning opportunities and one-on-one support that promotes academic excellence."
CSM, which is celebrating its 100th anniversary, offers more than 35 undergraduate majors, 11 varsity sports, seven master's and doctoral programs, and a range of service and involvement opportunities.
Notable College of Saint Mary Rankings, according to Niche
No. 1 – Best Value Colleges in Nebraska
No. 1 – Best Small Colleges in Nebraska
No. 1 – Best College Locations in Nebraska
No. 6 – Best Women's Colleges in America
No. 11 – Best Colleges for Kinesiology and Physical Therapy in America
No. 12 – Best Catholic Colleges in America
About Niche
Niche is the leading platform connecting students and families with colleges and schools. We believe finding the right school shouldn't be hard, so we're committed to making it easy for our users to discover and connect with the best ones for them. On Niche, users have access to comprehensive profiles on every school in America — from the ones they know to the ones they have yet to discover. With unique ratings, honest reviews, personalized recommendations, and tools to guide users through every step, Niche is changing how millions find and connect with their schools.