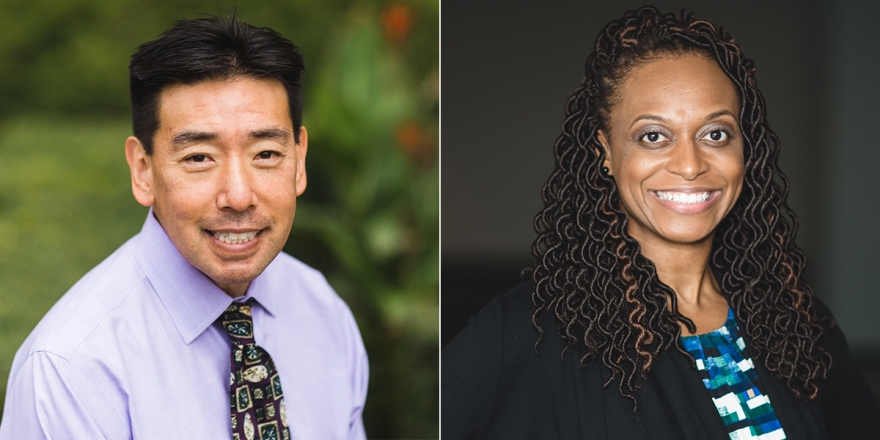 CSM's Shim and Varnado published in international neuroscience journal
OMAHA, Neb. – College of Saint Mary's departments of Kinesiology & Exercise Science and Physical Therapy recently collaborated on a manuscript to explore whether stability scores vary among children with autism. The study, "The Effects of a Pedal-Less Bicycle Intervention on Stability Scores Among Children with Autism Spectrum Disorder," is now published in Advancements in Neurodevelopmental Disorders, an international research journal out of Switzerland.
The research explores the possible improvement of stability scores amongst children with ASD through the use of pedal-less bicycles. In addition to both Dr. Andrew Shim and Dr. Kim Varnado's work, Dr. David Newman and Dr. Justin Haegele were also instrumental in the study.
The study found evidence of a significant association between pedal-less bicycles and mean "limit of stability" (LoS) scores among children with ASD. This investigation determined the use of these bikes can improve stability scores among children if performed at least three times per week.
"This 5-week study was one of the most challenging with regard to logistics, and I am thankful for the volunteers, from the site directors to the ABA specialists who participated in the data collection as well as the support of all the parents who brought their children," says Dr. Shim. "Lastly, Dr. Haegele, Associate Professor from Old Dominion University, was the most important contributor to the manuscript, based on his national expertise on ASD and physical activity."
Dr. Andrew Shim earned his bachelor's in kinesiology and health promotion at California State Polytechnic University. He attained a master's degree in exercise science/biomechanics at California State University in Los Angeles and his Ed.D. in health promotion technology from the United States International University in San Diego, CA. He is currently the Nebraska state director for the NSCA and professor of the Kinesiology and Exercise Program here at CSM.
"Dr. Shim is an avid and respected researcher. It was an honor to be asked to work on this study," says Dr. Varnado. "I wanted to become a physical therapist to work with children with Autism Spectrum Disorder. Currently, I mostly treat adults, so it was great to be a part of this amazing work!"
Dr. Kim Varnado attained her undergraduate degree from Tennessee State University, a Doctor of Physical Therapy degree from Indiana University, and a Doctor of Health Sciences degree from A.T. Still University. She completed her orthopedic residency and manual orthopedic physical fellowship training at Kaiser Permanente in Los Angeles. She is a proud board certified Orthopedic Clinical Specialist and a fellow of the American Academy of Orthopaedic Manual Physical Therapists. Her areas of teaching revolve around clinical problem solving, musculoskeletal rehabilitation and physical therapy examination. She now serves as the director of the Doctor of Physical Therapy program at CSM.
The study was made available online on October 11th and published in the March 2020 edition; Shim, A., Newman, D., Haegele, J. et al. The Effects of a Pedal-Less Bicycle Intervention on Stability Scores Among Children with Autism Spectrum Disorder. Adv Neurodev Disord 4, 20–26 (2020). https://doi.org/10.1007/s41252-019-00131-z
Advances in Neurodevelopmental Disorders
This journal presents high-quality articles that focus on basic and applied developmental research in the broad area of intellectual and developmental disabilities across the lifespan. The journal publishes research on intellectual and developmental disabilities, and cognitive impairments resulting from acquired traumatic or nontraumatic brain injury. Coverage spans a broad range of issues, populations and domains: diagnosis; incidence and prevalence; educational, pharmacological, behavioral and cognitive behavioral, mindfulness, and psychosocial interventions across the lifespan.