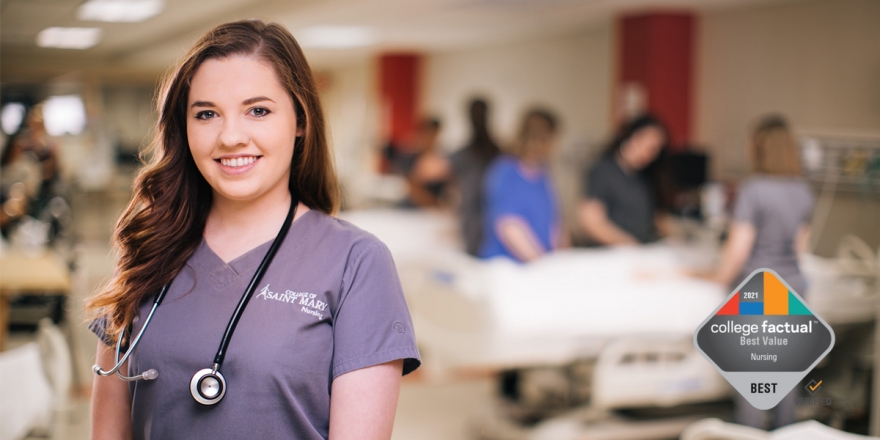 CSM among nation's top 50 Best Value Colleges for Nursing
OMAHA, Neb. – College of Saint Mary has been named one of the nation's "Best Value Colleges for Nursing," according to College Factual. CSM is ranked 45th out of 649 colleges, placing them in the top 7% best value nationally.
According to their research and methodology, College Factual found CSM's nursing program to be one of the top options for anyone seeking a quality and affordable undergraduate education. The program is also ranked #3 best for the money in Nebraska.
The ranking takes into account student success and educational value compared to the price.
College of Saint Mary is renowned for its unique 3-year BSN program, one-on-one faculty tutoring and support, expansive lab spaces, and stellar program completion rates. Learn more about why CSM has one of the top nursing programs in the nation at CSM.edu/nursing.
CSM is also ranked 2nd out of 236 for Most Focused Colleges for Rehabilitation & Therapeutic Professions and 8th out of 753 for Best Value Colleges for Health Professions.
The full list of colleges and universities can be found at Collegefactual.com. Each institution selected does not pay for their selection or inclusion on the site.
College of Saint Mary now offers 35 majors, 11 varsity sports, eight graduate programs, and a range of service and involvement opportunities. Students at CSM learn within an inclusive campus community in the heart of Omaha's Aksarben Village.
About College Factual
Since its founding, College Factual has consistently added value to the overall discussion on college selection. Located in Troy, New York, College Factual is the leading source of data analytics and insights on college outcomes, providing in-depth coverage for over 2,500 colleges and universities and over 350 college majors. These insights are available to students from over 200 countries interested in pursuing accredited college degree programs in the United States.
College Factual partners with USA Today, Wall Street Journal Asia, and Tencent Media China to produce year-round rankings at the majors level, and across various other institution-specific areas. Learn more about the methodologies employed by College Factual.