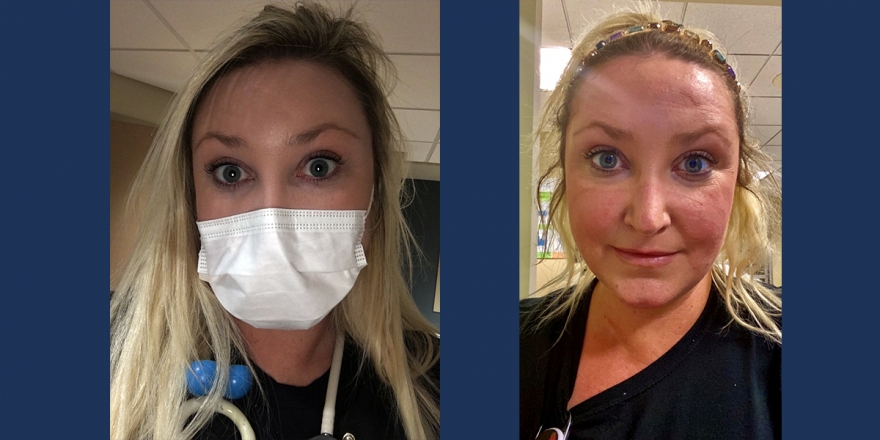 CSM Biology student travels to Connecticut to provide health care for COVID-19 victims
OMAHA, Neb. – In times of crisis, people have the capacity to do great things; to show resiliency and do whatever they can to provide for themselves and others. Some people go even further and risk their own health and safety to help those who need it the most. Jennifer O'Neill '21, a College of Saint Mary (CSM) biology student, is doing just that this summer as she works with COVID-19 victims at a hospital in Bridgeport, Conn.
"I feel like this is my calling," says O'Neill. "Listening to how short-staffed many hospitals were for the number of patients they have, I felt compelled to jump into action and start looking for opportunities to serve in areas of high positive COVID-19 cases."
O'Neill is now working as a respiratory therapist for Yale New Haven Health at Bridgeport Hospital in Bridgeport. She is currently stationed in the Intensive Care Unit (ICU) and is responsible for monitoring COVID-19 patients on ventilators and taking care of them, especially in the case of respiratory failure.
"COVID-19 patients have a repeated pattern of respiratory failure," explains O'Neill. "Throughout all the stages of the virus, we do various respiratory interventions, including intubation and management of the airway. My focus will be on doing these interventions."
O'Neill already has much skill and practice in the area of respiratory therapy. She recently worked as a respiratory therapist and extracorporeal membrane oxygenation (ECMO) specialist at CHI Creighton-Bergan. ECMO is the process of using a pump to circulate blood through an artificial heart or lung back into the bloodstream of a sick patient.
While O'Neill was quite content at her job, the chance to be a traveling respiratory therapist and help even more people affected by COVID-19 drove her decision to accept the position in Connecticut.
"Change is never easy," admits O'Neill. "But the opportunity for growth was one of my factors for leaving Omaha."
O'Neill is very familiar with having to move for a job. She grew up in a military family and witnessed members of her family continually making sacrifices and relocating to fulfill their duties.
"I have seen my father, stepfather, and brother constantly step up to the plate without hesitation when they have been called into service," says O'Neill. "I feel like this is my opportunity to do what they have done."
Being a respiratory therapist and health care worker was not O'Neill's initial career goal. When she first started college, she was interested in marketing and accounting. After realizing business was not the area she desired to work in, she chose the health care field as a way to make a direct impact in people's lives.
"Health care is a way I can help people, which is my ultimate career goal," explains O'Neill.
O'Neill first came to CSM to be in the physician assistant (PA) program. As she got further into the classes, though, she realized her true passion was specifically in the respiratory field. So she switched gears a bit and is currently majoring in biology. Once she graduates, she hopes to go on school to become a perfusionist. A perfusionist is the person who operates the cardiopulmonary bypass machine, which circulates a patient's blood through an artificial heart and lungs, during cardiac surgery.
Throughout her winding road through college, O'Neill remains grateful for her time at CSM and knows that it has prepared her well for her time in Connecticut.
"Sometimes we need to put ourselves in uncomfortable situations so we can improve ourselves," says O'Neill. "Critical thinking skills are huge in health care, especially in these challenging times, and they are something that I have learned along the way and throughout my time as a respiratory therapist."
One of the core values of CSM is compassionate service, and O'Neill will definitely be living that out during her time in Connecticut.
"Health care itself is a service," she says. "When we sign on to work in this field, we agree to take care of the sick without any biases. Every patient is my patient, and I treat each one like he or she is my family member."
After working in Bridgeport for the summer, O'Neill will return to CSM in the fall to begin her final year of undergraduate coursework and will graduate in the spring of 2021.