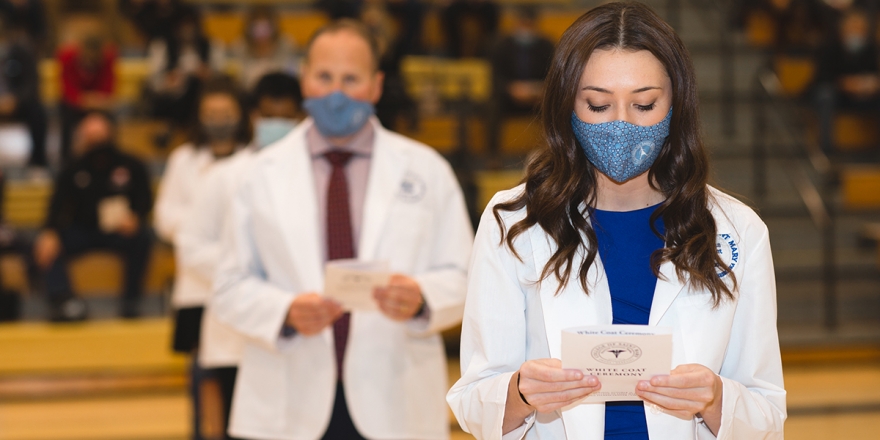 CSM celebrates 5th annual Physician Assistant White Coat Ceremony
OMAHA, Neb. – College of Saint Mary (CSM) celebrated its 5th annual Physician Assistant White Coat Ceremony on Thursday, October 30. The event recognized physician assistant (PA) students who have earned entry into clinical patient care by presenting them with their white coats.
"This evening marks the beginning of your vocation as healers," said Dr. Maryanne Stevens, RSM, president of College of Saint Mary. "The faculty and staff believe you will become women and men who are called to assist with the healing of patients. Being one who heals is a vocation, a calling. A very important and necessary calling in our society. Thank you for embracing this calling."
Clare Kennedy, MPAS, director of the physician assistant studies program at CSM, presided over the ceremony. Taylor Buckminster '22 led the invocation, and Dr. Kimberly Allen, vice president of academic affairs, delivered the keynote speech. After being presented with their white coats, the PA students recited the Physician Assistant Student Oath.
The White Coat Ceremony is a rite of passage into the profession for PA students beginning their careers in healthcare. The White Coat symbolizes professionalism, ethical behavior, compassionate care, and service to others.
This event marks the fifth group of students to receive their white coats since the Master of Science in Physician Assistant Studies program was launched at CSM in 2016. Some of the students are part of CSM's accelerated PA program, enabling students to take pre-PA classes as undergraduates and become practicing physician assistants in just five years.
Upon receiving their white coats, students will complete their didactic year of education in the classroom and then enter their final 12 months of clinical rotations with hands-on practice in varied medical settings. Created during a rising demand for PA careers, CSM's Master of Science Degree in Physician Assistant Studies program is one of CSM's newest academic additions and is one of more than 35 graduate and undergraduate programs offered by the University.
List of Physician Assistant Students
Holly Baumann
Megan Begley
Taylor Buckminster
Alexander Busch
Ashley Dickerson
Ellen Farrell
Callie Finn
Mikayla Foster
Kaylee Griffith
Summer Groteluschen
Grant Gullickson
Eleni Ioannidis
Danielle Katzberg
Jay Maier
Justin Mauro
Kameron Murray
Logan Ohlson
Cassidy Ostrand
Rachel Peabody
Isabella Phillips
Santhosh Ramini
Elizabeth Rieder
Jessica Schenck
Farrah Soll
Katie Stephens
Zachary Swearingen
Nikole Wagner
Lindsey Ybarra