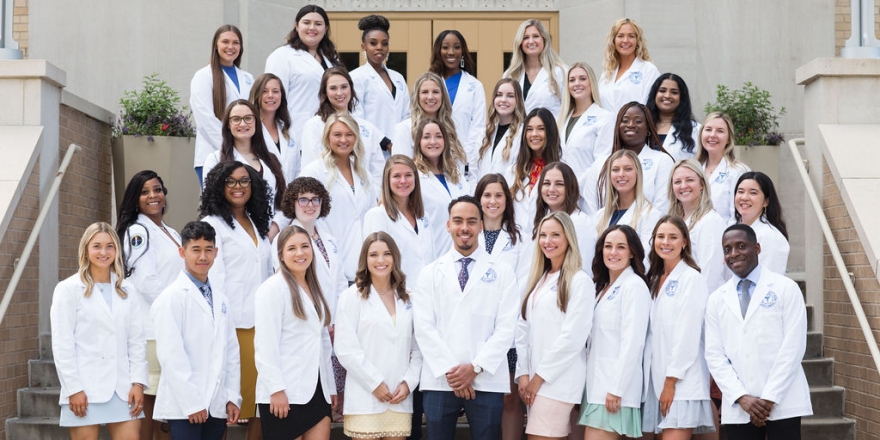 CSM celebrates OT White Coat Ceremony
OMAHA, Neb. – College of Saint Mary celebrated its second Occupational Therapy White Coat Ceremony on Saturday, June 11, in Our Lady of Mercy Chapel. The event recognized 38 occupational therapy doctorate (OTD) students who will begin the clinical care portion of the curriculum by presenting them with their white coats.
"The white coat is a symbol of the care these students will provide as they move forward in their profession," said Dr. Mindy Barna, associate dean of health professions. "We congratulate them on the culmination of their hard work as they begin their clinical year."
Dr. Mary Smith, associate professor of occupational therapy, presided over the ceremony. Danielle Cornwall D'23 led the opening prayer. The opening remarks were given by Dr. Kristin Haas, director of the OTD program, delivered the opening remarks, while Dr. Kylie Widhelm, assistant professor of occupational therapy, presented the keynote address. Danielle Abboud D'23 gave the student speech.
After receiving their white coats, the students were officially welcomed into the occupational therapy profession. They also recited the occupational therapy student oath. The White Coat Ceremony is an important ritual across the medical profession that welcomes students into the healthcare field. The white coat itself represents medical and professional excellence and compassionate care.
CSM's OTD program focuses on the development of clinical practice skills, research skills, administration, leadership, program and policy development, advocacy, education, and theory development. In addition, students must complete two 12-week fieldwork experiences along with a 14-week doctoral experience that culminates in a scholarly project. 
List of Occupational Therapy Doctorate students
Danielle Abboud, Omaha, Neb.
Emily Beaver, Central City, Neb.
Jacqueline Bradley, Rock Port, Mo.
Cami Brandt, Omaha, Neb.
Brandi Burton (Bundy), Grosse Ile, Mich.
Dana Chleborad, Omaha, Neb.
Megan Corey, Omaha, Neb.
Danielle Cornwall, Orlando, Fla.
Catherine Crumbley, Omaha
Iesha DeVaughn, Newark, N.J.
Mattia Epps, Omaha, Neb.
Jordan Bates (Fischer), Omaha, Neb.
McKenzie Ford, Omaha, Neb.
Haley Gabel, Omaha, Neb.
Alex Hafkey, Lakewood, Colo.
Kenesha Henry-Wilson, Omaha
Dmieflur Hunter, Bellevue, Neb.
Jeremy Jackson, Aurora, Colo.
Kelsey Jones, Omaha, Neb.
Kassidy Kellogg, Tekamah, Neb.
Madison Lewis, Lincoln, Neb.
Roby Lung, Honolulu, Hawaii
Kelly Maday, Wilmette, Ill.
Keylee Mastromonaco, Omaha
David Mensah, Bowie, Md.
Lisa Mesadieu, Port St. Lucie, Fla.
Kennedy Morgan, Walthill, Neb.
Rachel Morman, Cheyenne, Wyo.
Jenna Popesku, Omaha, Neb.
Raquel Rathwell, Bellevue, Neb.
Anne Rickert, Sioux Falls, S.D.
Taylor Runyan, Omaha, Neb.
Magi Sontag, Omaha, Neb.
Becca Svoboda, Omaha, Neb.
Aileen Sweeney, Omaha, Neb.
Erin Tharnish, Omaha, Neb.
Angel Thomas, Omaha, Neb.
Abigail Trevena, Lincoln, Neb.