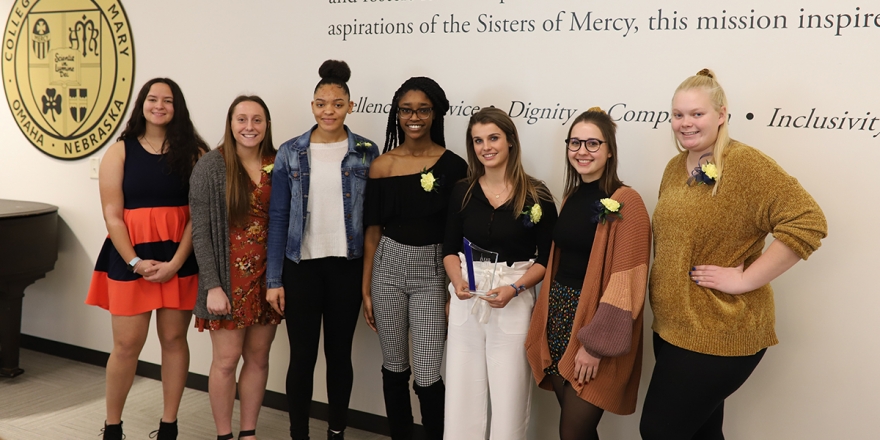 CSM celebrates women's athletics with second annual Lead Like a Girl Luncheon
OMAHA, NEB. – College of Saint Mary welcomed over 30 area high school students to campus on Wednesday, Feb. 5th, for its second annual Lead Like a Girl Luncheon. The event recognized Omaha public and Catholic high school student-athletes who were each nominated in the areas of leadership, character and teamwork and coincided with National Girls & Women in Sports Day.
"The event was a wonderful celebration of girls and women in sports," says Peter Haze Haring, director of athletics at CSM. "I am ecstatic about the support and turnout the luncheon had by Omaha high schools. All of the nominees for Lead Like A Girl are making an impact within their teams on a daily basis. I am so proud of our local high school student-athlete and coaches—they are truly making the effort to enhance a positive experience through leadership and sports."
Angee Henry Nott presented the keynote speech. The awards given were the Integrity Award, the Spark Award, the Trailblazer Award and the Coach of Character Award. Each nominee exhibited the NAIA Champions of Character Five Core Values—integrity, respect, responsibility, sportsmanship, and servant leadership—both on her team and in her school community.
Results:
Coach of Character Award – This award is given to a head coach of an Omaha high school who has been outstanding in embracing the five core values of the Champions of Character initiative by deliberately teaching character to his/her student-athletes through sport. Winner: Lindsay Anderson – Omaha South High School – Cross Country Coach
Trailblazer Award – This award is given to a female student-athlete at an Omaha high school who has demonstrated excellence focused on the value of Leadership within her team and community. Winner: Safiyah Abdessalam – Omaha Central High School – Golf Athlete
Spark Award – This award is given to a female student-athlete at an Omaha high school who has a continuous positive impact on her team within competition and other team-oriented activities. This athlete may be the "spark" subbing in off the bench or the "spark" of energy cheering for her team or impact her team in another positive way. Winner: Eleanor Dunning – Omaha North High School – Cross Country and Track Athlete
Integrity Award – This award is given to a female student-athlete at an Omaha high school who has demonstrated excellence focused on the value of Integrity as defined by the NAIA Champions of Character Five Core Values. Winner: Alyssa Gappa – Omaha Northwest High School – Softball and Basketball Athlete