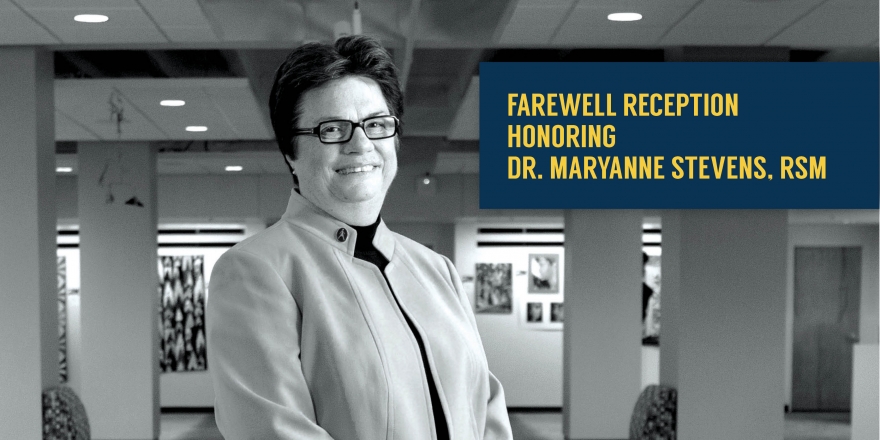 CSM to Honor Dr. Maryanne Stevens with Farewell Reception
The College of Saint Mary community will honor Dr. Maryanne Stevens, RSM, with a farewell reception from 4-6:30 p.m. June 27 in the Hillmer Art Gallery. She will retire June 30 after 27 years of service as CSM's longest-serving president.
"We welcome all to join us as we celebrate Dr. Stevens and the legacy she leaves as she retires," said Terri Campbell, vice president for alumnae and donor relations.
Dr. Stevens began her presidency to pursue a mission of higher education opportunities for women on June 1, 1996. Under her leadership, CSM has developed several innovative programs, specifically, a residence hall allowing single mothers to live with their children on campus; Marie Curie scholarships for low-income women majoring in math or science; the Summer Academies for high school girls; graduate programs in education, physician assistant studies, occupational therapy, kinesiology and organizational leadership as well as a unique doctoral program in physical therapy.
Dr. Stevens' passion for education and the advancement of women cannot be more evidenced than by her leadership of numerous capital campaigns and scholarship initiatives that have allowed CSM to take its rightful place in the regional landscape of higher education. Most recently, CSM completed a $40 million Striding Forward Campaign in just four years, allowing for growth in the endowment, new scholarships, and expanding Flames Athletics with the expansion of the Lied Fitness Center to include a fieldhouse, golf simulator and new strength and conditioning area.