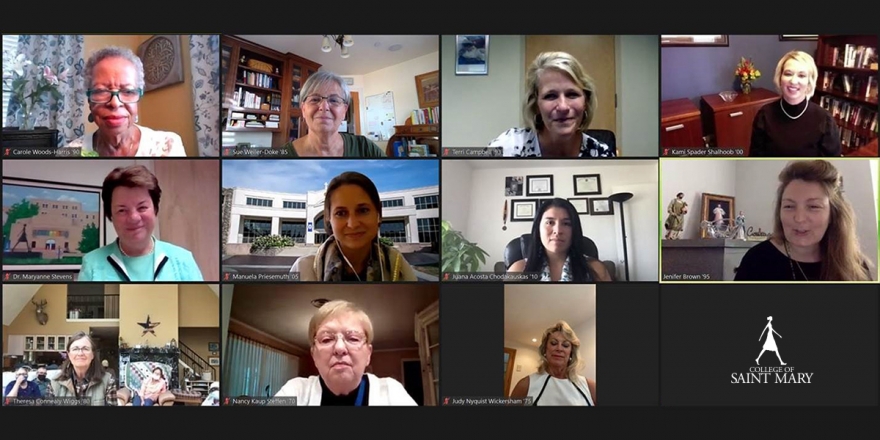 CSM honors nine with Alumnae Achievement Award
College of Saint Mary (CSM) recently honored nine alumnae with its 2020 Alumnae Achievement Award. The Alumnae Achievement Award recognizes individuals who actively live out the values of College of Saint Mary.
This year's recipients are: Nancy Kaup Steffen '70, Judy Nyquist Wickersham '75, Theresa Connealy Wiggs '80, Sue Weiler-Doke '85, Carole Woods-Harris '90, Jenifer Brown '95, Kami Spader Shalhoob '00, Dr. Manuela Priesemuth '05, and Juana Acosta Chodakauskas '10. CSM presented the awards at this year's virtual Alumnae Achievement Award celebration in September.
Nancy Kaup Steffen '70 (West Point, NE)
Steffen followed in her mother's footsteps when enrolling in CSM Fall of '66. From there, she served as a cantor at her local parish while also serving on the council and guild. She has served as an officer and actor in the West Point Community Theatre for nearly 50 accomplished years. Her servitude has extended as a prominent and three-term leader for the Catholic Daughters of America's Grand Regent.
In addition to living out the value of leadership that was cultivated at College of Saint Mary, Steffen also remains committed to helping others. She has volunteered for the Red Cross for almost 30 years and is an original incorporator of the West Point Community Foundation.
Upon receiving the award, Steffen said that CSM gave her the tools to become a successful business owner and mother. Steffen's legacy at CSM has not since ended as two of her children attended CSM (class of '89 and '94), and one of her grandchildren is currently a first-year student. Her husband, Don, has enjoyed working on their successful farming operation near West Point.
Judy Nyquist Wickersham '75 (Omaha, NE)
Wickersham graduated with an associate's degree in business. She has collaborated with her husband to create and build Wick's Truck Trailers, Inc., which proudly serves as one of the nation's largest semi-trailer dealers. She is a recipient of the President's Award from the Omaha Community Playhouse. She and her family were also honored to build and equip the Gale Wickersham Athletic Complex in Council Bluffs, IA.
In addition to living out the value of leadership that was cultivated at College of Saint Mary, Steffen also remains committed to service. She has volunteered as a scout leader, school volunteer and Bible School Sunday Teacher. She is famous around College of Saint Mary's for her baked treats delivered to students on their birthdays. 
Upon receiving the award, Wickersham thanked Sr. Loretta Sedlmayer for her expert guidance and instruction and Sr. Mary Ellen Quin and Sr. Norita Cooney for their leadership within the Sisters of Mercy. She also recalled Sr. Maryanne Stevens' influence and new voice when first acquainted.
Theresa Connealy Wiggs '80 (Bennington, NE)
Wiggs graduated with honors in 1980 with a bachelor's in early childhood education. She became certified as a Montessori teacher, and just three months after graduating, opened up her own Montessori school, the Montessori Circle of Children. Wiggs' school grew to become nationally accredited and affiliated with the American Montessori Society. In addition to her school's flourishing accomplishments, she began Miss T's Montessori Music, which uses music to deliver lessons over a broad range of subjects. She is responsible for the composure and publication of 30 children's songs.
In addition to living out the value of leadership that was cultivated at College of Saint Mary, Wiggs serves as a verifier for the American Montessori Society and Montessori Accreditation Council for Teacher Education. This position has taken her around the U.S. to scout and verify Montessori programs to ensure the very best practices and award licensing. She has recently opened up a Nature Center on her 170-acre farm. This center inhabits the Montessori philosophy in developing its programs for children and adults. For six years, she has served as an Associate of the Notre Dame Sisters, using her experience to lead on their board of directors.
Upon receiving the award, Wiggs said that CSM gave her the confidence to become a successful servant leader. Wiggs also accredits CSM for the nourishment of her faith and the experiences she had during retreats and liturgies.
Sue Weiler-Doke '85 (Martinez, CA)
Weiler-Doke graduated with a degree in accounting and pursued a career in the construction industry. She was a pioneer for her time as a female in a male-dominated field, which forced her to move 21 times in just seven years through the West Coast.  Now she is a proud consultant of the National Construction Industry.
In addition to her accounting degree, she earned her master's degree in organizational psychology and is working towards her Doctorate of Education in Organizational Leadership, both from Grand Canyon University. She actively volunteers at her church on the finance council and throughout the church's school. 
Upon receiving the award, Weiler-Doke said her heavy humanities background was helpful in revealing the truth about any business – it is all about the people. Weiler-Doke stressed that a technical degree provides organization, but the soft/people skills are key to blossoming a career.
Carole Woods-Harris '90 (Fort Mill, SC)
Woods-Harris has been a trendsetter since her senior year of high school when she served as the first African American telephone operator for Northwestern Bell. Through the next 30 years, she was promoted to a management position – again, she was the first African American woman in this position. She was beyond instrumental in documenting the Northwestern Bell's role in a major Employment Opportunity lawsuit, which led to the development of the first affirmative action plan. After retiring, she served as the first African American and one of the first women to be elected to the Douglas County Board of Commissioners, where she served as chair and vice-chair. In 2004, she became the first African American elected to the Nebraska State Board of Education.
She has received numerous accolades because of her extensive service to Nebraska. Some of these include but are not limited to: The National Community Leadership Award and the One-Hundred Black Women of Omaha Legacy Award in Political Advocacy.
Upon receiving the award, Woods-Harris expressed her gratitude for "the opportunity to pursue a college degree as a forty-something working mother." She is retired and relocated to South Carolina but holds high hopes her legacy will inspire the next generation of political advocates. There is no doubt the CSM community could forget her lasting impact.
Jenifer Brown '95 (Council Bluffs, IA)
Brown graduated with a degree in theology with minors in art, communications and philosophy. Her radio broadcasting career began as an on-air personality for Omaha's KAT Country and KOIL radio stations. She joined the famed WOW AM and FM and eventually a national radio network. In 2013 she joined Spirit Catholic Radio as a co-host; she lives out her personal mission of incorporating faith into everyday work. 
In addition to her radio broadcasting career, she supports St. Albert Schools as both her son and her daughter graduated from the school in Council Bluffs. She is a part of the Social Concerns committee, Council of Catechesis, ARISE, and Home for Haiti in service to her home parish. Jackson, Jen's son, plays on the UNI football team and she loves being his biggest fan.
Kami Spader Shalhoob '00 (Omaha, NE)
Shalhoob graduated with a bachelor's degree in occupational therapy; she has maintained her professional occupational therapy licensure status and advanced her professional career through various areas in order to better serve the geriatric population. She sees her service to the senior community as an honor to help care for her patients.
She received the Volunteer of the Year in 2019 through her church and is a member of the Country House Residence and Waverly Care Center. Shalhoob also actively participates in volunteer efforts for her sons' school. Her three boys' names are MJ, Ty, and Sam.
Upon receiving the award, Shalhoob expressed that CSM helped bring out her best self. She credits the "strong academic instructors, committed administrative leadership, lasting friendships, community networking and a solid faith foundation."
Dr. Manuela Priesemuth '05 (Bryn Mawr, PA)
Priesemuth graduated with a degree in business administration and went on to earn an MBA from Creighton and a Ph.D. in Management/Organizational Behavior from the University of Central Florida. She has taught nearly 1,000 students across three countries about the topics of Organizational Behavior and Business Ethics.
Her publications include multiple journal articles and book chapters relating to workplace mistreatment and steps to combat supervisor abuse/bullying issues in the workplace. Her dissertation examined the witness's ability to stand up against a supervisor for a victimized co-worker. This dissertation was selected as one of the best dissertations by the Academy of Management in 2012.
Her research was featured in Harvard Business Review, Psychology Today, The Guardian, NBC, The Hill and various podcasts hosted by Villanova University. Her work as a member of the Villanova University has resulted in her being named the Baldwin Assistant Professor of Management with tenure. Upon receiving the award, Steffen said her greatest accomplishment and joy is from creating a beautiful family with her husband, Laurent.
Juana Acosta Chodakauskas '10 (Riverside, CA)
Chodakauskas graduated with a double major in biology and chemistry before attending Loma Linda University in California, where she then earned her Masters of Science in Nutrition and Dietetics in 2013. She is integral at the Kaiser Permanente establishment as a registered dietitian. She also serves as the Bilingual Committee leader for the Center of Healthy Living in Riverside. Her passion and creativity fueled her education implementation amongst those caring for or suffering with bariatric issues and diabetes amongst the Spanish-speaking population.
In addition to her strong leadership qualities cultivated at College of Saint Mary, she is frequently presenting at a variety of health fairs and developing curricula for online health education workshops. She and her husband, Joshua, both serve as active participants in guest services at their local church.