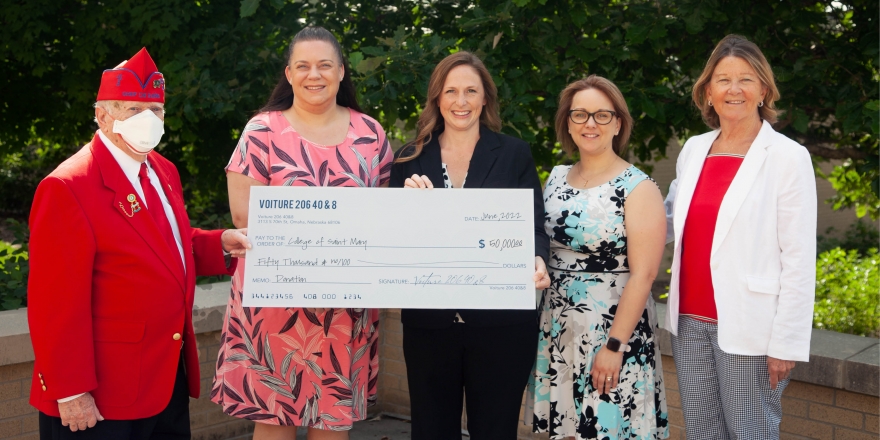 CSM Nursing Program Receives $50,000 Donation from Omaha Veterans' Organization
OMAHA, Neb. – On Tuesday, June 14, members of the 40 & 8 Voiture 206 presented College of Saint Mary's (CSM) nursing department with a check for $50,000 to be used toward equipment for the program.
Chef de Gare Robert Hill, who presented the check, said the funds resulted from the sale of the club's building and property. The organization is known for supporting the training of nurses, typically through tuition scholarships.
"We had thought about scholarships," Secretary and Treasurer James Miller said. "But rather than provide a scholarship for one or two individuals, we thought that buying equipment where it could be utilized to train many nurses made a lot more sense."
CSM plans to use the funds to purchase an advanced multipurpose patient simulator, which is designed to simulate lifelike cases across a broad range of clinical areas, including pre-hospital, emergency department, operating room and intensive care unit. "This will tremendously affect our students," said Dr. Mindy Barna, associate dean of health professions.
40 & 8 Voiture 206 plans to donate equal funds to nursing programs at six other colleges in the Omaha metro area.
The Forty and Eight is an independent, invitation-only, honor society of American veterans and service members. The organization is committed to charitable and patriotic aims, according to its website. The titles and symbols of The Forty and Eight are derived from the experiences of U.S. troops during World War I.