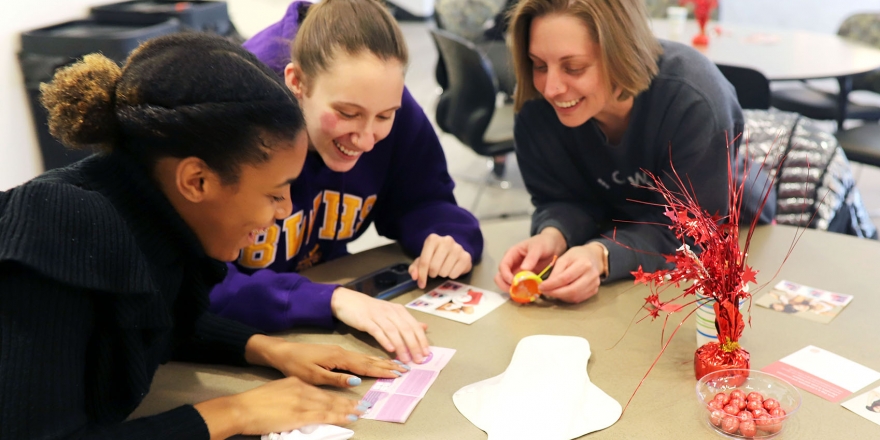 CSM Period chapter provides products, education about menstruation
Wednesday, August 10, 2022
In every public restroom on the College of Saint Mary campus, students, staff, and faculty will find a basket of menstruation products that includes pads and tampons. The items are provided by PERIOD@College of Saint Mary, a chapter of a national organization that focuses on education, advocacy, and service relating to menstruation.
The initiative to provide these free products was started by Dr. Amanda Roe, associate professor of biology, and Dr. Molly Mahoney, professor of psychology. CSM's PERIOD chapter, the first in Nebraska when it began in 2019, was started by Dr. Roe following a menstruation product drive by the Walk Tall Honors program. During the drive, which collected more than 25,000 pads and tampons, Dr. Roe discovered the PERIOD organization and asked Dr. Mahoney if she would be willing to partner. They both felt strongly that this initiative would be an excellent fit for the CSM campus and as Dr. Mahoney said, "At CSM, there are many students experiencing food insecurity. If students need food, it is likely that they also need menstrual products."
A second drive was held in 2020, but because of the pandemic and everything shutting down, the products could not be donated as originally planned and instead, Drs. Roe and Mahoney approached CSM President Dr. Maryanne Stevens, RSM, to start a pilot program to place the free products in all bathrooms – men's, women's, and singles. Dr. Stevens was supportive of the pilot program and after seeing over 3,000 products used between August 1 and November 1, 2021, the college decided to end the pilot program and provide free menstruation products, with the cost now covered in the yearly budget. To continue increasing access to menstruation products, the chapter continues to hold annual spring product drives. This spring, the chapter worked with DUO, a student-led organization, to collect over 9,000 products that were donated to Heartland Family Service of Omaha and the Pine Ridge Reservation in South Dakota.
Drs. Roe and Mahoney are passionate about menstruation education and breaking the stigma around menstruation. In April, Drs. Roe and Mahoney, along with Dr. Emily Kahm, assistant professor of theology, hosted an event called, "Go with the Flow…Sustainably." The event focused on sustainable menstruation products such as menstrual cups and cloth pads and started with a discussion of the environmental impacts of period products. To make it less intimidating, the professors brought a variety of sustainable product options for the attendees to explore. More than 50 students and staff members attended the event and each received a free menstrual cup. This fall, the chapter's goal is to host a series of talks that focus on the biology and the historical and societal views of menstruation.
The CSM PERIOD chapter not only addresses a need on campus, but also offers opportunities for interdisciplinary collaborations. In addition, the chapter's work aligns with CSM's mission of inclusivity, dignity, compassion, and service. "We felt really strongly that if we were going to make change, an all-women's college was the place to start," Dr. Roe said. "If we can't do it here, where do we expect people to do it?"
By Leeanna Ellis