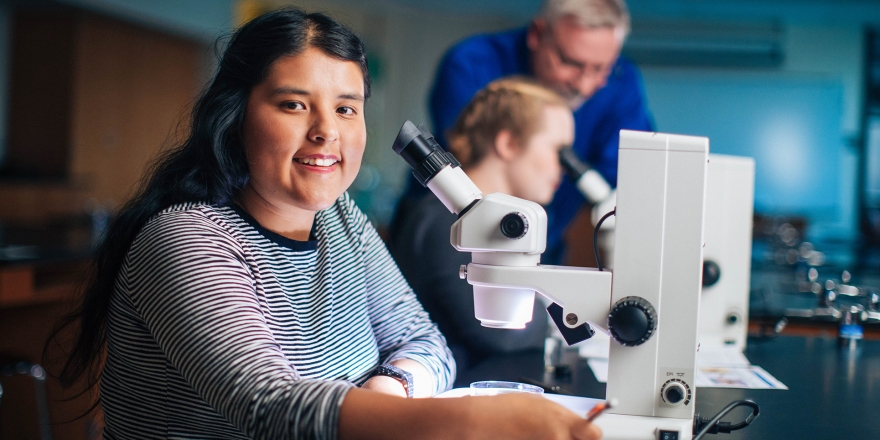 CSM receives National Science Foundation grant for Marie Curie Scholarship program
Friday, December 10, 2021
OMAHA, Neb. – College of Saint Mary recently received a $1.3 million grant from the National Science Foundation to enable the University to continue funding its Marie Curie Scholarship program.
The program provides significant financial support and resources to outstanding young women pursuing study in STEM majors, such as biology, chemistry, math or human biology (non Pre-PA students).
Marie Curie Scholars receive up to $20,000 annually for four years in gift aid. In addition to having access to substantial financial resources and facilities, participants also receive tutoring, have opportunities for undergraduate research, and have access to top programs like the National Institute of Health and NASA research fellowships. Marie Curie Scholars at CSM also often attend and present at national conferences.
The NSF grant will be used to fund additional scholarships for 24 full-time students over the next six years.
"The goal of CSM's Marie Curie Scholars program is to increase the number of female students graduating with STEM majors," says Dr. Heather Stigge, assistant professor of biology. "With support from this grant, we can offer an additional twenty four scholarships for the next six years. We'll also be able to assess the extent to which student participation in STEM experiences and exposure to STEM careers affects the retention of female undergraduate students pursuing bachelor's degrees in biology, chemistry or mathematics."
Additionally, the program provides an intentional four-year plan for each cohort of scholars that will help them prepare for success in their STEM courses, inspire them to explore different careers in STEM fields, provide research and work experience with faculty and industry partners, and aid them with a job or graduate school placement.
Vice President of Academic Affairs Dr. Kimberly Allen says, "We are so grateful to have received additional support from the National Science Foundation. College of Saint Mary is committed to reducing the cost of college tuition and graduating more women each year in the fields of biology, chemistry and math."