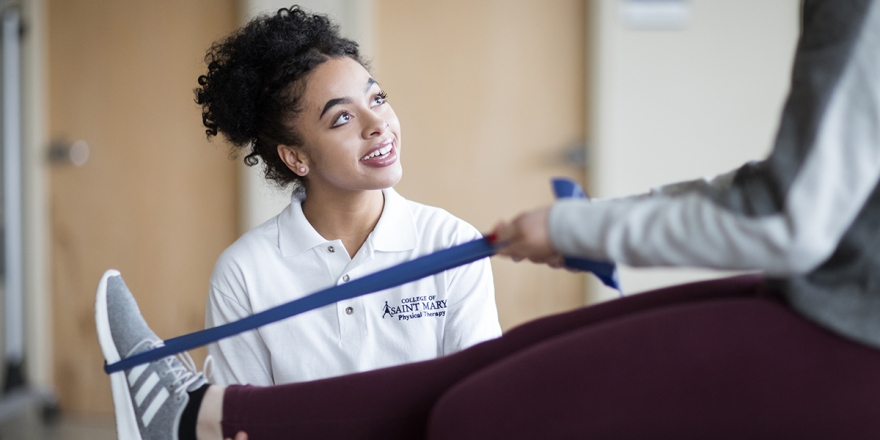 Doctor of Physical Therapy program granted candidacy status
OMAHA, Neb. – College of Saint Mary's new blended-learning Doctor of Physical Therapy (DPT) Program has been granted candidacy status by the Commission on Accreditation in Physical Therapy Education (CAPTE), taking another important step in the accreditation process. The first cohort of students will begin classes on Monday, June 1, 2020.
"This is exciting news," says Dr. Kimberly Varnado, director of the Doctor of Physical Therapy program. "Our physical therapy team has been working extremely hard in preparing for this launch and we can't wait to finally welcome our first cohort of students next month."
The Commission's decision to grant Candidate for Accreditation status is based on the program's demonstration of satisfactory progress, to date, toward achieving compliance with the standards and required elements.
In July 2019, CSM announced the launch of its hybrid DPT program, which uniquely blends online learning and in-person instruction. CSM plans to use technology to tap into experts from across the globe and prepare physical therapists to bring modernized healthcare practices to rural communities and underserved urban areas.
As many programs are shifting their model amidst the uncertainty of COVID-19, this program is built for a blended model with faculty who are certified in online education. Students will be able to earn the terminal degree in 2.6 years.
The University is still accepting applications for its first cohort beginning June 1st, but spots are limited. Online applications are available at CSM.edu/DPT. Please contact CSM's Physical Therapy Program with any questions at 402-399-2640 or email kgause [at] csm.edu).
About the Program
Learn from a blended-learning and competency-based model with core faculty that are certified in online instruction. This learning approach offers you the opportunity to study from a location convenient to you and your life circumstances while attending onsite program sessions throughout the year.
Our DPT faculty consists of more than a dozen scholars and clinicians from around the US. All hold doctoral degrees, and several have advanced clinical certifications representing a variety of specialty training areas.
Apply knowledge and skills learned in academic courses to clinical experiences at one of our many active clinical partner sites across the country in a variety of settings, including hospitals, rehabilitation centers, skilled nursing facilities, home health, schools, and outpatient clinics.
Students complete two 16-week full-time clinical experiences in both medically-complex and community-based settings.
GRE not required.
Receive your Doctor of Physical Therapy in just 31 months.
Program open to both men and women.
 
Accreditation Status
Effective April 28, 2020, the Doctor of Physical Therapy Program at College of Saint Mary has been granted Candidate for Accreditation status by the Commission on Accreditation in Physical Therapy Education (CAPTE), 3030 Potomac Ave., Suite 100, Alexandria, Virginia 22305-3085; phone: 703-706-3245; email: accreditation [at] apta.org). If needing to contact the program/institution directly, please call 402-399-2640 or email kgause [at] csm.edu.
Candidate for Accreditation is an accreditation status of affiliation with the Commission on Accreditation in Physical Therapy Education that indicates the program may matriculate students in technical/professional courses. Achievement of Candidate for Accreditation status does not assure that the program will be granted Initial Accreditation.