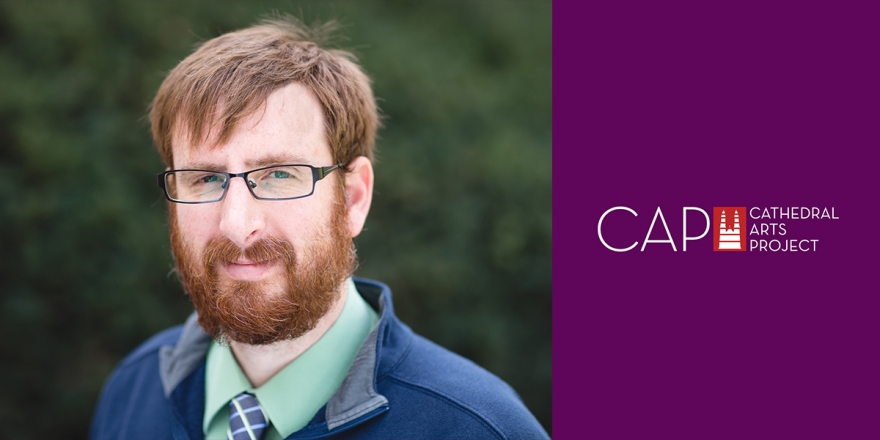 Dr. Chris Krampe named new Executive Director of Omaha's Cathedral Arts Project
College of Saint Mary (CSM) Director of Fine Arts and Humanities Dr. Christopher Krampe was recently named new Executive Director of the Cathedral Arts Project (CAP) in Omaha. He is taking over from CAP founder Brother William Woeger, who has served in the position for 35 years.
Dr. Krampe will continue his role at CSM as he carries out his part-time duties as executive director. He says the future is bright for CAP and looks forward to stewarding its mission to bring new experiences to the Omaha arts community.
"I'm excited to explore ways we can connect College of Saint Mary and the Cathedral Arts Project on new programs and performances," says Dr. Krampe, who began his role in December. "I hope to create opportunities for our students and the broader community to experience first-class productions right here in Omaha."
Dr. Krampe will work closely with the artistic director in executing CAP's Annual Arts Series, which explores musical, visual, and architectural expressions of Cathedral art culture. Duties will also include strategic planning, development, and arts advocacy.
"Our goal isn't just to provide art for enjoyment, but for spiritual renewal and growth. This spring, we'll have a mix of wonderful programs, with something for everyone."
One of the first events under Dr. Krampe's leadership will be the annual Flower Festival on Jan. 29th. Though the exhibition will be done virtually this year, the festival has been one of the premier artistic experiences in Omaha, drawing over 10,000 visitors annually.
Arriving at CSM in 2015, Dr. Krampe is adept in arts fundraising and is a trained performance artist, conductor, composer and keyboard soloist. He has received numerous awards for his work, including a Grammy in 2012 for his involvement in the recording of "Life and Breath: Choral Works by Rene Clausen", which won for Best Choral Performance. He is also the first American to receive honorary membership in the Croatian Choral Directors Association for leading international research efforts on Croatian sacred music.
Dr. Krampe is a frequent presenter on diverse topics within the Humanities. His most recent work, an article titled "The Sins of Our Fathers," which centers on the history of racial inequality in America, was published in Premier Christianity, the leading UK Christian magazine.