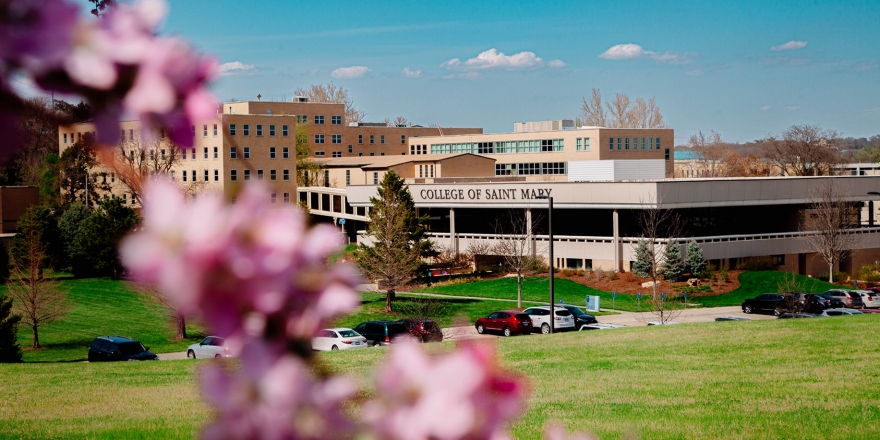 CSM Announces Fall 2022 Dean's List, President's Honor Roll
OMAHA, Neb. – College of Saint Mary announces its dean's list and president's honor roll for outstanding undergraduate academic performance for the fall 2022 semester. In total, 143 students were named to the dean's list, while 89 were named to the president's honor roll.
"Congratulations to our students for earning this tremendous honor, which is a result of the hard work they put in during the semester," said Dr. Kimberly Allen, vice president of academic and student affairs. "I'm so proud of them, their accomplishments and their commitment to excellence in the classroom."
To qualify for the College of Saint Mary's Dean's List, students must earn a GPA of 3.5 or higher after completing at least 12 semester hours as a full-time student. For inclusion on the President's Honor Roll, students must earn a 3.9 GPA or above.
College of Saint Mary's Dean's List
| | | | | |
| --- | --- | --- | --- | --- |
| Renee Marie | Acena | Nursing | Dubai | United Arab Emirates |
| Isabel | Afong | General Studies | Omaha | NE |
| Mallory | Anson | Nursing | Elkhorn | NE |
| Amanda | Aranda-Padilla | Nursing | Omaha | NE |
| Savannah | Armendariz | Human Biology | Omaha | NE |
| Lina | Aroudki | Pre-Nursing | Omaha. NE | NE |
| Madison | Ausdemore | Nursing | Minden | IA |
| Selena | Balquier | Nursing | Nebraska City | NE |
| Dannielle | Barkhurst | Nursing | Louisville | NE |
| Maria | Barrera | Business | Kansas City | MO |
| Ashley | Bidrowsky | Elementary Ed. & Special Ed. | Omaha | NE |
| Margaret | Blankman | Nursing | Omaha | NE |
| Reagan | Boex | Nursing | Papillion | NE |
| Amanda | Boles | Nursing | Omaha | NE |
| RaeAnne | Borsh | Nursing | Omaha | NE |
| Susana | Bosompim | Nursing | Pearland | TX |
| Makayla | Bossman | Medical Laboratory Sciences | Gretna | NE |
| Madeline | Breathnach | Nursing | Papillion | NE |
| Grace | Breckenridge | Human Biology | Blair | NE |
| Stella | Brown | Nursing | Omaha | NE |
| Taylor | Buhr | Practical Nursing | Ashland | NE |
| Thu | Bui | Nursing | Lincoln | NE |
| Lexie | Busch | Kinesiology & Exercise Science | Papillion | NE |
| Keona | Cadore | Nursing | Mims | FL |
| Vanessa | Caldwell | Biology | Puyallup | WA |
| Evelyn | Carreto | Chemistry | David City | NE |
| Mariama | Chaibou | Practical Nursing | Omaha | NE |
| Jordyn | Chandler | Nursing | Omaha | NE |
| Viviana | Chavez | Nursing | Omaha | NE |
| Mary | Clemens | Elementary Education | Omaha | NE |
| Claren | Coalson | Nursing | Gretna | NE |
| Kiley | Craft | Business | Fargo | ND |
| Samantha | Culp | Business | La vista | NE |
| Caitlin | Davies | Nursing | Omaha | NE |
| Leah | Dennell | Nursing | Omaha | NE |
| Kaitlyn | Dickmeyer | Early Childhood Education | Omaha | NE |
| Francesca | Farwell | Nursing | Council Bluffs | IA |
| Gabrielle | Felker | Nursing | Omaha | NE |
| Grace | Frevert | Nursing | Papillion | NE |
| Beatriz | Gabino Maganda | Nursing | Omaha | NE |
| Madelyn | Gaughen | Elementary Ed. & Special Ed. | Cedar Bluffs | NE |
| Ellen | Gerber | Nursing | Omaha | NE |
| Hilda | Gikonyo | Nursing | Omaha | NE |
| Emily | Gilbert | Chemistry | Papillion | NE |
| Stephanie | Gonzalez | Biology | Los Angeles | CA |
| Alize | Gonzalez-Osuna | Applied Psychology & Human Services | Omaha | NE |
| Anahi | Guzman | Pre-Nursing | Dakota City | NE |
| Makayla | Hall | Elementary Education | Omaha | NE |
| Katelyn | Hamre | Nursing | Kennard | NE |
| Megan | Hardisty | Nursing | Omaha | NE |
| Jessica | Hernandez | Paralegal Studies | Kansas City | MO |
| Danielle | Hohlfeld | Applied Psychology & Human Services | Hastings | NE |
| Makenzi | Hoit | General Studies | Omaha | NE |
| Hayley | Holden | Nursing | Omaha | NE |
| Taylor | Hrabik | Kinesiology & Exercise Science | Omaha | NE |
| Sienna | Hundal | Nursing | Yuba City | CA |
| Halima | Hussein | Psychology | Omaha | NE |
| Chloe | Inhelder | English | Centennial | CO |
| Abigail | Kemmetmueller | Nursing | Albertville | MN |
| Clare | Kniffen | Undecided | Omaha | NE |
| Jennifer | Knotek | Practical Nursing | Omaha | NE |
| Alexis | Koenig | Nursing | La Vista | NE |
| Courtney | Kosch | Nursing | Omaha | NE |
| Faith | Kozisek | Biology | David City | NE |
| Wiebke | Krafzik | Kinesiology & Exercise Science | Buchholz | Germany |
| Madeline | Krause | Biology, Chemistry | Omaha | NE |
| Lexie | Langley | Business | Fremont | NE |
| Miriam | Lara Jimenez | Biology | Kansas City | MO |
| Stephanie | Lay | Pre-Nursing | Gretna | NE |
| Ashley | Lech | Nursing | Omaha | NE |
| Emma | Lee | Pre-Nursing | Council Bluffs | IA |
| Clare | Lewandowski | Nursing | Lincoln | NE |
| Grace | Livingston | Nursing | Valley | NE |
| Torrance | Loudner | Nursing | Blair | NE |
| Cedia | Makita | Nursing | Columbus | NE |
| Evelyn | Martinez | Psychology | Omaha | NE |
| Madison | McDermott | Nursing | Panora | IA |
| Blake | McDowall | Kinesiology & Exercise Science | Omaha | NE |
| Corinne | Mead | Business | Elkhorn | NE |
| Marcia | Messa | Applied Psychology & Human Services | Kansas City | MO |
| Cynthia | Meyer | Humanities | Omaha | NE |
| Nicole | Miller | Pre-Nursing | Omaha | NE |
| Madeline | Mollner | Language Arts Middle School | Omaha | NE |
| Isabell | Monzon | Nursing | Lincoln | NE |
| Bailey | Musser | Elementary Education | Omaha | NE |
| Autumn | Neale | Kinesiology & Exercise Science | Lincoln | NE |
| Madison | Nelson | Elementary Education | Omaha | NE |
| Adriana | Padilla Molina | Psychology | Kansas City | KS |
| Reilly | Palmer | Elementary Ed. & Special Ed. | Omaha | NE |
| Katie | Payne | Practical Nursing | Omaha | NE |
| Vivianne | Payne | Human Biology | Omaha | NE |
| Emily | Pena | Nursing | Omaha | NE |
| Ruth | Perez | Math Secondary Education | Omaha | NE |
| Katalina | Petak | Early Childhood Education | Omaha | NE |
| McKenna | Pettepier | Nursing | Council Bluffs | IA |
| Lauren | Pfeifer | Kinesiology & Exercise Science | Madison | NE |
| Alexa | Piecko | Nursing | Riverview | FL |
| Emily | Price | Nursing | Lenexa | KS |
| Julia | Prince | Nursing | Plattsmouth | NE |
| Grace | Ramaeker | Pre-Nursing | Omaha | NE |
| Lorena | Ramirez | Nursing | Bellevue | NE |
| Valerie | Ramirez | Nursing | Omaha | NE |
| Kaylie | Ratzlaff | Kinesiology & Exercise Science | Papillion | NE |
| Josie | Reid | Biology | Jackson | NE |
| Madalynn | Rhodes | Kinesiology & Exercise Science | Butte | MT |
| Miranda | Ring | Kinesiology & Exercise Science | Neola | IA |
| Grace | Rooks | Human Biology | Papillion | NE |
| Rachel | Rosenquist | Business | Dakota Dunes | SD |
| Jadyn | Sacco | Nursing | Ralston | NE |
| Sydney | Safarik | Nursing | Ralston | NE |
| Sayra | Sandoval-Godoy | Paralegal Studies | Martell | NE |
| Aylin | Sanjuampa Cerezo | Applied Psychology & Human Services | Papillion | NE |
| Alivia | Schade | Business | Kearney | NE |
| Allison | Schaeffer | Nursing | Council Bluffs | IA |
| Allisa | Schubert | Applied Psychology & Human Services | Council Bluffs | IA |
| Allison | Schubert | Kinesiology & Exercise Science | Council Bluffs | IA |
| Savannah | Schultz | Nursing | Bellevue | NE |
| Kelsie | Sears | Nursing | Ithaca | NE |
| Tennasynn | Sebek | Human Biology | Hampton | NE |
| Maria | Semerad | Nursing | Rogers | NE |
| Abril | Serrato | Psychology | Omaha | NE |
| Abril | Serrato | Psychology | Omaha | NE |
| Kymber | Shallenberger | Biology | Scottsbluff | NE |
| Jessie | Slagle | Practical Nursing | Omaha | NE |
| Karen | Sosa Martinez | Applied Psychology & Human Services | Omaha | NE |
| Jaden | Sprunk | Paralegal Studies | Omaha | NE |
| Caitlin | States | Nursing | Dannebrog | NE |
| Victoria | Suto | Art Education K-12 | Enterprise | OR |
| Milka | Tapia Ruiz | Paralegal Studies | Omaha | NE |
| Keenan | Taylor | Human Biology | Omaha | NE |
| Minna | Thomas | Nursing | Milpitas | CA |
| Brenna | Timewell | Nursing | Omaha | NE |
| Isaline | Toe | Nursing | Gretna | NE |
| Angela | Valadez-Flores | Applied Psychology & Human Services | Omaha | NE |
| Amanda | VanOeveren | Nursing | Gretna | NE |
| Braidyn | Warak | Kinesiology & Exercise Science | Papillion | NE |
| Madeline | Waszgis | Kinesiology & Exercise Science | Bellevue | NE |
| Shayla | Webb | Nursing | Omaha | NE |
| Brooke | Wichert | Nursing | Omaha | NE |
| Jasa | Wiedel | Pre-Nursing | Hebron | NE |
| Brooke | Wigdahl | English | Elkhorn | NE |
| Abbigail | Wilson | Nursing | Papillion | NE |
| Sarai | Zarazua | English Secondary Education | Omaha | NE |
| Evelyn | Zuniga Solorio | Nursing, Paralegal Studies | Council Bluffs | IA |
College of Saint Mary's President's Honor Roll
| | | | | |
| --- | --- | --- | --- | --- |
| Jennifer | Agbaja | English Secondary Education | Pearland | TX |
| Briana | Alff | Nursing | Carson | IA |
| Lauren | Anderson | Nursing | Gretna | NE |
| Anastasiya | Andrusyshyn | Nursing | Oakland | IA |
| Alivia | Austin | Kinesiology & Exercise Science | Papillion | NE |
| Christi | Barrett | Pre-Nursing | Papillion | NE |
| Lacey | Betts | Nursing | Omaha | NE |
| Aubrie | Bishop | Nursing | Papillion | NE |
| Cassidy | Bradley | Business | Omaha | NE |
| Erin | Brewer | Kinesiology & Exercise Science | Falls City | NE |
| Carly | Brown | Kinesiology & Exercise Science | Omaha | NE |
| Isabella | Cain | Business | Council Bluffs | IA |
| Claire | Caspersen | Elementary Education | Cairo | NE |
| Kaia | Chiasson | Mathematics | Thibodaux | LA |
| Bernadette | Costello | Theology | Bellevue | NE |
| Rachel | Cushing | Biology | Papillion | NE |
| Clare | Dahlhoff | Biology | Vermillion | SD |
| Ashton | Davis | Kinesiology & Exercise Science | Omaha | NE |
| Chyna | Delker | Nursing | Hastings | NE |
| Madeline | Derting | Human Biology | Pueblo West | CO |
| Chloe | Donahey | Kinesiology & Exercise Science | Cozad | NE |
| Ava | Dross | Psychology | Elkhorn | NE |
| Aubrey | Dutton | Pre-Nursing | Santee | CA |
| Laura | Dutton | Elementary Ed. & Special Ed. | Blair | NE |
| Ahren | Ebel | Elementary Education | Omaha | NE |
| Jocelyn | Farhar | Human Biology | Broomfield | CO |
| Alysha | Fisher | Elementary Ed. & Special Ed. | Bellevue | NE |
| Elisabeth | Franke | Business | Valley | NE |
| Kelly | Friend | Nursing | Omaha | NE |
| Bridget | Griffiths | Nursing | Bellevue | NE |
| Kristen | Grimes | Elementary Ed. & Special Ed. | Omaha | NE |
| Kira | Hagan | Kinesiology & Exercise Science | Perryville | MO |
| Sydney | Hein | Kinesiology & Exercise Science | Omaha | NE |
| Adelaida | Hernandez Perez | Elementary Ed. & Special Ed. | Madison | NE |
| Riley | Hoefer | Science Secondary Education | Bennington | NE |
| Jessica | Holcomb | Applied Psychology & Human Services | Fremont | NE |
| Alyshah | Kara | Psychology | BOTHELL | WA |
| Megan | Karas | Nursing | Elkhorn | NE |
| Zoe | Keyte | Biology | Plattsmouth | NE |
| Mica | Kielian | Nursing | Plattsmouth | NE |
| Kaitlynn | Kraft | Elementary Education | Papillion | NE |
| Erika | Lara-Martinez | Paralegal Studies, Applied Psychology & Human Services | Bellevue | NE |
| Mickayla | Larsen | Early Childhood Education | Waverly | NE |
| Brianna | Lawson | Pre-Nursing | Weeping Water | NE |
| Immaculate | Limnyuy | English Secondary Education | Pearland | TX |
| Daisy | Lowther | Science Secondary Education | Bennington | NE |
| Sarah | Lukowski | Nursing | Papillion | NE |
| Maya | Madden | Applied Psychology & Human Services | Fort Drum | NY |
| Caitlyn | Main | Applied Psychology & Human Services | Omaha | NE |
| Ciara | Merksick | Biology Secondary Education | Council Bluffs | IA |
| Tiffany | Meyer | Elementary Ed. & Special Ed. | Tabor | IA |
| Hadley | Milks | Kinesiology & Exercise Science | Funk | NE |
| Laurin | Miller | Nursing | Bennington | NE |
| Anna | Moore | Pre-Nursing | Arlington | NE |
| Tessa | Nakaki | Nursing | Omaha | NE |
| Jaclyn | Negrete | Human Biology | La Vista | NE |
| Jennifer | Nemitz | Nursing | Omaha | NE |
| Glory | Ogu | Nursing | Abakaliki | Nigeria |
| Jennifer | Opara | Applied Psychology & Human Services, Theology | Pearland | TX |
| Mia | Paesl | Nursing | Omaha | NE |
| Olivia | Petrini | Elementary Education | Papillion | NE |
| Kaya | Pleiss | Human Biology | Omaha | NE |
| Lilly | Praest | Pre-Nursing | Dodge | NE |
| Peyton | Preston | Nursing | `Omah | NE |
| Kayla | Richmond | Practical Nursing | Omaha | NE |
| Abigail | Ridout | Biology | La Vista | NE |
| Nancy | Rodriguez Sanchez | Spanish Secondary Education | Kansas City | KS |
| Miriam | Rosales Carrillo | Applied Psychology & Human Services | Kansas City | MO |
| Kaylee | Rothmeyer | Elementary Education | Carter Lake | IA |
| Delaney | Schultz | Nursing | Omaha | NE |
| Jessica | Slater | English | Omaha | NE |
| Alexis | Smith | Human Biology | Glenwood | IA |
| Kaitlin | Smith | Biology, Psychology | Fort Calhoun | NE |
| Kiara | Sosa-Martinez | Nursing | Omaha | NE |
| Elisa | Soto | Humanities | Bellevue | NE |
| Ashleigh | Steffen | Nursing | Omaha | NE |
| Miranda | Swanson | Nursing | Columbus | NE |
| Jessica | Tienda | Human Biology | Sedalia | MO |
| Lauren | Traggiai | Elementary Education | Bellevue | NE |
| Carolyna | Truong | Biology | Monument | CO |
| Madelyn | Turner | Applied Psychology & Human Services | Bennington | NE |
| Shiloah | Valdez | English Secondary Education | Omaha | NE |
| Jaidyn | Vanschoiack | Biology | Beatrice | NE |
| Rylee | Vogel | Pre-Nursing | Bellevue | NE |
| Haley | Vredenburgh | Kinesiology & Exercise Science | Council Bluffs | IA |
| Angie | Washington | Nursing | Omaha | NE |
| Kamryn | Willman | Elementary Ed. & Special Ed. | Grand Island | NE |
| Alyssa | Winter | Nursing | Omaha | NE |
| Yessika | Ynzunza | Nursing | Omaha | NE |
| Emily | Yost | Pre-Nursing | Bellevue | NE |
| Nicole | Zimmerman | Pre-Nursing | Omaha | NE |