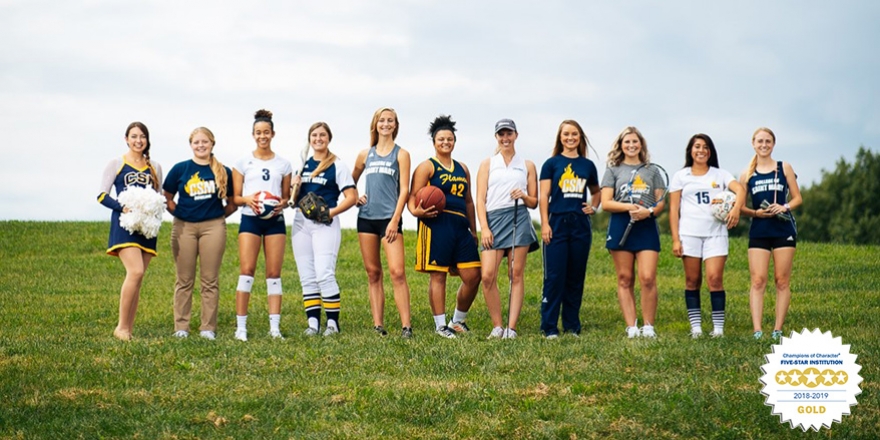 Flames Athletics earns a perfect score on NAIA Champions of Character report card
KANSAS CITY, Mo. – The NAIA has released its Champions of Character Five-Star Award Winners and College of Saint Mary was one of only 15 institutions to record a perfect score.
CSM was also the only institution in the Great Plains Athletic Conference to earn the highest mark.
"I am ecstatic to receive gold status for the second year in a row," CSM Director of Athletics Peter Haze Haring said. "I am also exceptional proud of my student-athletes and coaches who have put in the time and effort to achieve a perfect score of 100. The score also puts CSM at the top of GPAC which is a goal we wanted to achieve in 2018-19.
"The mission of College of Saint Mary coincides with the NAIA Champions of Character Core Values and we are always trying to expand the importance of the five core values on campus and within the greater Omaha community."
A total of 180 NAIA institutions earned gold, silver or bronze status for the 2018-2019 school year. It is the second year in a row CSM has earned gold status.
Institutions are measured on a demonstrated commitment to Champions of Character and earned points in character training, conduct in competition, academic focus, character recognition and character promotion. Institutions earned points based on exceptional student-athlete grade point averages and by having minimal to no ejections during competition throughout the course of the academic year.
Other institutions to earn a perfect score of 100 can be found here. 
The GPAC was named on Five-Star Conference by meeting the following criteria:
Established Champions of Character Conference Committee
Conference has a conduct in competition oversight committee composed of a minimum of three members
At least 60% of members institutions must receive the NAIA Champions of Character Five-Star Institution Award