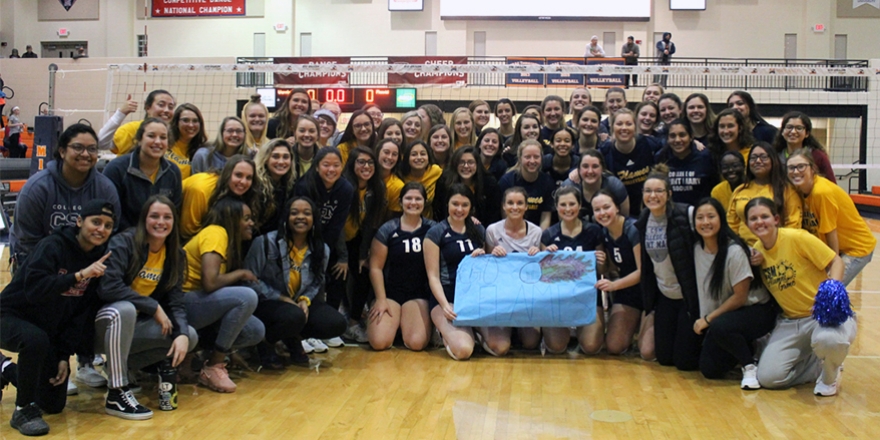 Flames cruise past Midland, advance to GPAC Championship
FREMONT, Neb. – The Flames continue to play spoiler.
The College of Saint Mary volleyball team knocked off Midland University 3-0 Wednesday night in the semifinals of the Great Plains Athletic Conference Postseason Tournament.
The No. 8-seeded Flames defeated the No. 4-seeded Warriors by scores of 29-27, 28-26, 25-20. CSM entered the match ranked as No. 23 in the most recent NAIA poll, while Midland was ranked in the No. 21 spot.
CSM, who defeated top-seeded Northwestern College in the opening round, will advance to the GPAC Championship game Saturday at 7 p.m. at University of Jamestown. The Jimmies beat Concordia University 3-2 Wednesday.
"I'm so proud of this team," CSM Coach Rick Pruett said. "They showed so much heart and so much poise and composure."
Amber Anderson (SR/Omaha, Neb.) led the Flames with 15 kills, while Elizabeth Dlouhy (SO/Tekamah, Neb.) and Kamryn Willman (FR/Grand Island, Neb.) both had eight, Makenna Freeman (SO/Omaha, Neb.) added seven and Alicia Hogan (SO/Omaha, Neb.) chipped in with six. Alexis Petry (SO/Council Bluffs, Iowa) had a match-high 21 assists and teammate Natalie Patten (SR/Council Bluffs, Iowa) added 20. Defensively, Freeman and Payton Robley (SR/Bee, Neb.) both contributed 13 digs and Dlouhy and Willman both tallied six blocks.
"We did well at the net and played so good defensively," Pruett said. "Amber was also so good offensively and our middles played really well."
The Flames improve to 24-13 on the season.
"What a great run," Pruett said. "I'm so proud. And hats off to our amazing crowd that really helped us tonight."