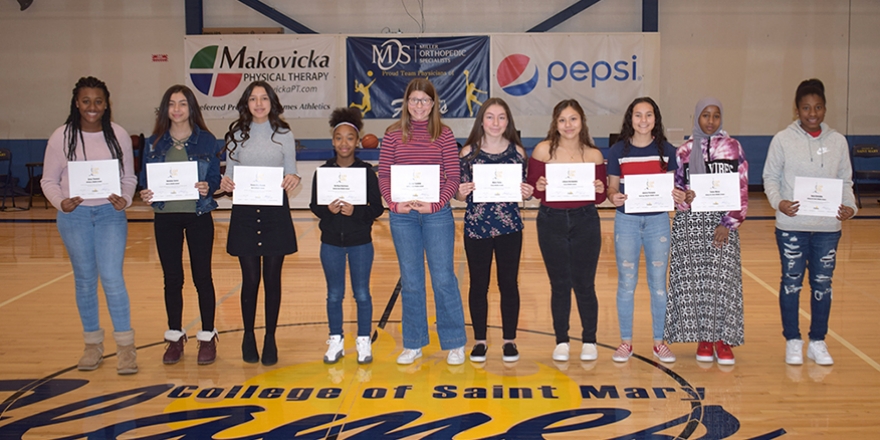 Flames recognize area athletes in 'Lead Like a Girl' event
OMAHA, Neb. – Twelve middle school female student-athletes were invited to the campus of College of Saint Mary to be recognized for their outstanding character. In cooperation with the Omaha Public Schools, CSM celebrated those students during halftime of Saturday's basketball game.
In the second year of the awards program, eight OPS middle schools submitted names for recognition. Each award winner is a member of an athletic team within her school and has exemplified the Five Core Character Values of the NAIA's Champions of Character program. These values extend far past the field, court or pool and the young ladies recognized are also character leaders in their schools and communities. The Five Core Values recognized within the program are: Integrity, Respect, Responsibility, Sportsmanship and Servant Leadership.
"The Omaha Public Schools are supremely proud of our partnership with the College of Saint Mary.  The Lead Like a Girl campaign is a tremendous program which honors our best and brightest student-athletes for their effort, character and integrity.  Our students, parents and administration were delighted to be a part of such a first class event this past Saturday at CSM," said OPS Athletic Director Stephen Eubanks.
Ten of the 12 award winners were able to attend the recognition ceremony on Saturday.
Award Winners:
Kara Stricklin | Alfonza W. Davis Middle School
Sama Muse | Alfonza W. Davis Middle School
Amory Vasquez | Beveridge Magnet Middle School
Liliana Hernandez | Bryan Middle School
Mary Perez | Bryan Middle School
Casey Sanden | Lewis & Clark Middle School
Alexis Carbonell-Smith | McMillan Magnet Center
Da'Niya Harrison | Nathan Hale Middle School
Freda Mia Moore | Norris Middle School
Natalya Jones | Norris Middle School
Brea Thomas | RM Marrs Middle School
Hanna Kubiak | RM Marrs Middle School