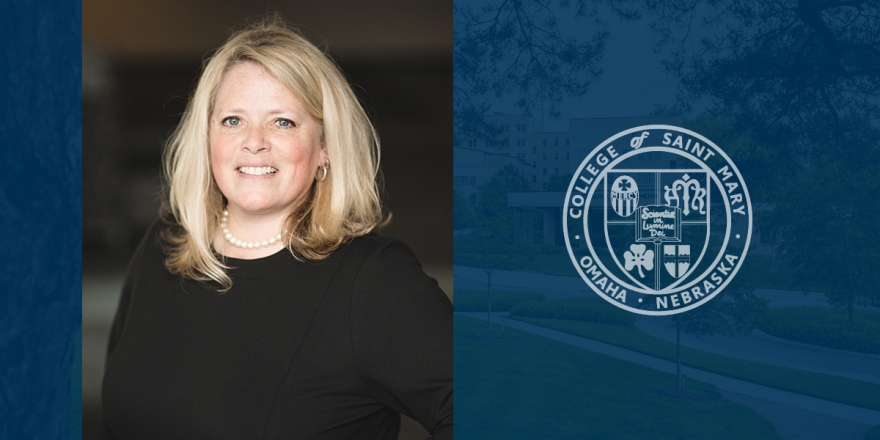 Kimberly Allen named new Vice President for Academic Affairs
OMAHA, NEB. – College of Saint Mary President Dr. Maryanne Stevens, RSM, is pleased to announce that Dr. Kimberly Allen has been named the University's new vice president for academic affairs. She began her duties on January 20.
As vice president for academic affairs, Allen will serve as the chief academic officer for CSM and be responsible for all educational activities in the undergraduate and graduate academic programs. She will also direct faculty in planning, evaluating and revising curriculum.
"Dr. Allen brings with her a strong array of experiences and skills from over 25 years of service in higher education," said Dr. Sarah Kottich, provost at CSM. "These include leadership in strategic planning, accreditation, program assessment, institutional research, faculty orientation and professional development, and student retention strategies. Her servant leadership approach and commitment to CSM's values align well with the university and our goals going forward."
Allen comes to CSM from Maryville University in St. Louis, Mo., where she has served as assistant vice president for academic affairs since 2017. Prior to that, she held a variety of roles in academia, including associate teaching professor at Maryville University and assistant dean for student and faculty affairs for the College of Nursing at the University of Missouri-St. Louis.
"I am honored to work alongside CSM faculty and staff to provide the support and encouragement our students need to take risks, push boundaries and succeed both personally and professionally," said Dr. Allen. "The CSM mission specifically challenges us to call forth potential, help young women find their voice and develop their confidence to fiercely lead in their chosen professions. Working together, we can achieve our mission by developing innovative and intentionally-designed learning experiences, which encourage mastery of knowledge and career readiness so that our students are well-equipped for the future."
Allen received her Ph.D. in Education and her Chancellor's Certificate from the University of Missouri-St. Louis. She holds an M.A. in student personnel administration from Ball State University in Muncie, Ind., and a B.S. in child development from Truman State University in Kirksville, Mo.
 
College of Saint Mary – educating leaders since 1923. Founded for women by the Sisters of Mercy, CSM is a thriving Catholic university that provides access to affordable education. CSM fosters potential and leadership through academic excellence, scholarship and lifelong learning. The University offers undergraduate and graduate degrees in many of today's highest-paying, in-demand fields, including physician assistant studies, occupational therapy, nursing, science, education, business and legal studies.
CSM offers its student body an enriching collegiate experience that includes competitive athletics and a wide range of fine arts opportunities. A member of the Great Plains Athletic Conference (GPAC), CSM Flames student-athletes field teams in 11 competitive sports: basketball, soccer, softball, volleyball, bowling, competitive dance, swimming, tennis, track, and cross country. Fine arts play a large role in rounding out an academic experience and CSM provides students with the opportunity to continue their passion for music, art and drama.
Located in the heart of Omaha, home of four Fortune 500 companies, CSM's 40-acre campus is adjacent to Aksarben Village's vibrant and bustling retail and entertainment space, as well as Baxter Arena. CSM is minutes from world-class attractions such as the Henry Doorly Zoo and Aquarium, Joslyn Art Museum, Lauritzen Gardens and CenturyLink Center Omaha.
To learn more about College of Saint Mary, see CSM.edu, or contact Kyle Semprini, Director of Public Affairs & University Communications. 402-399-2407 • ksemprini [at] csm.edu ()