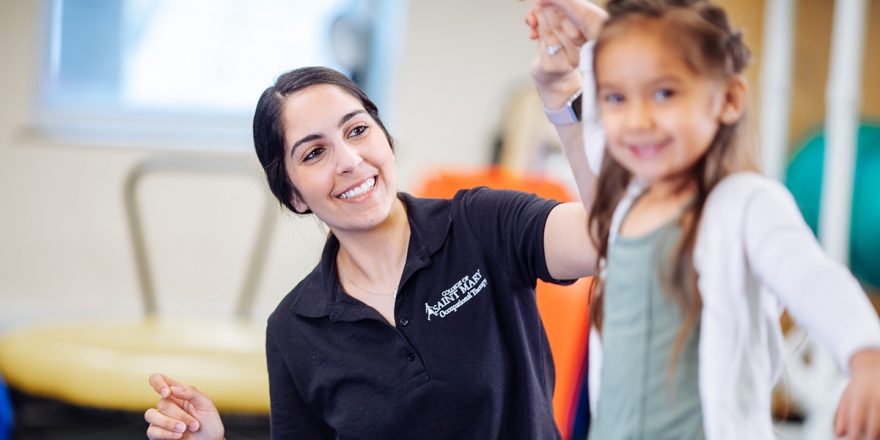 Legacy of Care: Introducing Occupational Therapy Doctoral Program
From Bachelor's to Doctorate, CSM's OT Program Evolves into Excellence
When Dr. Kristin Haas, College of Saint Mary Occupational Therapy Program Director, first started at the university in 2003, she was one of just two full-time faculty members in the program. The initial bachelor's-level occupational therapy (OT) program evolved into a master's program and just recently transitioned to a doctorate degree. Yet, even as Dr. Haas and the faculty launch the new Occupational Therapy Doctorate (OTD) program this fall, the program's unique qualities can be seen in each step of its past, present, and future.
"I think the faculty are always keenly focused on making sure our students have strong professional reasoning and clinical skills," says Dr. Haas. "Our students have a lot of passion and grit…They're going to do what they need to do to get where they want to go, and they're really passionate about becoming occupational therapists."
Even as the program has been tweaked and students have changed, this unique focus on critical thinking and clinical skills has been a cornerstone for the OT program. It has given students hands-on training and continues to teach them how to solve problems in a changing health care environment.
For past students, like alumna Dr. Andrea Thinnes '01, this critical component, and a focus on leading in the community, stood out as major advantages.
"It definitely pushed me to always want to do my best and always do more than was asked of me," recalls Thinnes. "How could I be of service to others? How could I use my knowledge and skills to be able to help people who are underserved? I think that was very much instilled in the program."
Thinnes first came to CSM after graduating from Mercy High School. She says the program's affordability played a big role in her initial decision to join CSM's OT program.
"I wanted to go to an institution that not only had a great occupational therapy program but was also close to home and made sense for me financially," says Thinnes.
Once at the school, even 20 years ago, it was that closeness and the hands-on learning that made the OT program special. Thinnes would go on to work at Creighton University Medical Center, lead inpatient therapists, and later become the director of Creighton's clinical education program.
"The small class size was something that really attracted me," recalls Thinnes. "And the other thing that I considered at the time was that most of the faculty were still working in the field and practicing occupational therapy. Then they were teaching me as part of their day as well. I felt like I had real, contemporary practice happening."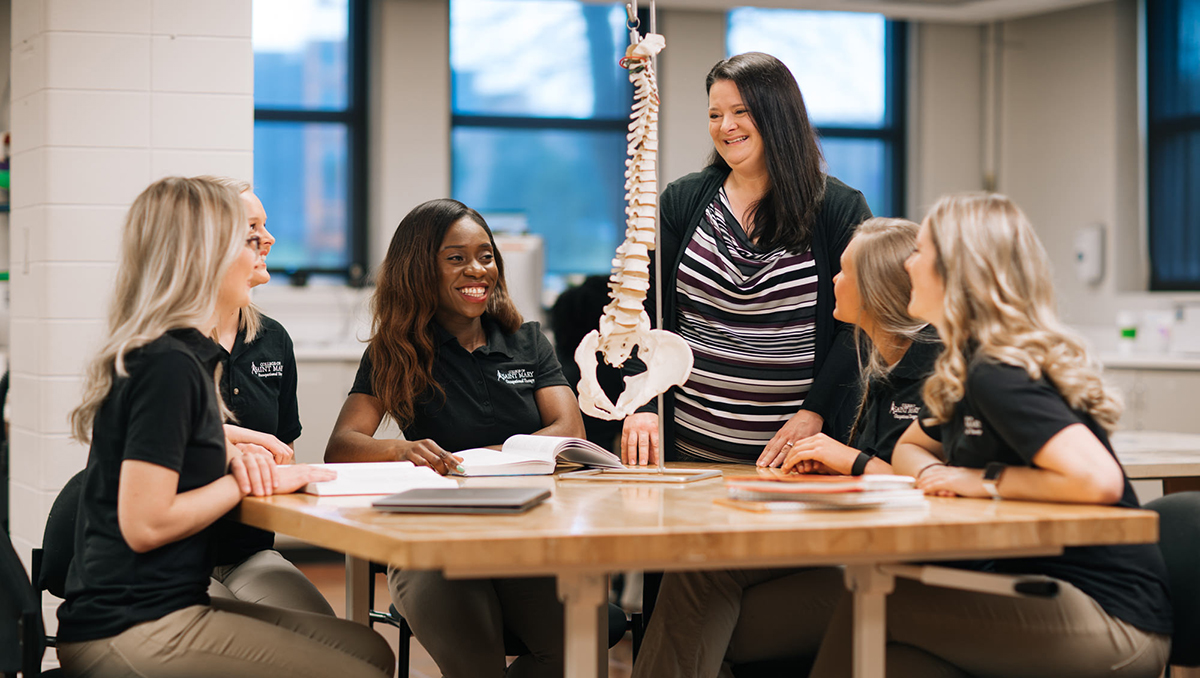 Fast forward 20 years, and students are still drawn to those same staple qualities. Betsy Foltz '20, who earned her bachelor's degree in rehabilitation studies this May and is set to graduate with her master's in occupational therapy next summer, says the program has given her a chance to learn from industry leaders in a practical way.
"I would say it's that family togetherness," says Foltz. "You all get the chance to get to know everyone really well…I think it's great you can trust all the girls you're with and the professors."
CSM's OT program was structured to fit the university's mission to provide affordable, focused paths to in-demand career fields. For years, its unique 5-year combined bachelor's and master's program has offered an efficient path towards graduation.
Still, in 2019, the OT program at CSM has established a strong reputation in the region. In the last three years, the board pass rate for CSM students has averaged out to an excellent 99 percent. And that continued student success is what has played a big role in attracting top students like Foltz.
"I Googled 'top OT programs in the Midwest' and CSM popped up," Foltz recalls. "I was shocked because it hadn't really been on my radar before, and it was in Omaha."
Even as the program has grown, the university has retained its intimate classes. That one-on-one guidance has made all the difference for students.
"I think it's kind of rare when you tour a school and the head of the department sits down with you and has a one-on-one conversation," Foltz says. "I had never experienced that at any of the other colleges that I toured."
This combination of close interaction, a focused pathway, critical thinking, and clinical skills will be carried on as the OT program makes its next big step – Occupational Therapy Doctorate program, which launched this August.
CSM's new Occupational Therapy Doctorate will help students boldly lead in their communities through an even more advanced level of coursework. Through the college's unique undergraduate pathway, new students can start right out of high school and complete both their undergraduate and doctoral work in a total of six years. Students who enter the program with three years of college credit and specific pre-requisite courses are able to earn their OTD degree in three years.
In a fashion echoing the success of CSM's previous OT programs, the new doctoral degree will focus on developing skills in clinical practice, research, administration, leadership, advocacy, and policy development. As a whole, students will complete two 12-week fieldwork experiences along with a 14-week doctoral capstone experience culminating with a final project.