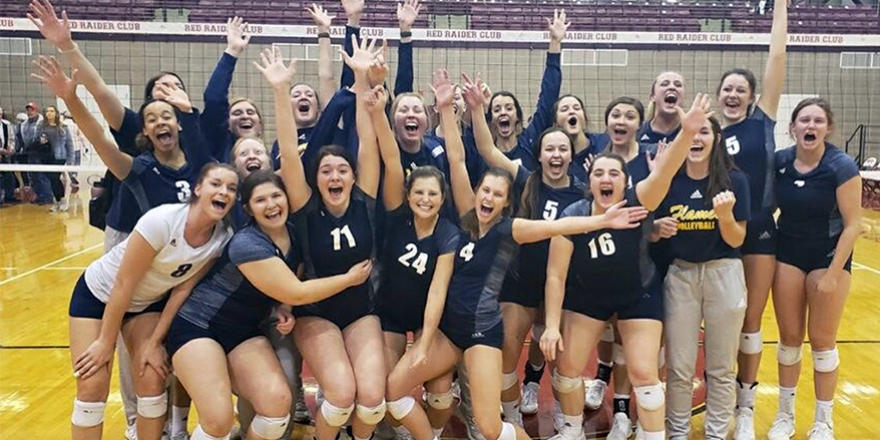 'Let's repeat history': CSM volleyball tops No. 1 Northwestern in the GPAC tournament
- Gene Schinzel / Omaha World Herald staff writer - 
Rick Pruett reminded his College of Saint Mary team prior to its match Saturday against the NAIA's No. 1 team about the last time an eighth seed beat a No. 1 seed in the GPAC volleyball tournament.
He told them he was involved in that match — not as a coach; instead, he was one of the two officials that night in 2015 when College of Saint Mary, which was 13-17 that season, stunned seventh-ranked Dordt in the tournament's opening round.
"I told them I've seen it happen, so let's repeat history," said Pruett, in his third season as the Flames' coach. "It was fun to see the girls perform and play with confidence, believe that they could beat the No. 1 team."
The Flames pulled off this year's tournament stunner by defeating previously unbeaten Northwestern, 25-21, 25-23, 23-25, 25-22. Amber Anderson, a 6-foot-1 senior from Omaha Benson, led the Flames with a career-high 23 kills.
"She's a big, physical hitter. She just played with confidence," Pruett said. "All around, I think what stood out to me was that we played really, really good defense. We touched every ball they hit."
Now the Flames (23-13) will play at fourth-seeded Midland in the tournament semifinals on Wednesday at 7 p.m. Midland, ranked 21st nationally, split a pair of regular-season matches with College Saint Mary, each winning on its home court.
"It's a great matchup for both teams. I think it will be a great match," Pruett said. "If we play to our abilities like we did Saturday night, we have a chance to go to the GPAC final."
The other semifinal pits No. 16 Concordia playing at No. 8 Jamestown. Jamestown won the regular-season meeting in five sets. The winner of that match will host the tournament final on Saturday night.