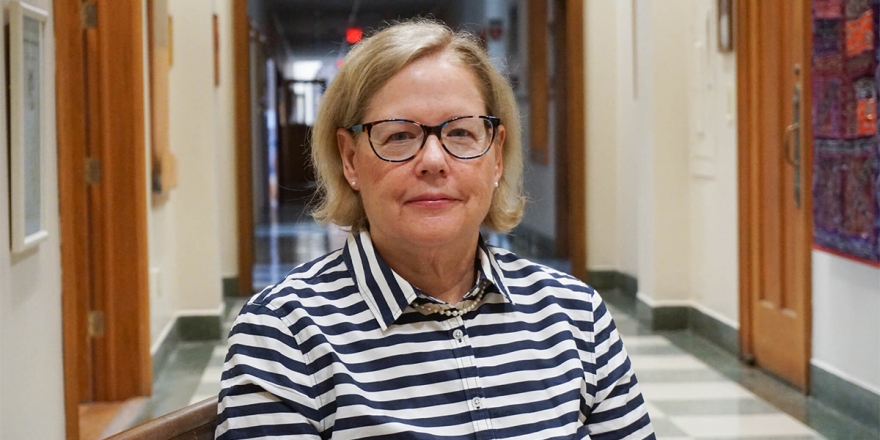 Martha Heck '76 honored by Archdiocese of Omaha
OMAHA, Neb. – College of Saint Mary (CSM) alumna Martha Heck '76 received the "Administrator of the Year" award from the Archdiocese of Omaha. She was honored during the annual Archbishop's Dinner for Education held on Sept. 24
Heck earned her bachelor's in English from CSM and her master's in education from the University of Nebraska Omaha. She has dedicated 40 years to Catholic Education, and 24 of those years with the women of Duchesne Academy in Omaha. Her peers at Duchesne Academy have described her as a role model for women and an active advocate for every female student, staff and faculty member.
Heck is actively involved in each ladies' academic path but also their extracurricular activities. Student Body President Abigail Jacobi shares about her experience with Heck, "She is such an important and influential figure in Duchesne. She knows that extracurricular activities are important to our students and wants to be part of their journey." Principal Laura Hickman also shares, "Martha makes known the love of God through her relationships."
Upon receiving the award Heck said, "I believe in teaching young people to be loving, caring, compassionate people who will make the world a better place. I also believe that young women will be the change agents that the world needs."
Heck enjoys traveling, walking her dog, watching movies and faithfully participating in her book club, of which she has been a member of for over 40 years. Heck is an exemplary Walking Woman and one College of Saint Mary is proud to call an alumna.
Photo courtesy of the Archdiocese of Omaha