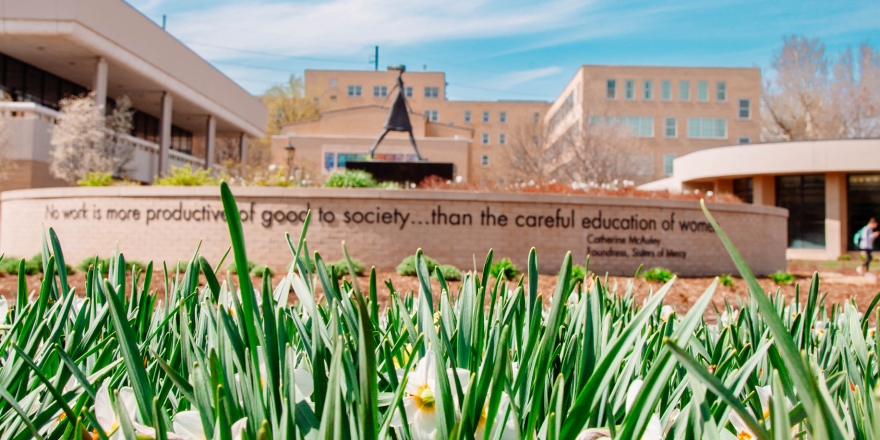 May 22-28 Proclaimed Period Poverty Awareness Week in Omaha
College of Saint Mary organization, Access Period head efforts
OMAHA, Neb. – The week of May 22-28 has been proclaimed Period Poverty Awareness Week in Omaha thanks to an effort of two College of Saint Mary professors and Access Period. Mayor Jean Stothert made the proclamation earlier this month.
"Period poverty refers to the inability to afford or access menstruation products, such as pads or tampons. It can also include a lack of hygiene facilities and waste management," said Dr. Amanda Roe, associate professor of biology and president of PERIOD at College of Saint Mary, which started out of an initiative to collect and donate products for those in need. "While it is a global problem, it is very much an issue in our own state and forces many individuals to miss school, work, and daily activities during menstruation. This proclamation is an important step in reaching our goal to end period poverty in Nebraska, and Mayor Stothert's support helps elevate and expand awareness of the issue."
Since August 2021, PERIOD at College of Saint Mary has distributed 15,800 free products in all bathrooms on campus. The organization has collected and distributed 64,000 products in the Omaha area and Pine Ridge Reservation since March 2018.
Last fall, PERIOD at College of Saint Mary began a collaboration with Kristin Lowrey, the executive director and founder of Access Period, a local nonprofit organization that collects and distributes period products around Omaha and the surrounding areas.
"As part of that collaboration, Kristin, Amanda, and I started the Nebraska Menstrual Equity Coalition, a group that has grown to include healthcare providers, educators, nonprofit directors, and policy advocates," said Dr. Molly Mahoney, professor of psychology and vice president of PERIOD at College of Saint Mary. "Our work together is helping to reduce the stigma around menstruation and allows us to serve our community in an impactful way."
The coalition is working on legislation that would provide free and accessible period products in all Nebraska schools, kindergarten through higher education.