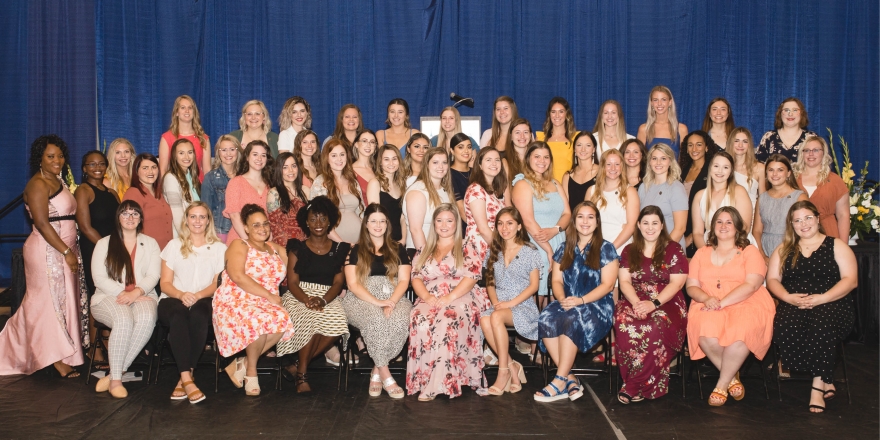 More than 50 nurses recognized during 2021 Pinning Ceremony
OMAHA, Neb. – College of Saint Mary (CSM) celebrated its annual Nurse Pinning Ceremony on July 17th.  At the ceremony, each Bachelor of Science in Nursing (BSN) graduate in the Class of 2021 received a pin as a symbolic welcome into the nursing profession.  Pinning is a time-honored tradition in the nursing field, and every school designs its own special pin for its students. The pin for College of Saint Mary incorporates the shape of a cross and represents the virtues of loyalty, courage, knowledge, worthiness, constancy, and truth.
Dr. Christi Glesmann, director of the nursing program at CSM, presided over the ceremony. Hannah Johnson '21 was the student speaker, Maribeth Hall '21 led the invocation, and Mary Eta '21 said the closing prayer. Dr. Sarah Kottich, Provost at College of Saint Mary, delivered the closing remarks.
Nearly all 54 nursing students who graduated this summer attended the special event. During the ceremony, the nursing graduates also recited the nursing pledge. 
Each year, College of Saint Mary recognizes two exemplary nursing students with the BSN Student of the Year Award and the Spirit of Nursing Award. Madaline Angel was selected as the BSN Student of the Year for her support of her peers, leadership in the college community and excellence in the clinical setting. The honor of the Spirit of Nursing Award went to Hannah Johnson. Hannah received this recognition for representing the mission of CSM through her commitment to nursing, academic excellence and caring and professionalism in the workplace.
BSN Class of 2021
Selina Alcantara
Brigitte Allou
Amber Anderson
Madaline Angel
Hailey Anson
Kenedi Bach-Boston
Alison Baquero-Cruz
Kendall Biggs
Lauren Boyles
Kaitlyn Carraher
Bethany Cave
McKenna Clyde
Mary Eta
Keegan Finn
Callie Fisch
Madison Foral
Anette Galaviz
Kimberly Goedde
Maribeth Hall
Annmarie Hauser
Chanse Houfek
Emily Johnson
Hannah Johnson
Alyssa Koory
Mai Lee
Grace Matheny
Emma Maughan
 
Megan Melnar
Sydney Nelson
Alexandra Newland
Kirsty Newland
Marissa Newman
Makenna Niemoth
Sara Nissen
Jane Nonguierma
Jameelah O'Neal
Lizabeth Paz
Elizabeth Pedroza
Samantha Perry
Kayla Ruh
Natalie Saar
Morgan Sackett
Summer Schroedl
Holly Schumacher
Emma Seifert
Jordan Shurter
Lelanie Singleton-Sealy
Ashley Smock
Madison Taylor
Claire Uhe
Gina White
Laura Williams
Alisha Wilson
Natalie Wilson