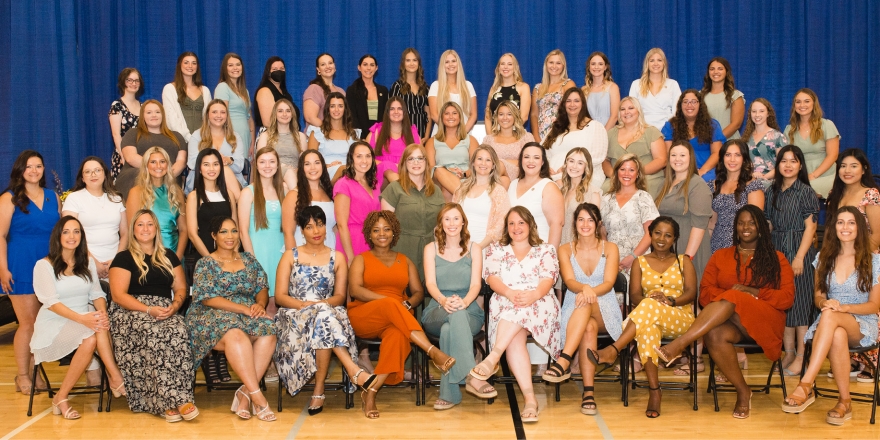 More than 60 Nurses Recognized in CSM Pinning Ceremony
Wednesday, August 3, 2022
OMAHA, Neb. – College of Saint Mary (CSM) recognized and celebrated 61 nursing graduates at its annual Nurse Pinning Ceremony on Saturday, July 16, at the Lied Fitness Center. Each Bachelor of Science in Nursing (BSN) graduate in the Class of 2022 received a pin as a symbolic welcome into the nursing profession. Pinning is a time-honored tradition in the nursing field, and every school designs its own unique pin for its students. CSM's pin incorporates the shape of a cross bearing the gold letters BSN and CSM, and represents the virtues of worthiness, constancy, truth, loyalty, knowledge, and courage.
Dr. Christi Glesmann, director of CSM's nursing program, presided over the ceremony. Anna Grace Hough '22 led the invocation, Paige Hendrix '22 was the student speaker, and Kristi Bleach '22 said the closing prayer. Dr. Mindy Barna, associate dean of health professions, provided the closing remarks. During the ceremony, the students also recited the nursing pledge.
"It's a privilege to bestow these pins and welcome our graduates into the nursing profession," Dr. Glesmann said. "These students will make a difference in the lives of their patients with their kindness, compassion and the knowledge they acquired here at CSM."
CSM recognizes two exemplary nursing students each year with the BSN Student of the Year Award and the Spirit of Nursing Award. Tiffany Sammons of Omaha was named BSN Student of the Year for her support of her peers, leadership in the college community and excellence in the clinical setting. Angela Buscher of Bellevue, Neb., received the Spirit of Nursing Award for representing CSM's missions through her commitment to nursing, academic excellence and caring and professionalism in the workplace.
A reception was held following the ceremony.
BSN Class of 2022
Amelia Becker, Auburn, Neb.
Kristi Bleach, Elkhorn, Neb.
Ofelia Brachle, Omaha
Alexius Brass, Elkhorn, Neb.
Angela Buscher, Bellevue, Neb.
Kristin Caine, Omaha
Olivia Christensen, Omaha
Kelsey Crum, Omaha
Lorrie Deriphonse, Omaha
Quynh Dinh, Omaha
Ashlynn Eckrich, Neola, Iowa
Gretchen Flynn, Omaha
Trinity Fox, Nebraska City, Neb.
Tiffany Frank, Neola, Iowa
Prisca Gitau, Tacoma, Wash.
Irene Gonzalez, Ralston, Neb.
Beatriz Gonzalez-Velazquez, Omaha
McKenzie Goodman, Bellevue, Neb.
Callie Gorecki, Boelus, Neb.
Assa Haidara, Omaha
Paige Hendrix, Omaha
Casey Hirschfeld, Papillion, Neb.
Emma Hofmaier, Gretna, Neb.
Taylor Hotz, Council Bluffs, Iowa
Anna Grace Hough, Neola, Iowa
Alexis Howe, Omaha
Thespina Hurst, Papillion, Neb.
Emily Jacobson, La Vista, Neb.
Atalia Kemp, Omaha
Nicole Knight, Omaha
Kylie Kruse, Omaha
Bontle Letlole, Omaha
Marissa McGargill, Papillion, Neb.
Abigail Michael, Bellevue, Neb.
Devyn Moore, Oakland, Iowa
Madeline Nekola, Bellevue, Neb.
Virginia Noyes, Omaha
Maria Olvera, Omaha
Alysha Owen, Omaha
Kelsie Parrish, Omaha
Ava Pavlik, Omaha
Brooke Podolak, Columbus, Neb.
Megan Pursche, Fremont, Neb.
Alexis Rozendal, Grand Island, Neb.
Bianca Salazar, Lincoln
Tiffany Sammons, Omaha
Allyson Smith, Bellevue
Serena Smith, Omaha
Megan Soltys, Omaha
Karyme Sosa-Martinez, Omaha
Miranda Spatz, Brainard, Neb.
Jasmine Steffes, Gretna, Neb.
Marissa Sunderman, Plattsmouth, Neb.
Kailey Tarkett, Omaha
Lucy Tee, Omaha
Jordyn Whitmire, Bellevue
Brooklyn Wilke, Columbus, Neb.
Lauren Williams, Bellevue
Regi Zakrzewski, Columbus, Neb.
Sara Zimmerman, Springfield, Neb.
Andrea Ziska, Omaha