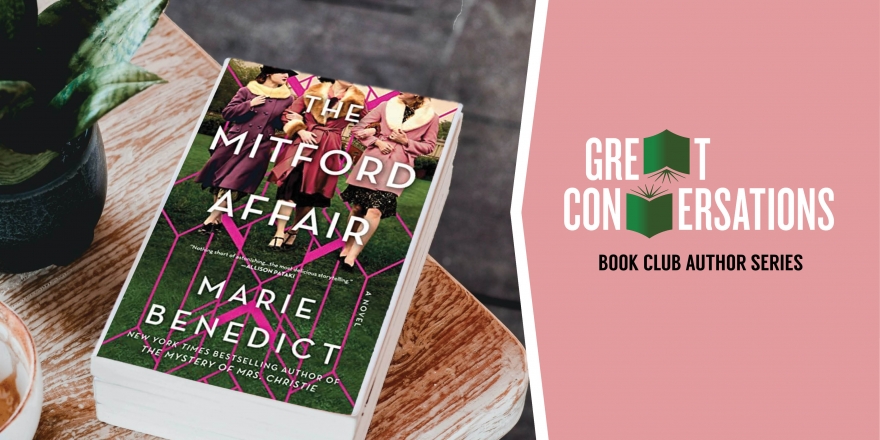 NY Times bestselling author Marie Benedict to speak at College of Saint Mary's Great Conversations
New York Times and USA Today bestselling author Marie Benedict is the featured speaker for College of Saint Mary's Annual Great Conversations luncheon on Friday, April 14, in Warde Conference Center in Mercy Hall. A book signing is scheduled for 11:30 a.m.; the luncheon begins at noon.
As the Nazis rise in power, novelist Nancy Mitford grows suspicious of her sisters' constant visits to Germany and the high-ranking fascist company they keep. When she overhears alarming conversations and uncovers disquieting documents, Nancy must make excruciating choices as Great Britain goes to war with Germany.
Benedict's historical-fiction novel, "The Mitford Affair," probes the torrid political climate in the lead-up to World War II and the ways that seemingly sensible people can be sucked into radical action. The book follows Nancy's valiant efforts to stop the Nazis from taking over Great Britain, and the complicated choices she must make between the personal and the political.
Benedict, a lawyer with more than 10 years of experience as a litigator, has focused her writings on the hidden historical stories of women. Her other books include "The Other Einstein," "Carnegie's Maid," "The Only Woman in the Room," "Lady Clementine," "The Personal Librarian," "Her Hidden Genius, and "The Mystery of Mrs. Christie."
"Because my writing focuses on the untold stories of women throughout history, the inspiration for my writing usually comes from historical research and reading that I undertake regularly," Benedict said on her website. "Once I dig into the research, I operate almost like an archaeologist, unearthing the story from the detritus of history where it was buried."
Benedict was the featured author for the 2022 Great Conversations, but due to unforeseen circumstances, she could not attend.
Great Conversations began in 2004 when Kathy Simon, a former CSM board member, donor and book lover, suggested the idea. Simon selects the featured author each year.
Copies of the book will be available for purchase. Tickets are $25. Register by April 5 at CSM.edu/GreatConversations, text GreatConvos23 to 41444, or contact Sara Titus at 402-399-2331 or stitus [at] csm.edu.