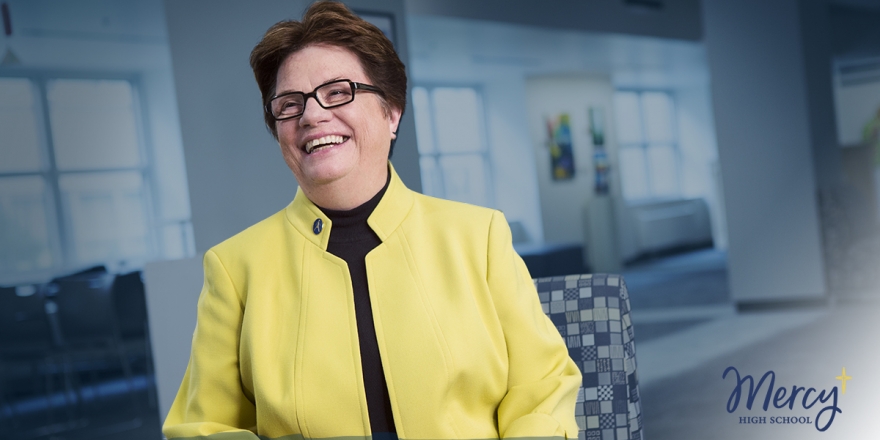 President Stevens Named to Mercy High School Board of Trustees
College of Saint Mary President Dr. Maryanne Stevens, RSM, was appointed to the Mercy High School Board of Trustees by the Mercy Education System of the Americas in May 2020. Mercy High School is sponsored by the Sisters of Mercy the Americas.
The President of the College of Saint Mary since 1996, Sr. Maryanne began her ministry teaching high school math. Her leadership at the college has resulted in increased enrollment, expanded curriculum and improved fundraising. She also served as director of formation for the Sisters of Mercy from 1977-83 and taught at Creighton University for ten years. At Creighton, she was the first female to head the Theology Department. 
Sr. Maryanne serves on several national and local community boards including the Association of Catholic Colleges and Universities, the Greater Omaha Chamber and the Tri-Faith Initiative. Sr. Maryanne has received numerous honors including the Omaha Business Hall of Fame, The Legacy Award for Women on a Mission for Change, and YWCA of the Midlands, Women of Distinction for Education. She has also been recognized with several teaching awards at Creighton as well as the Mary Lucretia and Sarah Emily Creighton Award honoring her support of women.
Sr. Maryanne received degrees in sociology and mathematics from the College Misericordia in Dallas, Pennsylvania, in 1971.  She went on to get a Master's in Theology from St. Louis University. She earned in Doctorate in Religion and Education from Boston College in 1987. 
"We are thrilled that Sr. Maryanne is joining our Board.  She brings a wealth of knowledge about administration, advancement and commitment to the education of women that will truly be an asset to Mercy High School," said Nicole Hahn Jesse '80 Board Chair. 
Sr. Maryanne graduated from Mercy High School in 1966.
Striding Forward
President Stevens' passion for the education and advancement of women cannot be more evidenced than by her leadership during the tuition reduction initiative in fall of 2016. CSM reduced tuition by 33 percent, taking a stand against the alarming national trend of rising tuition costs. A long-time champion of college access and affordability, Dr. Stevens has set the stage for College of Saint Mary to further serve its community while boldly challenging other institutions to follow suit and make college more affordable.
The university is keenly focused on providing strong academic programs in high-demand fields, character-driven programming, and a welcoming environment. Adding several new programs each year, like the accelerated entry Occupational Therapy Doctorate (OTD) degree and blended-learning Doctor of Physical Therapy (DPT) program, CSM is becoming recognized as a leader in creating efficient paths to graduation in meaningful, high-paying careers.