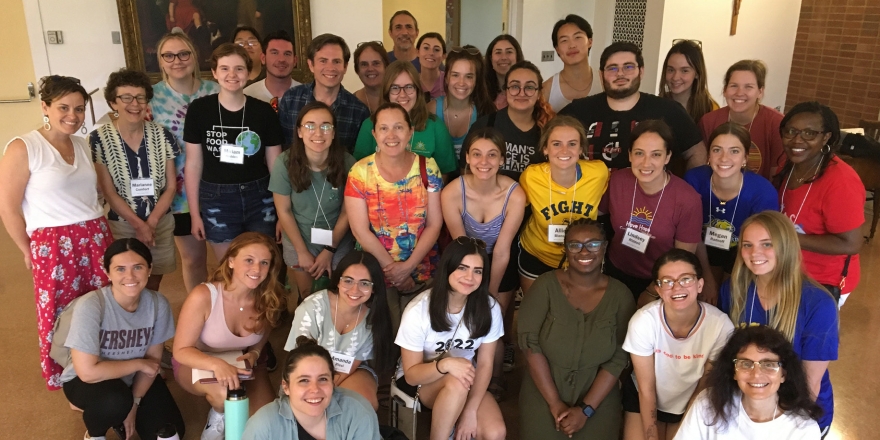 Three CSM Students Push for Sustainability Advocacy in Washington, D.C.
After classes ended for the summer, three College of Saint Mary students headed to Washington, D.C., to learn about environmental advocacy. Yaramy Hernandez Marin, Jaclyn Negrete and Grace Rooks were among dozens of students from seven Mercy colleges and universities to gather May 31- June 3 for the Mercy DC Justice Advocacy program developed by the Conference for Mercy Higher Education and the Sisters of Mercy Institute Justice Team.
The goals for the program included connecting students more deeply with Mercy traditions and values, particularly the critical concern of Earth; equipping students to advocate for just policies with respect to the climate emergency and care for vulnerable people, communities and cultures; and providing skills for in-person meetings with Congressional legislative staff.
On that first day of the trip, the CSM students met students from other Mercy colleges. The students explained why they were there and why they thought environmental sustainability was important. "Just learning what all they were doing, not just with sustainability but just as a college in general and how CSM could take what they're doing and try to implement it in our own way," said Rooks, who is a Pre-PA major and seeking a minor in environmental sustainability.
The students learned about the Sisters of Mercy's critical concerns before developing a plan on how they would lobby Nebraska's senators for laws to protect the environment and funding for new energy. They then met with staff members from Sen. Ben Sasse's office and Sen. Deb Fischer's office. "I never thought I would go to the Senate, honestly, because I'm from immigrant parents. That's something I would never have thought about doing," said Hernandez Marin, a psychology major. "It also shows how our voices have power and we can inspire other students to be better, too."
Rooks attended the program for the sustainability aspect, but meeting with congressional staff was a new experience. "I've never talked congressional leaders or anything like that. To me, that was an amazing experience to have now in my back pocket, so if I ever want to go do any lobbying or do any talking to congressional leaders, I will feel more confident."
Meeting other students and program organizers and hearing their stories has encouraged Negrete, a Pre-PA major and environmental sustainability minor, to go further into advocacy. "I've never done something on a large scale like meeting with a senator. That's so intimidating, I'm passionate about many social justice issues, so it's pushed me in the right direction to tell other people that is obtainable. Advocacy is more accessible than you think."