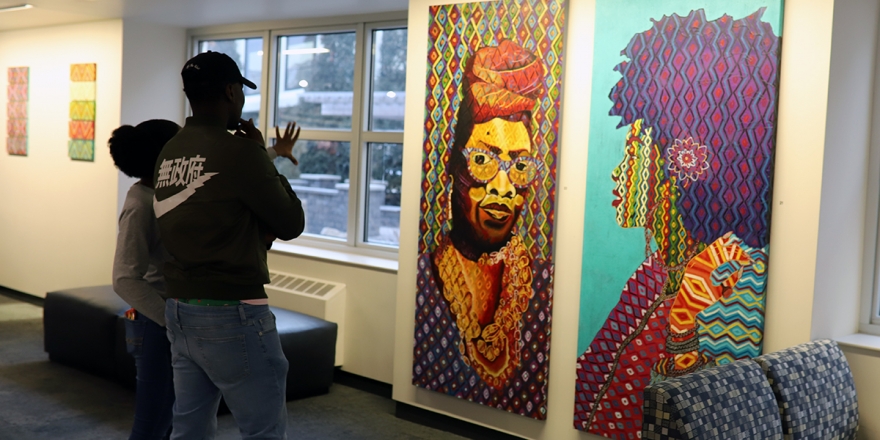 Voices exhibit shines spotlight on black Omaha artists
- Kim Carpenter, Omaha World Herald - 
It's Black History Month, and while events will be happening throughout Omaha, one stands out even though its occurrence is more coincidence than planning.
"Voices" at College of St. Mary's Hillmer Art Gallery showcases the work of seven regional African American artists who are creating work in a variety of media.
While the show's timing dovetails perfectly with Black History Month, co-curator Jeff Spencer, Hillmer Gallery's director, said the scheduling wasn't intentional.
Instead, he and his former art student Patty Talbert wanted to present an exhibition that would highlight the breadth and depth of African American artists working in the area.
"I knew there were people making work that normally wasn't being seen," Spencer said.
Talbert, who is a painter and one of the featured artists, jumped at the chance.
"(Spencer) asked how I felt about doing a show," she said. "I said, 'Of course!"'
In addition to Talbert, featured artists include Tamika Davis-Gray, Pamela Conyers­Hinson, David Nash Jr., Barber, Tara Parks and Shawnequa Linder.
When it came to the selection process, Talbert said diversity in style was key.
"We didn't want all the artists to be working in the same mediums,'' she said. "We wanted a wide variety and different perspectives."
They got what they wanted. Painting, sculpture, collage, mixed media and drawing are an featured. Davis-Gray's paintings of an African tribe in diaspora and Barber's mixed-media works play off Linder's enigmatic portraits and Conyers-Hinson's figurative sculptures.
Nash and Parks, who both work in illustration and drawing, are relative newcomers to Omaha's art scene.
"It's fun to give exposure to them," Talbert said. "We really wanted to give people a push."
"Voices" as a show title is also significant.
"It speaks to the fact that we are all uniquely different and all have a unique voice in art," Talbert said.
Added Spencer: "It's really phenomenal work."
For Linder, "Voices" is significant for elevating the profile of African American artists working in the region.
"I couldn't envision this show 10 years ago," she said. "Now there are a lot more African American artists and venues that open their doors and exhibit our work. Omaha has a small .art community, and it's good to know that we all support each other."
College of St. Mary Hillmer Art Gallery, 7000 MercyRoad. "Voices." Opening reception: 5 to 7 p.m. Thursday. Through Feb. 28. Gallery hours: 9 9.m. to 7:30 p.m. Monday­Thursday, 9 a.m. to 5 p.m. Friday, 8:30 a.m. to 12:30 p.m. Saturday. Admission: free: csm.edu or 402-399-262.