Laboratory Instrumentation
The CSM Chemistry department is equipped with different analytical instruments for qualitative and quantitative analysis purposes. At CSM, undergraduate students have the opportunity to learn the operation of the analytical instruments in their chemistry laboratory courses. In addition, students also use these instruments in their research projects. These experiences help students to gain practical knowledge, develop analytical thinking and improve their scientific skills.  The following instruments are available at CSM for student learning:
Nicolet* iS*50 FT-IR Spectrometer 
The Thermo Scientific™ Nicolet™ iS™50 FT-IR spectrometer is a highly flexible and fully-automated system with a multi-spectral range that can acquire spectra from the far-infrared to the visible region.  Fourier Transform Infrared (FTIR) spectroscopy is a highly diverse molecular absorption spectroscopic technique used for qualitative and quantitative analysis of organic and inorganic samples. FTIR is frequently used for polymer testing, food analysis, environmental analysis and has uses in the agricultural and pharmaceutical industry.  Some common uses include:
Characterization of organic and inorganic samples like paints, adhesives, resins, polymers, coatings and drugs.

Determination of degrees of crystallinity in polymers or drugs

Environmental analysis of gaseous samples using a gas cell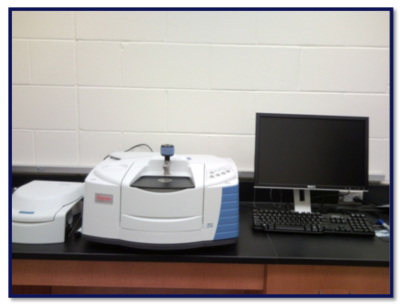 HPLC with Photodiode Array Detector
High-performance liquid chromatography (HPLC) is a chromatographic technique used for the separation and analysis of compounds soluble in particular solvents.  HPLC provides reliable quantitative precision and accuracy along with a dynamic range for compound identification.  The main uses of HPLC are identification, quantification and purification of the individual components of a mixture. HPLC is used extensively in the field of analytical chemistry, biochemistry, forensic pharmaceuticals, food and environmental analysis.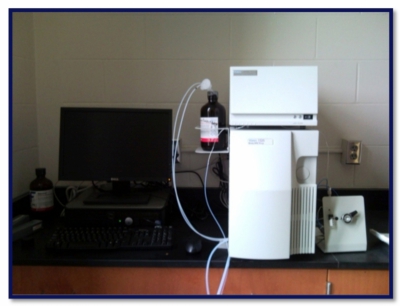 Varian Spectra AA Atomic Absorption Spectrometer
Atomic Absorption Spectroscopy is used for elemental analysis. It works on the principle that free atoms in the gas phase absorb optical radiations (light) at very specific wavelengths.  This characteristic gives the technique excellent specificity and very good detection limits. Common applications includes testing of metals in environmental samples such as soil, water, personal care products and food samples.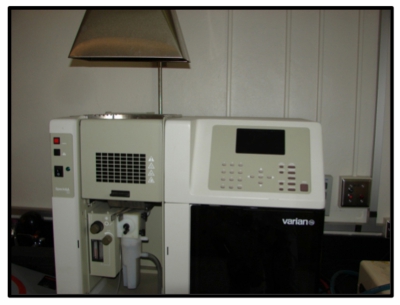 Shimadzu GC-MS
The Shimadzu Gas Chromatograph–Mass Spectrometer (GC-MS QP-2010S EI) is a gas chromatograph coupled to a quadrupole mass spectrometer with a dual inlet differential vacuum system enables high-speed scanning at 20,000 u/second without sensitivity loss or spectral distortion. GC-MS is a hyphenated technique that uses the features of two different analytical techniques. It combines the separating power of Gas Chromatography (GC) with the most reliable and highly accurate detection power (at the molecular level) of Mass spectrometry (MS). GC-MS is used extensively to separate, quantify and identify the unknown components of organic molecular species, specifically volatile or semi-volatile compounds. GC-MS is a very common technique used in many analytical chemistry protocols. Its broad range of applications include environmental analysis, pharmaceuticals and drug analysis, clinical diagnostics, petrochemical and hydrocarbons analysis, geochemical research  and forensic investigations (arson, explosives).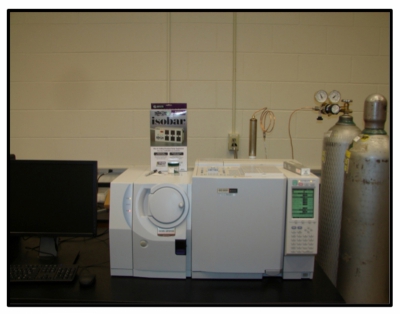 Agilent Cary-60 UV-Visible Spectrophotometer
The Agilent Cary-60 Ultraviolet-Visible (UV-Vis) spectrophotometer has a xenon flash lamp.  It is an easy to use analytical tool for rapid qualitative and quantitative analysis of organic and inorganic samples, kinetic measurements and determination of impurities in samples. UV-Vis spectrophotometers are extensively used in teaching, research and analytical laboratories.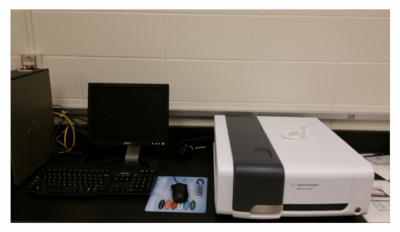 ATAGO Polax-2L Polarometer
The ATAGO Polax-2L Polarometer is an automated system with long lasting LED light sources.  It features an easy-to-read digital screen that display the angle of rotation caused by passing polarized light through an optically active substance. The polarimetry is ideal for analysis of optically active molecules like tartaric acid, ascorbic acid, glutamate, steroids, antibiotics, essential oils and polymers. The system is used by various industries such as pharmaceutical companies, chemical companies and food manufacturing companies to determine the concentration and purity of product or ingredients.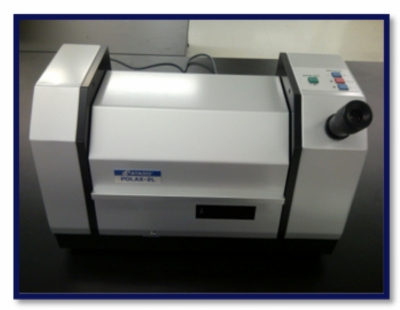 ATAGO DR-A1 ABBE Refractometer
The ATAGO DR-A1 ABBE refractometer is equipped with a digital LCD display for measurement readings and an analog scale for cross hair boundary line settings.  It measures the refractive index of solid or liquid samples (glass, polymers, lenses, food) through which light can pass. The refractometer indicates the measured value in refractive index (1.3000 to 1.7100nD) or Brix % (0.0 to 95.0%) selective in digits and displays the temperature.  It is a non-invasive device used for identification and characterization of substances. Refractometers are commonly used in the optical, pharmaceutical, geological, environmental analysis (water-testing applications), food, and gemological industry.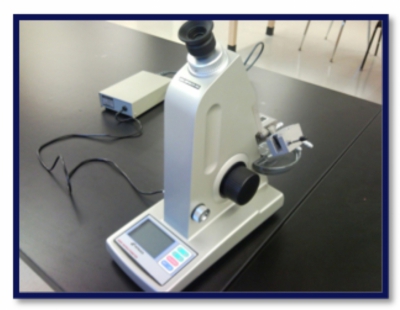 Bio-Rad Mini Protean Tetra Cell
The Mini-PROTEAN Tetra cell is 4-gel vertical electrophoresis system that allows rapid analysis of protein and nucleic acid samples in miniature polyacrylamide gels. It can run with both handcast gels and precast gels interchangeably.  Polyacrylamide gel electrophoresis separates molecules in complex mixtures according to size and charge. This technique is used mostly in forensics, molecular biology, genetics, microbiology and biochemistry laboratories for separation and analysis of macromolecules (DNA, RNA and proteins).